THE ACLU PROTECTS MUSLIM TERRORISTS.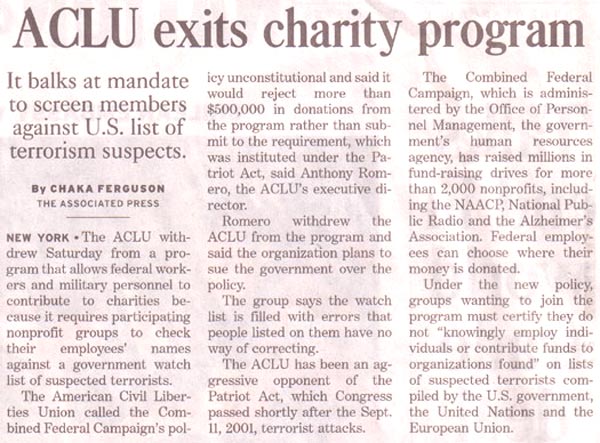 ACLU Line On Islamic Conference
May 9, 2005
By Sherrie Gossett
The ACLU announced on April 21 that it had filed a lawsuit on behalf of five Muslim Americans who were detained near the Canadian border upon returning from an Islamic conference in Toronto. The RIS conferences have featured controversial Islamic speakers and attendees "from all across the globe" and U.S. officials say such events have been used in the past to provide cover for pro-terrorist operatives.
Some writers and commentators, such as Daniel Pipes, a specialist on Islam, hailed the U.S. government for stopping the participants in the conference from entering the U.S. But such views were not highlighted or even mentioned in the media coverage of the controversy.
The Imam of the Masjid At-Taqwa mosque in Brooklyn, New York, and a board member of the Council on American-Islamic Relations and the Islamic Society of North America, Wahhaj heads the Muslim Alliance of North America. He has declared that the U.S. must accept "the Islamic agenda" and has been quoted as saying that the American government must be replaced with a caliphate, or Islamic rule. On the other hand, he appeared on the CBS 60 Minutes program to condemn the 9/11 attacks, and his website says that he has been praised by the police for his anti-drug efforts.
AIM made numerous attempts to speak with Wahhaj about the detentions and his role in the conference, but was eventually told by an individual answering the phone at his mosque, "He can't talk to you about that." The individual confirmed that Wahaj himself was not detained upon returning from the conference.
The ACLU claims that the five Muslim American plaintiffs were unlawfully detained, interrogated, fingerprinted, and photographed near Buffalo, New York, when they returned from the RIS conference in December of 2004. The ACLU claimed that the conference was "endorsed by prominent [Canadian] politicians."
This is, in fact, true. One of those officials speaking at the conference was Commissioner Giuliano Zaccardelli of the Royal Canadian Mounted Police, who told the December crowd: "Let me state for the record, the RCMP will not tolerate racism and will not tolerate stereotyping. It is contrary to the Canadian Charter of Rights and Freedoms."
The ACLU lawsuit finds fault with the line of questioning of the plaintiffs as well. Officials allegedly asked, "What was the conference about? What did you do at the conference? Why did you attend the conference? What did the speakers discuss? Did anyone ask you to harm Americans?"
The bulk of media reports focused on the "degrading" experience which was termed a "hassle" or worse. No single media story analyzed by AIM reported the copious evidence available from public sources that Islamic conferences have been used to promote or feature groups and individuals sympathetic to terrorism and terrorist groups.
The Washington Post's description of the conference was limited to "a religious conference" and the title: "Reviving the Islamic Spirit." Deep inside the Post story, Kristi Clemens, spokeswoman for U.S. Customs and Border Protection, was quoted as saying, "In this instance, we had credible intelligence that conferences similar to the one from which these individuals were leaving were being used by terrorist organizations to fundraise and to hide the travel of terrorists themselves."
The Post and other media did not report the following:
RIS's 2-day conference in January 2003 advertised Sheikh Abdul Rahman Al-Sudais as a speaker. The year prior, the Associated Press reported that before 2 million followers, al-Sudais, the chief cleric of the Grand Mosque in Mecca, prayed to God to "terminate" the Jews whom he called "the scum of humanity, the rats of the world, prophet killers...pigs and monkeys." The sheikh has also characterized Jews as "evil," "evil forefathers," a "continuum of deceit," and full of "tyranny" and "treachery."
The same conference featured Zulfiqar Ali Shah as a speaker. Shah is the former president of the Islamic Circle of North America, an organization linked to Jama'at-I-Islami, a fundamentalist Pakistani group that calls Bin Laden the "hero" of the Islamic world, and raises millions of dollars for jihad around the world. Shah ran into some media static when the Florida press found out his headliner was advertised also to be the "terminate the Jews" sheikh.
Mokhtar Maghroui, who spoke at the UHF conference featuring the suicide bombing supporters, also spoke at the last two RIS conferences. The 2003 RIS conference featured William W. Baker, who was outed as a Neo-Nazi by investigative reporter Stan Brin in the Orange County Weekly.
The major media do the public a serious disservice when they omit any account of known controversies regarding Islamist conferences. The public is left with a one-sided ACLU view when U.S. law enforcement officials take action to monitor the activities taking place. Daniel Pipes argues that, "Were the plaintiffs to prevail in this case, attending religious conferences would instantly become the favored method for terrorists and other Islamists to cross the American border without hindrance."

Government: release of Abu Ghraib prison photos could cause riots
By LARRY NEUMEISTER
Associated Press Writer
August 12, 2005, 3:06 PM EDT


NEW YORK -- Releasing pictures and videotapes of detainee abuse at Iraq's Abu Ghraib prison would aid al-Qaida recruitment, weaken Afghanistan and Iraqi governments and incite riots against U.S. troops, the chairman of the joint chiefs of staff says.

The warning by Gen. Richard B. Myers was contained in court papers filed in U.S. District Court in Manhattan and recently unsealed.

The government submitted additional papers to the court Friday arguing that some information in its arguments that remains redacted should not be made public.

Myers said the release of the pictures "pose a clear and grave risk of inciting violence and riots against American troops and coalition forces."

He said it was "probable that al-Qaida and other groups will seize upon these images and videos as grist for their propaganda mill," leading to violent attacks, increased terrorist recruitment, continued financial support and a worsening of tensions between the Iraqi and Afghani populaces and U.S. and coalition forces.

He said the photographs and videos would be used in a propaganda campaign by insurgents in Afghanistan and Iraq who "use any means necessary to incite violence" against innocent civilians to undercut the U.S. mission.

The arguments were submitted July 21 in a case in which the American Civil Liberties Union seeks the release of 87 photographs and four videotapes taken at the prison.

The ACLU sought the pictures as part of a lawsuit it filed in October 2003 seeking information on the treatment of detainees in U.S. custody and the transfer of prisoners to countries known to use torture. The ACLU contends that prisoner abuse is systemic.

In a response to the arguments by Myers, the ACLU submitted a declaration by retired U.S. Army Col. Michael E. Pheneger, who said Myers "mistakes propaganda for motivation."

He said he does "not underestimate the propaganda impact of the release of additional photos of the degradation of Iraqi prisoners in U.S. custody, but the photos will not be the real cause of subsequent attacks."

He noted that insurgents average 70 attacks a day and that they "will continue regardless of whether the photos and tapes are released."

Pheneger, a military intelligence officer from 1963 to 1993, said he found it difficult as a patriot and a career soldier to criticize the government.

But he said he believed that the release of the photos _ though damaging to the Army's reputation _ would lead to a thorough public examination of the effects of the administration's decision to change long-standing policies and approve interrogation techniques that the Army had long prohibited.

"The first step to abandoning practices that are repugnant to our laws and national ideals is to bring them into the sunshine and assign accountability," he wrote.

Myers said the United States has documented situations in which insurgents have falsely claimed that U.S. actions in Iraq caused suffering to women and children when the damage was actually done by violence and sabotage by the insurgents.

He said the insurgents rely on doctored photographs and images to support their calls to violence.

He said Department of Defense experts noted last year that doctored images and videos purporting to document the rape of Iraqi women by U.S. soldiers were actually from a Hungarian pornography site. He said the images were distributed and presented on pro-Islamist and Arabic news Web sites as actual examples of U.S. "barbarism."

References to the so-called rape photos surfaced in Muslim sermons throughout the Middle East along with calls for retaliatory violence, he said.

Myers quoted one Iraqi novelist and Middle East expert as saying he receives angry messages each day from young Arab men vowing to avenge the Iraqi girls.

"We have noted other instances of insurgent attacks after the disclosure of images depicting alleged abuse of detainees," he said.

Myers said his views about the pictures were supported by Gen. John P. Abizaid, head of the United States Central Command and Gen. George W. Casey Jr., the commander of the American forces in Iraq.

He said an investigation into the abuse depicted on the pictures continues.

"I condemn in the strongest terms the misconduct and abuse depicted in these images," he said. "It was illegal, immoral and contrary to American vales and character."

U.S. District Judge Alvin Hellerstein, who will decide whether to release redacted versions of the pictures and videotapes, has said he believed photographs "are the best evidence the public can have of what occurred" at the prison.
Lawyer's conviction on terrorism charges upheld
BY PATRICIA HURTADO
STAFF WRITER, Newsday

October 26, 2005

A federal judge Tuesday upheld activist lawyer Lynne Stewart's conviction on terrorism charges, ruling that allegations her lawyers made that a juror on the case feared for her life and was coerced were unfounded.

In a separate opinion upholding the convictions of Stewart, 65, and two co-defendants, U.S. District Court Judge John Koeltl also ruled separately that they were not protected by the First Amendment.

Stewart is scheduled to be sentenced by Koeltl on Dec. 22.

Stewart was convicted Feb. 10 of conspiracy and providing material support to terrorism by releasing a statement by her imprisoned terrorist client, Sheik Omar Abdel-Rahman.

Stewart represented the radical Muslim cleric in 1995 on charges he conspired in a foiled plot to bomb New York City landmarks on a single day.

Prosecutors charged that after his imprisonment, officials prohibited Abdel-Rahman from communicating with his followers in the Egyptian-based Islamic Group.

Stewart and her co-defendants, Ahmed Sattar, a paralegal and Mohammed Yousry, an interpreter, were convicted of passing messages from Abdel-Rahman to his followers regarding a cease-fire in the Islamic Group.

Stewart argued that statements she issued on the sheik's behalf were protected by the First Amendment because he was merely his expressing an "opinion."

"This argument is without merit," Koeltl wrote. "Abdel Rahman was found to have participated in the ... conspiracy to murder, rather than having merely engaged in advocacy. [The free speech] analysis does not apply to unlawful speech-acts such as conspiracy or aiding or abetting."

In a separate 25-page ruling, Koeltl denied Stewart's request for a new trial or a hearing to investigate charges that another Stewart juror lied about his background and was prejudiced against Stewart.

Stewart's lawyers cited letters from a female juror, identified only as Juror No. 39, who the defense claimed had written a letter saying she cast her guilty vote "only as a result of the fear and intimidation I was made to feel for my life," during deliberations.

Stewart's lawyers had also charged Juror No. 39 was also troubled by an incident in the last days of the case, when an unidentified person who was not part of the trial pointed to her as "the holdout."

For reasons of security, the jury was anonymous and partially sequestered, escorted to and from court by U.S. marshals in a van.

Stewart's lawyers further charged a male juror had been overheard saying that he had been in jail for a couple of nights while in the military. The defense also contended this male juror was prejudiced against Stewart.

In his ruling, Koeltl concluded that the letter allegedly sent by Juror No. 39, a month after the verdict and "was plainly written with the assistance of somebody other than Juror No. 39." He also ruled it contained statements that contradicted what she told Koeltl in an interview during the trial and differed substantially from what she said in her letter to him and what defense lawyers claim she said to them.

The judge said the allegations concerning Juror No. 82 were not reliable and that allegations the defense claimed about Juror No. 39 were "hearsay" and "double hearsay." He noted the juror's reputed concerns were never raised with him in her letter.

Stewart's appeals lawyer, Josh Dratel, could not be reached for comment.
ACLU sues US for denying visas to foreign scholars
25 Jan 2006 20:55:38 GMT
Source: Reuters
By Christine Kearney
NEW YORK, Jan 25 (Reuters) - The United States has used the USA Patriot Act to improperly deny visas to foreign scholars critical of the Bush administration's foreign policy, the American Civil Liberties Union said in a lawsuit on Wednesday.
The civil rights group sued U.S. Homeland Security Secretary Michael Chertoff and Secretary of State Condoleezza Rice on behalf of a Muslim scholar who was denied entry into America, seeking to overturn as unconstitutional a provision of the USA Patriot Act used to deny his visa.
Plaintiffs in the suit, filed in U.S. District Court in Manhattan, include Tariq Ramadan, 43, a Swiss theologian of Egyptian descent often called Europe's best-know Muslim intellectual.
Ramadan's visa was revoked in August 2004, after he was offered a teaching position at the University of Notre Dame in Indiana.
A Justice Department spokesman had no immediate comment, saying the department had not yet seen the lawsuit. The Department of State had no immediate comment.
According to the suit, Ramadan was denied a visa based on a provision of the Patriot Act -- an anti-terrorism law set up after the Sept. 11 attacks now being reviewed by Washington lawmakers -- that bars entry to anyone endorsing terrorism.
"While Professor Ramadan has been a frequent critic of American policy in the Muslim world, he has never endorsed, espoused, or otherwise encouraged terrorist activity," the suit said. "He has been a consistent critic of terrorism and those who use it."
'CENSOR POLITICAL AND ACADEMIC DEBATE'
ACLU attorney Jameel Jaffer said the U.S. government was using the Patriot Act's ideological exclusion provision, barring foreigners who endorse or encourage terrorist activity, too broadly and had prevented Americans from hearing speech protected by the First Amendment.
"The concern is that the government is using the ideological exclusion provision and other immigration laws to manipulate and censor political and academic debate inside the United States," he said in the lawsuit.
Jaffer said Ramadan was a "well-respected voice for Muslims" who had published more than 20 books on Islam.
In August 2005, Ramadan accepted an invitation by British Prime Minister Tony Blair to join a taskforce on the roots of extremism. Named by Time magazine as one of the 21st century's great innovators, he is currently a visiting professor at St Antony's College at Britain's Oxford University.
The suit was also filed on behalf of the American Academy of Religion, American Association of University Professors and PEN American Center.
Author Salman Rushdie, the president of PEN American Center, said in a news release the exclusion of Ramadan "illustrates that the Patriot Act and other post 9/11 laws and policies may be serving to increase American isolation at a time when international dialogue is more important than ever."
Ramadan has condemned the use of violence in the name of Islam but has for years been dogged by allegations from critics that he is an extremist despite his public pronouncements.
He is the grandson of Hasan al-Banna, one of the most important Islamist figures of the 20th century. In 1928, al-Banna founded the Muslim Brotherhood, which opposed the ascendancy of secular and Western ideas in the Middle East.
The Islamization of America
By Phyllis Chesler
FrontPageMagazine.com | March 21, 2006
As Americans, we have a long and legendary history of welcoming and assimilating immigrants. This includes granting political asylum to those in flight from political persecution. But, as Americans, we must also ensure that what has gone wrong in Europe—or what some are now calling "Eurabia"—does not happen here.
At this moment in history, we cannot allow a large influx of Arab and Muslim immigrants who have no intention of assimilating into a western, modern, and democratic American way of life. Please note that I am saying a "large" influx of immigrants who do not wish to "assimilate." I am not talking about Arabs and Muslims who not only want to assimilate but are actively in flight from repressive Islamist regimes. How we might do this is the subject of another piece.
Here, I want to focus on those things that specifically endanger America in the absence of a massive influx of Arab and Muslim immigrants bent on jihad. I am talking about the ways in which a small but organized number of Muslim-Americans and Muslim immigrants, aided by their many Christian- and Jewish-American supporters, are currently seeking to begin the Islamization of America.
According to the scholar Bat Ye'or and the journalist Oriana Fallaci, Europe became "Eurabia" due to a massive influx of hostile Muslim immigrants with a high birth rate whose passage to Europe was aggressively funded both by Arab oil money and by European doctrines of "multi-cultural tolerance."
A similarly dangerous, multi-cultural tolerance also exists in America. So far, however, it has won support mainly among our intellectual elite and our liberal and progressive media. Respect for barbarism thankfully does not yet exist among most American civilians. However, our concept of "religious tolerance," academic freedom, and free speech are now being used to promote and protect hate speech against America and Israel and against the Judeo-Christian tradition. Let me give some recent examples.
The American Civil Liberties Union (ACLU) is fighting to overturn the U.S. State Department's decision not to admit Tariq Ramadan. Please note: Ramadan's grandfather founded the Muslim Brotherhood and his father joined the family business. (The Jew-hating Brotherhood is a staunch advocate of jihad against the West). Ramadan is also a suave apologist for Islamic religious and gender apartheid and is, arguably, pro-jihad. He is, no doubt, a "moderate" compared to al-Qaeda's Bin Laden and Iran's Ahmadinejad. Yet Ramadan may outdistance such terrorist counterparts in terms of his far more sophisticated disinformation capability. Nevertheless, the ACLU sees his right to teach and preach as a First Amendment issue. Perhaps they have a point. My questions: Are we obligated to extend First Amendment rights to our enemies when we are at war? Even if doing so endangers us?
And further: Why did PEN—a distinguished Association of Writers of which I am a proud member—feel obliged to honor or to "invite" Ramadan to their festive annual conference which will take place at the end of April of 2006? Would they extend a similar honor to Hitler? Would they do so simply because the American administration had banned the sale of his book or refused to allow Hitler to preach here?
According to the Iranian dissident Banafsheh Zand-Bonazzi , PEN was going to honor both Ramadan and Magdi Allam, the Egyptian-born non-practicing Muslim deputy editor of Italy's premier newspaper, Corriere della Sera, but Allam refused to appear together with Ramadan. When I called the PEN office they confirmed that Ramadan was still "invited" but was no longer being given an award. Why does an American organization dedicated to both free and artful speech feel that "even-handedness" obliges them to honor a Muslim anti-Islamist and a Muslim Islamist apologist at the same event? Whose favor do they curry, whose censure do they fear? That of western politically correct intellectuals or that of Islamists? Is there an operative difference when it comes to pro-Islamist free speech?
More recently, the former head of the New York Civil Liberties Union, Norman Seigel, followed by the Mayor of New York, Michael Bloomberg, defended the right of the New York City's top Muslim prison imam to rage against America, Jews, and Zionists. At a conference of Muslim students, Imam Umar Abdul-Jalil claimed that Muslims were being "tortured" in city jails; that "the greatest terrorists in the world occupy the White House;" and that we should not allow "the Zionists of the media to dictate what Islam is to us."
The imam was suspended with pay for two weeks but not fired. Perhaps he does have the right to say anything he pleases as a citizen; perhaps his loss of this right might also endanger us all. My question is, what if he is indoctrinating a large population of NYC criminals? Conversion to Islam, especially among African-American men in jail, is growing, both here and among North-and Caribbean-African men in Europe. Can we consider them truly "rehabilitated" if they hold such extremist views when they are released?
Further, what does it mean that Duke University and Georgetown University have recently defended the right of the Palestine Solidarity Movement to hold their annual conference at their respective campuses? Both institutions claimed that even if the hate speech against Jews, Israel, and America was false and inflammatory, it was still protected by the First Amendment and by academic freedom.
Let's assume they are right. My question: at what point can we understand that such hateful teaching and preaching have the power to inflame someone like the Iranian student, Mohammed Reza Taheriazar who just drove his rented SUV into a crowd of fellow students at the university of North Carolina, in Chapel Hill, injuring nine people? According to Daniel Pipes, this quiet and seemingly assimilated terrorist said that he wanted to "punish the American government for their actions around the world" and that he "wanted to avenge the death of Muslims around the world."
Such ideas are rampant in the Islamic media. Just as the 2000 Intifada against Israel has gone global, so too has the hate speech against America, Israel, and the West become global and technologically magnified. The anti-American and anti-Zionist mosque sermons that have historically taken place locally every Friday have now also gone global and are available, via satellite, throughout the world, including in Europe.
Not to worry. The Qatar-based network, al-Jazeera—the very same network to which bin Laden and al-Zaraquawi send the videos of their beheadings—wants to open an office in Washington, D.C. to "spin" the news in English for us. Luckily, like the Dubai Port deal, it has encountered some American resistance. There is no guarantee that such resistance will ultimately prevail.
But here is what really worries me. The same First Amendment, free speech, and academic rights that seem to work so well for Islamists, do not seem to protect our right to criticize Islamic terrorism or Islamic religious and gender apartheid. Thus, by and large, the First Amendment absolutists of the American media chose not to reprint the Danish cartoons in solidarity with the Danish cartoonists. In fact, only one brave young editor, Harry Siegel of the New York Press, walked off the job when his boss refused to allow him to publish the controversial cartoons. Meanwhile, the bookshop so well known for stocking books by dissidents, San Francisco's City Lights Bookshop, absolutely refuses to stock or sell Oriana Fallaci's work.
Those of us who describe Islam/Islamism accurately are often slandered as "racists" and as "Islamophobic" and silenced by lawsuit and by fear of lawsuit. Members of Cincinnati's Council of American-Islamic Relations (CAIR) managed to shut down a production of a play by Glyn O'Malley about the first female suicide bomber. A group of Muslim students at De Paul University managed to get Professor Thomas Klocek fired or permanently "suspended" because, off-duty, (just like the NYC prison imam above), he tried to tell the truth about the Israel-Palestinian matter. Muslim students, perhaps shocked that anyone would dare disagree with their anti-Israel views, reported him as a "racist." Klocek's pro-American and pro-Israel free speech is, apparently, not as protected as is that of another De Paul University professor, Norman Finkelstein, a well-known Holocaust denier and demonizer of Israel. Finkelstein has certainly not been suspended for his false and inflammatory views. On the contrary, he is up for tenure.
In Europe, lawsuits have been launched against those who tell the truth about Islam. A series of such lawsuits has kept Oriana Fallaci in exile from her native land, Italy, and has made it dangerous for her to visit Switzerland. For similar reasons, the Israeli-American author Rachel Ehrenfeld cannot visit England, where a Saudi billionaire has won a default judgment against her. Ehrenfeld's alleged crime? She told the truth about this particular Saudi's funding of terror - and she has counter-sued him here, under her First Amendment right to do so. Interestingly, while many major newspapers and booksellers, including Amazon, have written briefs on her behalf, no one but Ehrenfeld is funding the actual lawsuit in defense of our collective right to tell the truth about the Islamic funding of terrorism against us.
Finally, the same western intellectuals who insist on our right to mock both Judaism and Christianity are often the first to charge "Islamophobia" and "racism" when Islam is presented accurately and criticized, not to mention presented in a series of rather innocuous cartoons. (The three offensive cartoons were slipped in by Muslims, and the riots against the cartoons were carefully orchestrated months later.)
What is to be done about this state of affairs? First, we have to re-evaluate the meaning of free speech, both in terms of hate speech and in terms of wartime realities. Along the same lines, we must find some legally and politically sound ways to slow down or to eliminate entirely the growth industry of jihadist hate speech in America. Islamists do not hesitate to falsify, exaggerate, and censor our culture, e.g. the Danish cartoon incident. We cannot allow our traditions of freedom and tolerance to be taken over by intolerant forces in the service of repression or terrorism. This is not easy to do but it must be done—and done quickly—by the best lawyers and legislators in our land.
Second, we must begin to insist that Muslims allow the same free speech and religious practices to religious minorities in their countries that they wish us to extend to them in the West. This means that if Muslims want religious freedoms in the West, they have to grant such freedoms to Jews, Christians, and other religious minorities in Muslim countries. It is well past time they did so. The Middle East is already entirely judenrein, free of Jews, except in Israel, and I doubt whether any of the 800,000 Jewish refugees from Arab Muslim countries, or their descendants, will want to return. But Christians have long been—and still are—persecuted, often severely, under Muslim rule. Thus, America might begin to peg every trade or peace treaty with a Muslim country or business to an agreement about religious tolerance and freedom.
Third, we should not allow a falsely positive or superficial picture of Islam to be taught in public schools (and inserted into textbooks), nor should we teach a balanced view of Islam as long as Islamic schools, both here and abroad, refuse to teach anything true about Judeo-Christian culture.
Finally, we endanger countless Muslim women and girls and freedom-loving Muslim men as well, when we extend religious freedom to Muslims who believe it is their religious right to subjugate, torment, mutilate, and murder women and dissidents. In a dangerous cultural ju-jitsu, Islamists have been using our strengths against us. Previously, we in the West insisted how proud we were to tolerate the intolerant. We can no longer afford to do so. Instead, we must stand up to intolerance and hate speech, just as we must stand up to jihad—with all our hearts, and with all our might.
Muslim Prayer in U.S. Public Schools
The same federal court that said reciting the Pledge of Allegiance in public schools is an unconstitutional endorsement of religion because it includes God, has ruled that it's Ok for those same students to praise Allah in Muslim prayers.
Outrageous as it may seem, on November 17, 2005, the ultra-liberal 9th U.S. Circuit Court of Appeals upheld a lower court ruling that allows California public schools to teach pro-Islamic lessons that include reciting Muslim prayers aloud, praising Allah, professing as true that the Holy Quran is God's word and taking an Arabic name for two full weeks.
The case (Eklund v. Byrun Union School District, District Court Number 02-03004, Appellate Number 04-15032) began when a group of parents sued against pro-Islamic lessons in California's public school curriculum. They argued that the government was promoting Islam, but a Sacramento federal judge, appointed by Bill Clinton, ruled against them saying the state was merely teaching kids about another culture.
The case went to the 9th Circuit Court of Appeals, which let the ruling stand. (The plaintiffs, thankfully, are filing a writ of certiorari petition with the U.S. Supreme Court, which is due on June 1, 2006.) A few years ago when the same appellate court ruled that reciting the Pledge of Allegiance in public schools is an unconstitutional endorsement of religion, lawmakers on both sides of the aisle were outraged and blasted the ruling. The U.S. Senate even passed a resolution, 99-0, expressing support for the Pledge of Allegiance.
In the 9th Circuit decision, the court said: "The Pledge, as currently codified, is an impermissible government endorsement of religion because it sends a message to unbelievers 'that they are outsiders, not full members of the political community, and an accompanying message to adherents that they are insiders, favored members of the political community.'"
What about alienating those who don't endorse Allah? The California Conservative believes the 9th Circuit promotes religion in the schools—the Muslim religion. GOP Insight writes that the 9th Circuit Court of Appeals is doing its part to help Islamic terrorists spread their religion of hatred and intolerance in American schools while at the same time denying even the mention of Christianity.
An appeaser is one who feeds a crocodile - hoping it will eat him last. - SIR WINSTON CHURCHILL