ROMAN CATHOLIC CHURCH (FAITH, BAPTISM & WORKS = JUSTIFICATION)
Works are needed for salvation thus their fictional purgatory is needed to purge all venial sins.


Cadaver Synod
Vatican Secrets
Vatican Banking
Catholic Baptism
Papal Pornocracy
Inquisition of Galileo
Mary, Mother of God?
Sexually Active Popes
Apostolic Succession?
Catholic Bogus Scripture
Pope Pius II Erotic Novel
Errors of the First Church
Catholic Respect for Islam
The Family of Jesus Christ
Eucharistic Real Presence?
Bodily Assumption of Mary?
Catholic Church Sexual Abuse
Marozia the Pope Powerbroker
Pope Alexander VI 1492 - 1503
Immaculate Conception of Mary?
Pope Francis versus Saint Francis

Protestant Paul versus Pope Peter
Catholic Disrespect for Protestants
Can you earn purgatory or heaven?
Catholic Love of Godless Socialism
Pope Francis: Tear Down This Wall!
Near Destruction of British Parliament
How did Spain remain Catholic? (torture)
Pope Francis Christmas Migrant Message
Why Do Catholics Blindly Believe The Pope?
How did France remain Catholic? (mass murder) I
How did France remain Catholic? (mass murder) II
Why Does Pope Francis Dislike the Death Penalty?
How did Latin America become Catholic? (conquest)
Book Critique of The Catholic Verses by Dave Armstrong
Book Critique of Return to ROME by Dr. Francis J. Beckwith
Book Critique of THE PROTESTANT'S DILEMMA by Devin Rose
Book Critique of MARY, The Church at the Source by Pope Benedict XVI
Protestant Paul wrote: For as often as you eat this bread (not body) and drink this cup (not blood), you proclaim the Lord's death till He comes. 1 Corinthians 11:26.

Pope Leo X with Cardinals Giulio di Giuliano de' Medici (later Clement VII) and Luigi de' Rossi (cousin of Pope Leo X) in about 1517.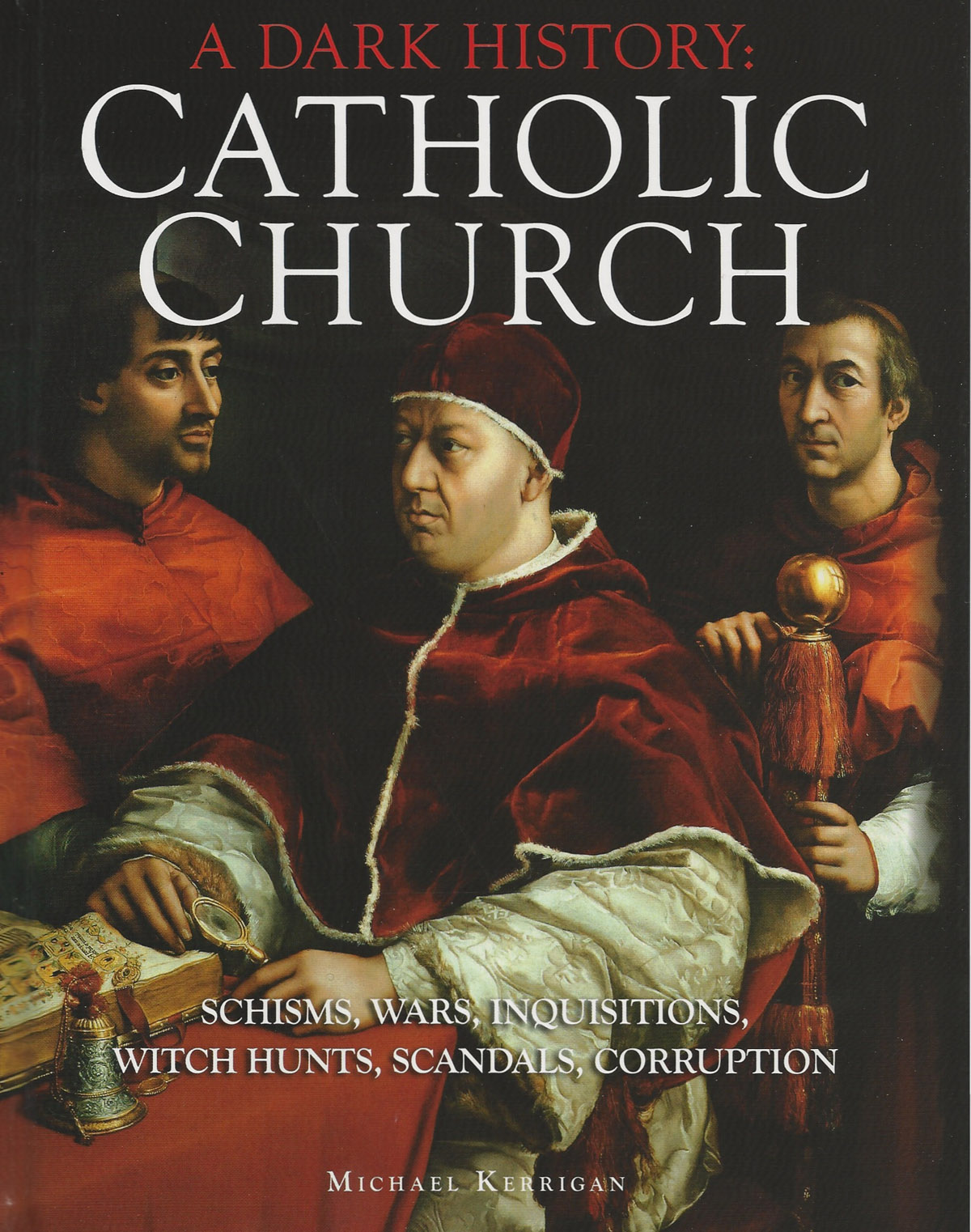 A DARK HISTORY: CATHOLIC CHURCH
FACTS ABOUT POPE LEO X WHO WAS NEVER CONSIDERED AN ANTI-POPE BY THE CATHOLIC CHURCH.
Did you know that Pope Leo X owned a pet elephant?

Pope Leo X quote: "Since God has given us the papacy, let us enjoy it."

1) Was not a priest when elected Pope on March 9, 1513.
2) Ordained a priest on March 15, 1513.
3) Consecrated as a bishop on March 17, 1513.
4) Crowned pope on March 19, 1513.
5) Joined the League of Mechlin on April 5, 1513 against France and Venice.
6) He continued the fifth Lateran Coucil that achieved next to nothing.
7) Made Thomas Wolsey a cardinal to gain English support against the French in 1515.
8) Initiated a war that succeeded in making his nephew Lorenzo the duke of Urbino in 1517.
9) Pope Leo X named 31 new cardinals on July 3, 1517.
10) Martin Luther posted his 95 theses of church abuses in Wittenberg, Germany on October 31, 1517.
11) The 95 theses of church abuses were published and distributed throughout Europe in January, 1518.

12) Pope Leo X imposed silence on all Augustine monks in February, 1518.
13) Martin Luther was ordered to appear in Rome on August 7, 1518 but didn't go knowing he would be murdered.

14) Issued papal bull on November 9, 1518 demanding all Christians to believe in his power to grant indulgences.
15) Issued papal bull on June 15, 1520 condemning Luther's teachings.
16) Excommunicated Martin Luther on January 3, 1521.
17) Signed a treaty with emperor Charles V in May 1521 against the French.
18) Pope Leo X died on December 1, 1521 and went to hell.
19) Pope Leo X was a confirmed homosexual by many historians over the years.
20) Pope Leo X was a spendthrift. Together with the considerable amounts accruing from indulgences, jubilees, and special fees, vanished as quickly as they were received. Then the pope resorted to pawning palace furniture, table plate, jewels, even statues of the apostles. Several banking firms and many individual creditors were ruined by the death of Leo.
"Beware of false prophets, who come to you in sheep's clothing, but inwardly they are ravenous wolves. You will know them by their fruits. Do men gather grapes from thornbushes or figs from thistles? Even so, every good tree bears good fruit, but a bad tree bears bad fruit. A good tree cannot bear bad fruit, nor can a bad tree bear good fruit. Every tree that does not bear good fruit is cut down and thrown into the fire. Therefore by their fruits you will know them." Matthew 7:15-20.
Hymn by Martin Luther

A mighty Fortress is our God,
A Bulwark never failing;
Our Helper He amid the flood
Of mortal ills prevailing:
For still our ancient foe
Doth seek to work us woe;
His craft and power are great,
And, armed with cruel hate,
On earth is not his equal.
2
Did we in our own strength confide,
Our striving would be losing;
Were not the right Man on our side,
The Man of God's own choosing:
Dost ask who that may be?
Christ Jesus, it is He;
Lord Sabaoth His Name,
From age to age the same,
And He must win the battle.
3
And though this world, with devils filled,
Should threaten to undo us,
We will not fear, for God hath willed
His truth to triumph through us:
The Prince of Darkness grim,
We tremble not for him;
His rage we can endure,
For lo! his doom is sure,
One little word shall fell him.
4
That word above all earthly powers,
No thanks to them, abideth;
The Spirit and the gifts are ours
Through Him who with us sideth:
Let goods and kindred go,
This mortal life also;
The body they may kill:
God's truth abideth still,
His Kingdom is forever.