MUSLIM HATE FOR AMERICA!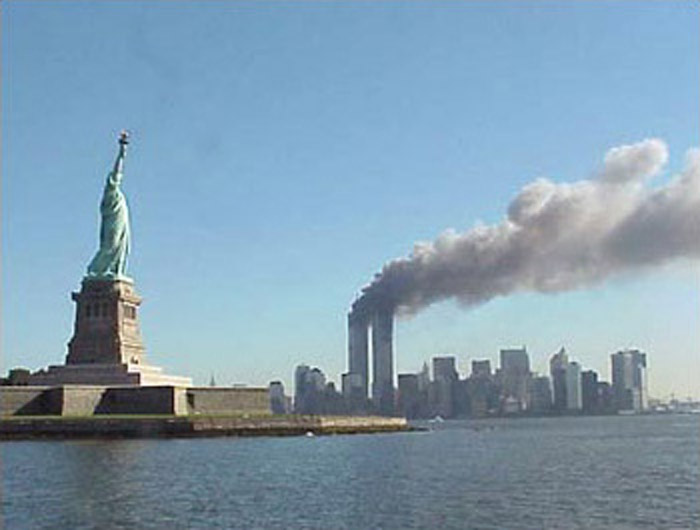 Muslims want to murder Americans.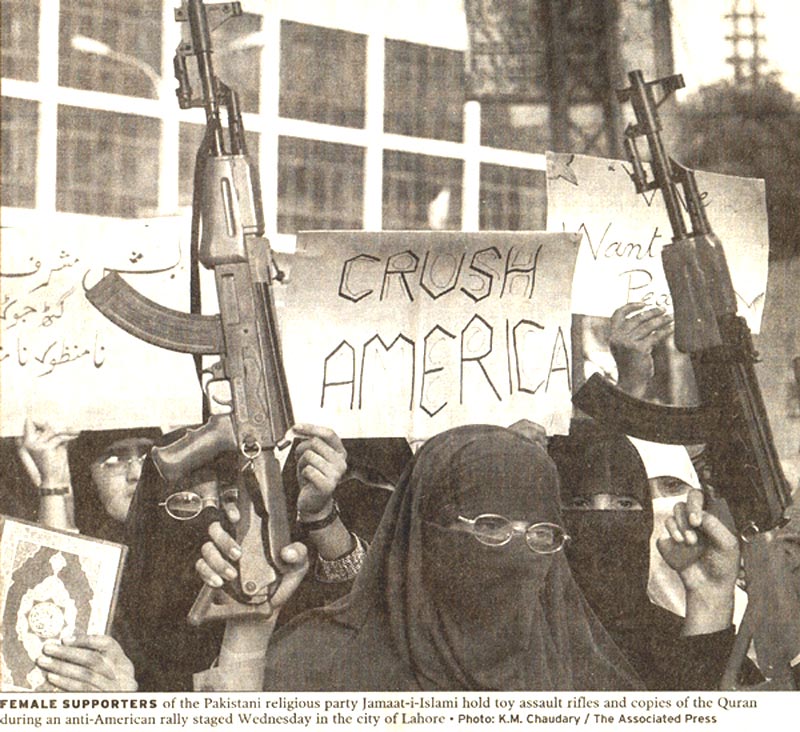 Muslims want to murder Americans.
Terrorist Sayfullo Saipov drives Home Depot truck through lower Manhattan bike lane, killing 8 in ISIS-inspired havoc

NEW YORK DAILY NEWS
November 1, 2017

A truck-driving terrorist carved a mile-long path of carnage through lower Manhattan, killing eight innocents Tuesday as he plowed down helpless victims on a bike path.

The rented white pickup hopped the curb at W. Houston with ISIS-inspired suspect Sayfullo Saipov drawing a bead on bicyclists as screams filled the Halloween skies and blood stained the pavement.

"God is Great!" The Uzbekistan native shouted in Arabic before a hero cop pumped a bullet into his abdomen, ending the deadly assault on a bright holiday afternoon.

Authorities said he was hospitalized after the shooting, underwent surgery and was expected to survive.

A note written by Saipov in Arabic and discovered outside the rental vehicle declared he was loyal to the ISIS cause, sources told the Daily News.

Eleven more victims, including two schoolkids whose bus was struck by the killer's Home Depot truck, were injured in what authorities described as the deadliest New York City terrorist attack since 9/11. The dead included tourists visiting from Belgium and Argentina, officials said.

A witness described Saipov, 29, as picking off two men riding Citi Bikes about 50 feet apart on the busy stretch used by riders, pedestrians and joggers just off the Hudson River.

Crumpled two-wheelers and victims with tire treads on their bodies were left in the homicidal wake of the "lone wolf" attacker. Cops placed blankets over the corpses as the injured were rushed to hospitals.
A child was seen sitting on the lap of an adult in a neck brace in the calm after the horror.

"This was an act of terror," declared Mayor de Blasio at a somber news conference at police headquarters. "And a particularly cowardly act of terror, aimed at innocent civilians."

The deadly incident was reminiscent of similar terrorist car attacks in London, Barcelona and Berlin, all committed in the last two years. The FBI has joined the NYPD in investigating the attack.

An Uber spokeswoman said Saipov also drove for the popular ride sharing-company, which is cooperating with authorities.

The spokeswoman said Saipov passed a background check.
"We are horrified by this senseless act of violence," the company said in a statement. "Our hearts are with the victims and their families. We have reached out to law enforcement to provide our full assistance."

Saipov, a Tampa resident who kept a Paterson, N.J., address, pulled off the highway around 3:05 p.m., heading south on the bike path that runs parallel to West St.

"I heard a truck, a car, something going down the bike path," said witness Eugene Duffy, 44, who was waiting at a red light to walk across West St. "It was wrong."

The off-duty chef watched in disbelief as the driver of the speeding truck ran down a pair of bicyclists from behind, catching and crushing both beneath the wheels of his truck.

"I thought it was terrorism," Duffy said. "That's the first thing that crossed my mind."

Six male bikers were dead at the scene, while two other victims died later at Manhattan hospitals.

"The dead and injured were just going about their days, getting home from work or from school or enjoying the afternoon sun while on bicycles," NYPD Commissioner James O'Neill said. "This is a tragedy of the greatest magnitude."
The truck slammed into a school bus near Stuyvesant High School on Chambers St. Two staff members and two students were injured in the wreck, with one of the kids listed in critical condition.

"We have multiple people on the ground from Chambers all the way up to Houston," a 911 operator declared, according to police radio traffic reviewed by The News. "I got at least four or five people on the ground, we need (ambulances)."

A horde of police vehicles and first responders descended on the chaotic scene.

With the Home Depot rental truck's front end crushed, Saipov emerged from the crippled vehicle waving a paintball gun and a pellet gun as terrified onlookers sprinted for cover.

Officer Ryan Nash arrived and ordered Saipov to drop the weapons. When the mass killer refused, the gutsy Nash shot him in the abdomen to end the killing spree. The officer, assigned to the 1st Precinct, was treated for tinnitus after taking the suspect down, a police source said.
Nash was in the area answering a call at nearby Stuyvesant High School, and rushed out to challenge the terrorist after hearing about the attack.

Saipov came to the U.S. in 2010, and appeared to be in the country legally, sources told The News.

Port Authority police were still scouring video feeds at the Holland Tunnel to see if that was the terrorist's point of entry into the city.

Authorities said the truck was rented from a Home Depot in Passaic, N.J., within two hours of the attack. Home Depot, in a statement, said they were cooperating fully with the investigation.

The truck was labeled with a sign that said, "Rent me starting at $19."

Cops also secured a warrant for an address in Paterson, where it is believed the suspect lives with his wife and small children.

Gov. Cuomo referenced previous terror attacks on the city — which include the February 1993 bombing where the attacker also used a truck rented in New Jersey. Six people were killed in that attack.
"The truth is New York is an international symbol of freedom and democracy," said Cuomo. "That's what we are, and we are proud of it. That also makes us a target for those people who oppose those concepts. And we've lived with this before. We felt the pain before. We feel the pain today. But we go forward together. And we go forward stronger than ever."

Some Stuyvesant High School students were convinced the whole thing was a holiday prank until they heard the officer's gunshots.

"I thought it was a Halloween (prank) or something," said witness Tawhid Kabir, 20, of Queens. "I saw the guy running in a circle and I realized it was serious."

NYPD snipers took positions on the roof of the nearby City Vineyard restaurant as cops flooded the neighborhood. Police also sealed off a wide swath of the area north of the World Trade Center.

President Trump was also brought up to speed on the rampage.

"My thoughts, condolences and prayers to the victims and families of the New York City terrorist attack," he tweeted. "God and your country are with you!"

Trump also tweeted that the Department of Homeland Security would "step up our already Extreme Vetting Program."
Embassies of U.S. and Allies Under Siege in Muslim World
By DAVID D. KIRKPATRICK, ALAN COWELL and RICK GLADSTONE
The New York Times
Published: September 14, 2012

CAIRO — The violently anti-American rallies that have roiled the Islamic world over a video denigrating the Prophet Muhammad expanded on Friday to more than a dozen countries, with demonstrators breaching the United States Embassy in Tunisia for the first time and protesters in Sudan's capital broadening the targets to include Germany and Britain.

The broadening of the protests appeared unabated by calls for restraint from the new Islamist president of Egypt, where the demonstrations first erupted four days ago on the anniversary of the Sept. 11, 2001, attacks. In Washington, the Pentagon announced that it was dispatching 50 Marines to secure the American diplomatic compound in Yemen's capital, which was partly defiled by enraged protesters on Thursday. At a bazaar about 30 miles east of Jalalabad, Afghanistan, protesters burned an effigy of President Obama.

The breaching of the United States Embassy in Tunis, the birthplace of the Arab Spring revolutions, was at least the fourth time that an American diplomatic facility in the Middle East had been violated since the protests began. There were also unconfirmed reports from Tunis that protesters had torched an American school.

Germany's foreign minister, Guido Westerwelle, told reporters at the Foreign Ministry in Berlin that the country's embassy in Khartoum, Sudan, had been "stormed and in part set aflame" in an attack by "demonstrators capable of violence." According to Mr. Westerwelle, embassy employees were safe. German missions in Muslim countries had already strengthened security measures because of the unrest.

The police fired tear gas to drive off the attacks in Khartoum, where about 5,000 demonstrators massed on the German and British Embassies, a witness told the Reuters news agency.

Thousands of Palestinians joined demonstrations after Friday Prayer in the Gaza Strip. Since there is no American diplomatic representation in Gaza, the main gathering took place in Gaza City, outside the Parliament building, where American and Israeli flags were placed on the ground for the crowds to stomp. Some demonstrators chanted, "Death to America and to Israel!" Palestinians also clashed with Israeli security forces in Jerusalem and held protests in the West Bank.
Witnesses in Cairo said protests that first flared on Tuesday — the day J. Christopher Stevens, the American ambassador in Libya, was killed in an attack in neighboring Libya — continued sporadically Friday, with protesters throwing rocks and gasoline bombs near the American Embassy and the police firing tear gas. The bodies of Mr. Stevens and three other Americans killed in the Libya attack were being returned to the United States on Friday.

In Lebanon, one person was killed and 25 injured as protesters attacked restaurants. There was also turmoil in Yemen, Bangladesh, Qatar, Kuwait and Iraq, and demonstrations in Malaysia. In Nigeria, troops fired into the air to disperse protesters marching on the city of Jos, Reuters reported.

State media in Egypt said more than 220 people had been injured in the clashes since Tuesday.

The widening unrest has challenged the Obama administration's policy in the tinderbox region where the Arab Spring uprisings have removed many of the pro-American strongmen who once kept public displays of Islamic passion in check.

In Yemen, baton-wielding security forces backed by water cannons blocked streets near the American Embassy a day after protesters breached the outer security perimeter there and officials said two people were killed in clashes with the police. Still, a group of several dozen protesters gathered near the diplomatic post, carrying placards and shouting slogans.

In Lebanon, hundreds of protesters set alight a KFC restaurant in the northern city of Tripoli on Friday, witnesses said, chanting against Pope Benedict XVI's visit to the country and shouting anti-American slogans, according to a Reuters report.

In Iraq, where the heavily fortified American Embassy sits on the banks of the Tigris inside the Green Zone and is out of reach to ordinary Iraqis, thousands protested after Friday Prayer, in Sunni and Shiite cities alike.

Raising banners with Islamic slogans and denouncing the United States and Israel, Iraqis called for the expulsion of American diplomats from the country and demanded that the American government apologize for the incendiary film and take legal action against its creators.

"We want the U.S. government to prove that there is justice by stopping this movie and punishing the director and his staff," said Sheik Ahmad al-A'ani, a preacher at a mosque in Baghdad.

In Hilla, in the Shiite-dominated south, a witness reported the burning of American and Israeli flags. In Kufa, another Shiite town in the south, a mosque preacher declared his belief that the four Americans killed in the attack in Libya actually died at the hands of the American government to create a pretext for the United States to seek revenge and extend its presence in the region. And in Samarra, a Sunni city north of Baghdad that is near Saddam Hussein's hometown, Tikrit, preachers at mosques demanded that Iraqis boycott American goods.

In Egypt, in particular, leaders scrambled to repair deep strains with Washington provoked by their initial response to attacks on the American Embassy on Tuesday, tacitly acknowledging that they erred in their response by focusing far more on anti-American domestic opinion than on condemning the violence.
The attacks squeezed President Mohamed Morsi and the Muslim Brotherhood between conflicting pressures from Washington and their Islamic constituency at home, a senior Brotherhood official acknowledged. During a 20-minute phone call Wednesday night, Mr. Obama warned Mr. Morsi that relations would be jeopardized if the authorities in Cairo failed to protect American diplomats and stand more firmly against anti-American attacks.

On Friday, Mr. Morsi, on a previously scheduled state visit to Rome, called attacks on foreign embassies "absolutely unacceptable."

In a letter published in The New York Times, Khairat el-Shater, the deputy president of the Muslim Brotherhood, said, "Despite our resentment of the continued appearance of productions like the anti-Muslim film that led to the current violence, we do not hold the American government or its citizens responsible for acts of the few that abuse the laws protecting freedom of expression.

"In a new democratic Egypt, Egyptians earned the right to voice their anger over such issues, and they expect their government to uphold and protect their right to do so. However, they should do so peacefully and within the bounds of the law.

"The breach of the United States Embassy premises by Egyptian protesters is illegal under international law. The failure of the protecting police force has to be investigated," the letter said. It was displayed prominently on the English-language Web page of the Muslim Brotherhood in Egypt.

The Muslim Brotherhood said in an online message Friday morning that it was "canceling" its call for a nationwide protest against the offensive video and would bring only a "symbolic" demonstration to Tahrir Square.

The cancellation was the latest sign of its rush to distance itself from the violence and vandalism against American embassies by outraged Muslims after the initial reticence of the group and its ally, Mr. Morsi, triggered a backlash from Washington.

Earlier in the week, the group had applauded the protests outside the embassy and promised a larger demonstration after Friday Prayer, but by Thursday the group had already revised that to encourage only smaller demonstrations outside individual mosques — which were all but inevitable in any event — before it withdrew the call altogether.

In Turkey, Prime Minister Recep Tayyip Erdogan sought to strike the same balance, condemning "insults against the supreme values of Islam" and declaring that "the right to protest can never justify any act of violence, any act of terror, especially to hurt innocent people. That would be neither conscientious nor Islamic."

In broad areas of the Islamic world, news reports on Friday said, the authorities faced similar dilemmas in their response to the amateurish American video, which portrays the Prophet Muhammad as a perverted buffoon and which Muslims have called deeply offensive to their beliefs. The protests in Afghanistan came despite efforts by the authorities there to prevent the offending video from being seen. Afghan officials said they pressed to indefinitely suspend access to YouTube, where the video, promoted by a shadowy assortment of right-wing Christians in the United States, had been viewed more than 3.4 million times by Friday.

David D. Kirkpatrick reported from Cairo, Alan Cowell from London and Rick Gladstone from New York. Reporting was contributed by Nasser Arrabyee from Sana, Yemen; Timothy Arango from Baghdad; Nicholas Kulish from Berlin; Alissa J. Rubin from Kabul, Afghanistan; Kareem Fahim from Beirut, Lebanon; Fares Akram from Gaza; Isabel Kershner from Jerusalem; Sebnem Arsu from Hatay, Turkey; and Christine Hauser from New York.



U.S.-Born al Qaeda Cleric Says Kill Americans

Anwar Al-Awlaki Says U.S.is at War With Islam; CIA Has Him on Assassination List
By Lara Logan

(CBS) The radical Muslim preacher chose not use english, his native tongue, for his propaganda message. Instead the American-born cleric dressed in Yemeni tribal gear and spoke in Arabic to call for the killing of American civilians and soldiers.

In a video produced by the media wing of al Qaeda, Anwar al-Awlaki praised his student, U.S. Army Major Nidal Hassan, accused of killing 13 people at Fort Hood last November, and described the shooting as an heroic and wonderful act, reports CBS News correspondent Lara Logan.

White House press secretary Robert Gibbs responded on CBS's "Face the Nation," calling al-Awlaki a murderous thug.

"We are actively trying to find him and many others throughout the world that seek to do our country and to do our interests great harm," he said.

The Obama administration admitted in April that al-Awlaki is on the C.I.A.'S list of targets for assassination, despite his American citizenship.

Terror expert Neil Livingstone said, "Because he's so visible, it would be very important to get him because it would send a message to radical Islamists and jihadists around the world."

Video exists of al-Awlaki driving on the streets of America. He preached in an American mosque before he went into hiding in Yemen after the Fort Hood shooting.

In spite of the religious freedom we enjoyed here, al-Awlaki is now at war with America. He made it clear in the latest video that it's a religious war, calling President Obama the leader of the war on Islam and leader of the crusader campaign.

In a commencement speech yesterday at west point just hours before the video was released, the president embraced American Mmuslims.

"Extremists want a war between Americans and Islam, but Muslims are part of our life, including those who serve in our United States Army.

Asked in a video about Muslim groups who disapproved of the Christmas day airline plot because it targeted civilians, al-Awlaki had a chilling response. He said those who might be killed in a plane are merely a drop of water in the sea.



Supreme Leader of Iran: Muslim Nations 'Hate America'

Thomas Erdbrink and William Branigin
Washington Post Foreign Service
Thursday, June 4, 2009; 4:51 PM

TEHRAN, June 4 -- Iran's supreme leader dismissed President Obama's speech at Cairo University Thursday, saying the Muslim world continues to "hate America." And he criticized the United States and its allies for asserting that Iran seeks nuclear weapons, which he insisted are forbidden under Iran's brand of Islam.

Speaking shortly before Obama delivered his address, in which he called for a "new beginning between the United States and Muslims around the world," Ayatollah Ali Khamenei said that "beautiful speeches" could not remove the hatred felt in the Muslim world against America.

"People of the Middle East, the Muslim region and North Africa -- people of these regions -- hate America from the bottom of their heart," Khamenei said at a gathering to commemorate the 20th anniversary of the death of Ayatollah Ruhollah Khomeini, the father of Iran's 1979 Islamic revolution and Khamenei's predecessor as the predominantly Shiite Muslim country's supreme religious leader.

"For a long time, these people have witnessed aggressive actions by America, and that's why they hate them," Khamenei, 69, told a crowd of several thousand supporters in his televised speech. He attributed these feelings to "violence, military intervention, rights violations and discrimination" by the United States.

Alluding to Obama's new approach in foreign affairs, he said that the previous administration of President George W. Bush had left an "ill-mannered image" of itself in the world.

"The new U.S. government seeks to transform this image," Khamenei said. "I say firmly that this will not be achieved by talking, speech and slogans." He added, "Even if [Obama] delivers hundreds of speeches and talks very sweetly, there will not be a change in how the Islamic countries perceive the United States." He called on Obama to deliver change "in practice."

Khamenei also denounced Israel as a "cancerous tumor in the heart" of the Islamic world, and he accused the U.S. military of "bombing innocent civilians" in Afghanistan. "What is the difference between this killing and killing by terrorists?" he asked rhetorically.

Regarding Iran's nuclear program, the main issue of contention between his country and the United States, Khamenei reiterated Tehran's assertions that it seeks only to generate electricity, and he referred to a religious edict, or fatwa, that he issued at least four years ago in which he declared that the production, stockpiling or use of nuclear weapons was prohibited under Islam. The Iranian government cited the fatwa at an August 2005 meeting of the International Atomic Energy Agency in Vienna.

"Our nation says we want to have a nuclear industry," Khamenei said Thursday. "We want to use nuclear energy in a peaceful way. However, the West and America say that the Iranian nation is seeking to make a nuclear bomb. Why are they telling lies?"

The senior Shiite cleric continued: "The Iranian government and nation have repeatedly said that we do not want nuclear weapons. We have announced that according to Islamic principles, the use of nuclear weapons is forbidden. It is dangerous to keep nuclear weapons. We are not seeking to have them. We do not want them."

Khamenei, who served as president of Iran for eight years in the 1980s, succeeded Khomeini as supreme leader in 1989, becoming the nation's highest-ranking political and religious authority. As such, he is more powerful than President Mahmoud Ahmadinejad and appoints many key leaders, including the commanders of the armed forces and members of national security councils dealing with defense and foreign affairs.

Other Iranians reacted cautiously to Obama's speech. In it, the U.S. president acknowledged that the United States had "played a role in the overthrow of a democratically elected Iranian government" in 1953, but he pointed as well to an Iranian role in "acts of hostage-taking and violence against U.S. troops and civilians" since the 1979 Islamic revolution.

"Rather than remain trapped in the past, I've made it clear to Iran's leaders and people that my country is prepared to move forward," Obama said. "The question now is not what Iran is against, but rather what future it wants to build."

Obama also said that "we have reached a decisive point" on nuclear weapons and the need to prevent a nuclear arms race in the Middle East. But he said that "any nation -- including Iran -- should have the right to access peaceful nuclear power if it complies with its responsibilities under the nuclear Non-Proliferation Treaty."

Mohammad Marandi, the head of the North American Studies Department at Tehran University, said of Obama's speech, "I didn't hear many new things from Obama. We need to see fundamental change in American policies. People in this region are expecting change as much as the people in the United States."

Marandi added in a telephone interview: "When Obama says that he recognizes Iran's rights to having peaceful nuclear energy, does that mean he will honor that right in negotiations with Iran? Or is this rhetoric? This is what we want to know."

However, political commentator Ali Reza Khamesian described Obama's acknowledgment of Iran's right to produce nuclear energy for peaceful purposes as "a step forward for better ties with the United States," the Associated Press reported.

Branigin reported from Washington.


An Overview Of American Islam
by Kathy Shaidle

Imagine a Super Bowl with all male cheerleaders and half-time prayers. In that America, they drink Jihad Cola instead of Coke and thank Allah when they win an Oscar.
Luckily, that America is fictional, one vividly described in Robert Ferrigno's 2006 futuristic novel, Prayers for the Assassin, set in 2040. But is it really so hard to imagine, in a world in which a man named "Barack Hussein Obama" can get elected President just a few years after Muslim hijackers destroyed the world's tallest buildings in the heart of New York City?
Today many Americans are either blissfully ignorant of, or simply indifferent to, the slow, incremental growth of radical Islam in their midst.
We sometimes hear about terrorist cells or suspicious Muslim "compounds" on the news. However, these stories represent merely the tip of an Islamic iceberg that could very well doom America. Not today or tomorrow. But in our lifetimes? That is a real possibility.
And don't shrug off Islam as "just another religion." Muslim sharia law deems women to be inferior to men, and allows husbands to "lightly" beat their wives. Polygamy and child bride marriage are condoned and encouraged, due to the example of Mohammed himself, whose many wives included a nine year old. Anti-Semitism and slavery are enshrined in the Koran, as is exploitation of and even violence against all "unbelievers."
Radical Muslims have learned they don't require bombs or hijacked airliners to destroy America. They can just use America's own ideological infrastructure against itself.
Using a kind of ingenious political jujitsu, radical Muslims rely upon everything from the rights to freedom of speech and worship enshrined in the U.S. Constitution to the current atmosphere of hypersensitive political correctness to push their agenda.
For example, the "Islamification" of the educational system is now underway. Textbooks whitewash Islam's bloody history. Public school children forbidden to pray or recite the Pledge of Allegiance are, however, obliged to play "Muslim for a Day." Meanwhile, universities eagerly introduce footbaths, Muslim prayer rooms and hallal cafeteria food.
Increasingly, Muslim employees are suing companies for the "right" to refuse to handle "unclean" pork or alcohol, or the "right" to wear headscarves. It is no coincidence that these companies include household names like UPS, Wal-Mart and McDonalds's - radical Muslims are sending a message to smaller firms who won't have the means to fight similar suits in the future.
These demands for accommodation extend even behind prison walls, where Muslim prisoners (indoctrinated by Muslim chaplains trained by foreign extremists) insist on getting special treatment as well.
"Lawfare" is on the rise, too. Muslim groups now file expensive, time-consuming lawsuits against critics of Islam, and while these suits are currently confined mostly to Canada and Europe, they have a "chilling" effect on American publishers, writers, journalists and filmmakers. Last year, it only took a couple of threatening emails to persuade a major U.S. publisher to cancel an upcoming novel about Mohammed.
Few Americans realize that their neighborhood mosque was probably built and financed by well-heeled terrorist sympathizers abroad. In fact, 80% of American mosques are Saudi-supported, and serve as safe gathering places for radical imams and dubious "charities" with anti-American agendas.
Islamic terrorism has also found a home on the internet, where (according to one UK think tank) a "virtual caliphate" (or Muslim supremacist empire) thrives, beyond the reach of authorities. The web has become an invaluable arena for radical Muslim recruiting, training, communication and organizing.
Americans looking to the government to protect them from these threats don't realize that federal agencies in the thrall of political correctness actually undermine the war of terrorism. Few Muslims currently hold public office in the United States, but this may change if Democrats begin to view them as a new source of donations and votes.
Over the next few months, I'll be your guide to the growth of radical Islam, both at home and abroad. You'll learn about "moderate" Muslim spokesmen who turn out to be anything but, and meet writers and authors censored by their governments for critiquing the Koran.
I'll be talking to experts in the fields of intelligence, religion, crime and foreign policy and sharing their insights with you.
Many Americans have already forgotten what happened on 9/11, or simply don't want to think about it anymore. Our fear, disgust or indifference is exactly what radical Muslims are counting on. As exhausting and demoralizing as it can be to educate ourselves on the facts, we must remember that "the price of freedom is eternal vigilance."
The Islamization of America: From Mecca to Medina and conquering Americans from within
8/6/2006
KurdishMedia.com
By Aland Mizell
Many times the Ottoman Empire tried to take over the whole of Europe but failed to do so. The Ottoman Empire could not conquer the West by sword, but now Muslims are using a different strategy to conquer the West to bring it under the Islamic realm. Today the West is being the victim of their own values, such as freedom of speech and _expression, so that Muslims are using 'Democracy' as a tool and taking advantage of democracy to disseminate Islam to all the corners of the world.

After 9/11 many Muslims complained that Islam had been hijacked by Fundamentalism, and many Muslim leaders and political leaders publicly dissociated themselves from radical Islam, but behind closed doors they still continue to preach against the Westerns' values. Many Muslims are thinking that the war is against Islam, but actually 9/11 accomplished one of their objectives, the application of universal Islamic values, particularly the jihad. After 9/11 thousands of books have been published, and many non-government organizations and Islamic centers have been established to teach Islam to infidels using American tax money. Numerous conferences have been held under the Interfaith Dialogue or Rumi Organization to disseminate Islam.

Not only in the aftermath of 9/11 did the environment open the door for Muslim missionaries to disseminate Islam in the USA, but also many American politicians, including President Bush when he visited the mosques, affirmed that the majority of Muslim who live in the United States are just ordinary people. America counts millions of Muslims among our citizens, and Muslim make an incredible valuable contribution to our society. Yet, the Muslims believe, 'There is no God but Allah.' In the past Americans considered that their country was founded upon Christian values and consequently that it was a Christian nation.

However, there is a new religion only a block away committed to change all aspects of the American way of life called 'ISLAM.' Before 9/11 this term was foreign to many Americans, but after 9/11 Islam has penetrated public schools, prestigious universities, state departments, Capital Hill, even law enforcement organizations under the banner of Interfaith Dialogue, and the American values of cultural tolerance and acceptance. According to U.S. news online, there are approximately 6 million Muslims in the United States and an estimated 1,450 mosques in the United States. Just in the Washington area there is a population of more than 50,000 Muslims including more than 30 mosques and Islamic centers According to John Esposito, a well-published professor at Georgetown University, the heaviest Muslim population live in the states of Texas, California, New York, New Jersey, Maryland Michigan Ohio, and Virginia. According to Martha Sawyer Allen, the number of Muslims soon will surpass the number of Methodists, and by year of 2010 the population of Muslim will reach more than 16 million. The estimated conversion rate among Americans is 135,000 per year.

What does Islamization mean? It means that from social, political, and cultural institutions to banking and economic operations -- all aspects of the way of life -- will bring the Islamic constitution, the Islamic code of law, to challenge the U.S. Constitution. It is a process by which the spiritual and political leaders disseminate Islam through missionary activities such as holding seminars on university campuses, opening cultural centers and charter schools, sending graduate students to study at ivy league institutions, building mosques, starting newspapers, infiltrating the most sensitive U.S. institutions such as the FBI, the State Department, and offices on Capital Hill, giving parties during Ramazan,, inviting Americans to Turkey and giving them tours to indoctrinate them, and asking Muslims to marry non-Muslims. Today these cultural centers are more active than mosques because in the mosque the imams cannot indoctrinate people as freely, but in the private houses and private institution, it is easy to do so. One must ask the question why tolerance meetings should be held in America and in the West in the first place since neither America nor the West is making news because of violence, committing atrocities with suicide bombings or killing innocent people because of false indoctrination of mostly the young.

These seminars on tolerance should be held where the root of problem grows, which is neither in America nor in the West. For example, many institutions and universities like Rice University, Georgetown University, the University of Chicago, and Southern Methodist University host conferences to discuss Islam. The questions are directed to lead to the position on why Islam is superior to all other religions and why it needs to be taught in the U.S. For example, NASA invited the Counsel on American Islamic Relation to teach sensitivity and diversity training workshops entitled 'Understanding Islam and Muslims at NSA.' Why has Islam become so delicate a topic and superior to all other religion that non-Muslim Americans should be trained and Islam be taught in American institutions? What about the beliefs of Jews, Christians and other faiths. Are representatives from those groups of faith been invited to discuss their faith as part of cultural sensitivity?

I do respect people as they are, no matter where they come from and regardless of their color, race, and faith, but Americans and the West have ignored the Muslims' hatred of different cultures and the lack of tolerance in the Muslim world. In the Muslim world especially in the Arab countries world, anyone who is not Muslim, such as Christians and other faiths, sometimes even different Islamic sects, as seen currently in Iraq, live in constantly fear of terrorism if they choose to stay among Muslims. Muslims have one agenda no matter what American or westerns countries do as humanitarian acts for their people because it is not enough as long as they are infidels. Fethullah Gulen, the founder and spiritual leader of a worldwide educational movement who now lives in the U.S, wants to create an alternative system to capitalism, which as many argue, will eventually die. Based on this prospect, Mr. Gulen contends that when capitalism dies, Muslims will replace it with the Islamic system. Because Gulen and many other Muslims believe capitalism has not solved human problems and instead has created unequal distribution between the haves and have nots. In their view, however, Islam is a solution to the universal suffering. How can Islam become a universal religion and how can Islam replace capitalism? In other words, how can Islam destroy the American Empire? According to Gulen, the only way Muslims can become powerful is to stand on their own feet, which means by gaining economic independence from the West. How can Muslims be economically independent from the West? Gulen encourages his followers to get the positive things from the West, such as technology and education, and to leave the negative things, such as religion and social mores.

Also, he avoids confrontation with the U.S. because Muslims are not strong enough militarily nor economically to stand against America.
However, Gulen wants to use America's super power status to achieve his goals. From Glen's point of view, the best way to defeat the enemy is to use the enemy's own weapons against that enemy. What is the enemy's weapon? The enemy's weapons are democracy, technology, language, and the Western values. How can he use this against America or the West? He does so by establishing Islamic centers, non-governmental organizations, such as interfaith institutions, and cultural centers, by sending graduate students who get scholarships from Americans taxpayers, and by providing a good education, and particularly from the principle of freedom of speech to disseminate Islam. Muslims want to destroy America or the West from within, since it is hard to defeat them physically.

Many Muslims, as well as non-Muslims, believe that Islam is the religion of tolerance, peace, and freedom and that the adherents thus renounce any kind of violence and killing. Yet, in Afghanistan, Rahman captured world attention when he was charged with the death penalty for the offense of apostasy for converting to Christianity. When Muslims convert to the Christian faith, it is considered such an offense that they are subject to being killed, and many ex-Muslims live under fear of losing their life and do not have freedom and tolerance to worship to their God. On the other hand, when a Christian converts to Islam, his transformation is praised by Muslims, and he has the right to worship and even to work in better conditions, never having to hide his real identity. Why is that? Are the West and America cowards? Do Americans and Westerns have a double standard? Why do those who convert to Islam, like Cat Stevens, publicly enjoy and celebrate his new religion, travel safely, and never have to hide his face? Besides exercising these freedoms, he devoted himself to disseminate Islam without fear. Has Cat Stevens or any other Christian who converted to Islam faced the death penalty or received any threat? Why can Muslims build so many mosques yet Christians may not build churches in Muslim countries? Where are the American and Westerns leaders and why do they not address the issues of lack of tolerance in the Muslim world? For example, in the Netherlands, the former Muslim who converted to Christianity, Hirsi Ali, has to hide his face but also in this Western country face persecution.

One of the hallmarks of the West is freedom of speech and freedom of _expression, permitting critiques of claims about religion truths, but Islamic law does not allow such debate or criticism. The question many scholars as well as political leaders ask is whether Islam is compatible with democracy or whether Islam can be modernized? Specifically, can Islam tolerate freedom of _expression in America? Under the United States Constitution the State and Church are separated at least by the principle, whereas Islam does not make this distinction. For example, Italian journalist Fallaci in her book The Rage and the Pride, written after 9/11, criticizes Islam and its totalitarian forces in demolishing Western culture and civilization. She also criticizes the West for turning a blind eye to the threat of Islam. Ms. Fallaci argues that 'Europe is no longer Europe. It is Eurabia,' a colony of Islam where the Muslims have invaded not only in a mental or cultural sense, but in a physical sense as well. She cogently presents the case that Muslims have poisoned the meaning of democracy. Today, in Europe, there are more Muslims than Christians, and mosques are filled with devotees whereas the churches are filled with tourists. A clear denial of Judeo-Christian roots has become routine propaganda in schools and in media in Europe and now in America.

Islam has a universal agenda; it has a plan and a method. Mohammed did not just come to preach, but also he was a father, soldier, leader, husband, a precursor to the spiritual role of Islam in general in that Islam must dominate all aspects the of life. Many Muslims believe that the Qu'ran was sent to Mohammed from God via angels, so that it is God's word. If this message is the word of God, can it be changed to be compatible now with the Western notion of democracy, to abandon the Shari law? Can Islam be modernized with the Western modernization? Many Muslims insist that Islam is consistence with democracy and can be modernized, but these ideologies are at their roots inconsistent and thus incompatible. Even the act of lying is permissible in Islam.

According to Islam, an individual can lie for three reasons: to make peace between a father and a mother, to save yourself, to lie to an enemy when you are at the war. Since many Muslims believe that they remain at war with non-Muslim in realms called a house of war and a house peace, you can lie to gain power, and then you can declare war or resist against non-Muslims as the Qumran says to lie to the unbelievers, Christians, and Jews. They are told to be nice on the surface until they gain the majority and then to take over and impose Qu'ranic law or Shari law on the population. Once the community accrues the majority, Americans cannot do anything but accept it like Europe is doing right now.

Bat Ye'or, an Egyptian author, explains in detail the systematic and calculated rise of Islam in Europe in her carefully documented record Eurabia: The Euro-Arab Axis. Once Muslims got their representatives in high public offices, then this will happen. President Bush, European heads of state, and Muslim leaders have already announced that this is a religion of tolerance. Yet, if anyone wants to understand Islam, the student of world affairs must read the history of Islam noting how Mohammed spread Islam beginning with a few people all over the world. In its beginning Islam secretly grew for more than two years because Mohammed and his companions had clandestine meetings until Mohammed got enough people and declared the time to spread Islam. Keeping secrets is very important for Muslims. Gulen repeatedly indoctrinates his followers about how to keep the secrets by using Mohammed as an example. For Gulen his followers must know the truth, but they are instructed that they cannot tell the truth everywhere to everybody.

Pope Benedict clearly defines the goal of Islam. The Qu'ran is a total religious law, which regulates the whole of political and social life and insists that the whole order of life be Islamic. The Qu'ran, as the constitution of the Muslims, shapes society in all arenas. In this sense it exploits such freedoms initially allowing freedom in certain areas until the time is right to declare the necessity of society living only under the Islamic code. It cannot be its final goal to say. 'Yes, now we too are a body with rights; now we are present in society just like the Catholics and the Protestants. If this were the situation, Islam would not achieve a status consistent with its inner nature: it would be in alienation from itself.' This alienation can be resolved only through the whole Islamization of society. For example, when a Muslim finds himself in America, he never identifies himself with the non-Muslims citizens because he does not find himself in a Muslim society (the salt of the earth). Why should everyone else who enjoys freedom of _expression today have to sacrifice because of the fanatical Muslims? After 9/11 Americans are not the same; their liberty and freedom link to their security because of the Islamic fundamentalism. Americans pay taxes, supporting Muslims who still preach hatred in the mosques. Why do Americans pay for extra security measures?

Islam has the universalism agenda to dominate the whole world. Gulen and his followers believe that Islam will be the stronghold in the West. After the collapse of the Soviet Union, Gulen declared the hicret, a term referring to the time when Mohammed was exiled from his hometown in Mecca to Medina. There Mohammed initially made peace with the Israelites and encouraged his followers not to confront the Jews because in that time Jews were powerful. Even Mohammed prayed toward the Jerusalem in the early months. He established an Islamic state in Medina, where he was exiled, and then after he gained a majority, he came with an army of ten thousand to conquer Mecca without any bloodshed because the inhabitants of Mecca could not resist Mohammed's army. Mohammed cleared the mosques of idols and ordered the people to pray toward Mecca rather than toward Jerusalem. Mohammed achieved these goals by his strategies and discipline.

During the time there was a bloody war going on between tribes, but he managed to bring all the tribes together by ordering his followers to marry with the different tribes, and he himself also married many wives from different tribes. Consequently, today Gulen, exiled to the U.S. from Turkey exactly follows the path of Mohammed and disseminates his Islamic goals throughout infidels' lands, encouraging his fellows not to confront America, because he believes that Muslims have not reached that capacity yet. Many of his disciples get married to American non-Muslims to convert them to Islam and to become American citizens. Gulen acts not on a short-range plan, but on a long-term one.

However, many Muslims believe that Christians in the West and Americans in particular are responsible for the moral corruption, but as I mentioned earlier, Europe is not a Christian country because there are more Muslims in Europe than Christians. It is true that morality has decayed in Europe as well as in America, but that does not make the Bible corrupt, as Islam contends. Europe and American have moved further and further away from Biblical principles and by not practicing the heritage of Bible principles, then they have become morally corrupt. The other point related to corruption is that many Westerns or Americans do not follow the Bible, but if they do regard it as a guide to life, they make the Bible follow them because God gave them freedom, but many Westerners and Americans are abusing that freedom by violating its admonitions by turning instead to sex, drugs, family abuse, murders and so forth. The Muslim retort that the Bible is corrupt cannot be corroborated, but particularly the principle to love enemies rather than to kill them provides the line of demarcation between the faiths

References

Allen, Martha Sawyer. "Growing Pains: Muslim Families Confront 'Americanization'."

NEWS)Star Tribune (Minneapolis, MN). 29 May 1999.

Blank, Jonah. The Muslim Mainstream. U.S. News Online . 20 July 1998.

Esposito, John L. The Oxford History of Islam . Oxford, England:
Oxford University Press:. 1999.

YeĤor. Bat. Eurabia: The Euro-Arab Axis. Cranbury, NJ: Fairleigh Dickson University Press, 2005.

Aland Mizell is with the University of Texas at Dallas School of Social Science
In 1796, U.S. Vowed Friendliness With Islam
by Daniel Pipes
New York Sun
November 7, 2006
Has the United States ever engaged in a crusade against Islam? No, never. And, what's more, one of the country's earliest diplomatic documents rejects this very idea.
Exactly 210 years ago this week, toward the end of George Washington's second presidential administration, a document was signed with the first of two Barbary Pirate states. Awkwardly titled the " Treaty of Peace and Friendship, signed at Tripoli November 4, 1796 (3 Ramada I, A. H. 1211), and at Algiers January 3, 1797 (4 Rajab, A. H. 1211)," it contains an extraordinary statement of peaceful intent toward Islam.
The agreement's 11th article (out of twelve) reads: As the government of the United States of America is not in any sense founded on the Christian Religion, - as it has in itself no character of enmity against the laws, religion or tranquility of Musselmen, - and as the said States never have entered into any war or act of hostility against any Mahomitan nation, it is declared by the parties that no pretext arising from religious opinions shall ever produce an interruption of the harmony existing between the two countries."
In June 1797, the Senate unanimously ratified this treaty, which President John Adams immediately signed into law, making it an authoritative expression of American policy.
In 2006, as voices increasingly present the "war on terror" as tantamount to a war on Islam or Muslims, it bears notice that several of the Founding Fathers publicly declared they had no enmity "against the laws, religion or tranquility" of Muslims. This antique treaty implicitly supports my argument that the United States is not fighting Islam the religion but radical Islam, a totalitarian ideology that did not even exist in 1796.
Beyond shaping relations with Muslims, the statement that "the government of the United States of America is not in any sense founded on the Christian Religion" has for 210 years been used as a proof text by those who argue that, in the words of a 1995 article by Steven Morris, "The Founding Fathers Were Not Christians."
But a curious story lies behind the remarkable 11th article. The official text of the signed treaty was in Arabic, not English; the English wording quoted above was provided by the famed diplomat who negotiated it, Joel Barlow (1754-1812), then the American consul-general in Algiers. The U.S. government has always treated his translation as its official text, reprinting it countless times.
There are just two problems with it.
First, as noted by David Hunter Miller (1875-1961), an expert on American treaties, "the Barlow translation is at best a poor attempt at a paraphrase or summary of the sense of the Arabic." Second, the great Dutch orientalist Christiaan Snouck Hurgronje (1857-1936), reviewed the Arabic text in 1930, retranslated it, and found no 11th article. "The eleventh article of the Barlow translation has no equivalent whatever in the Arabic," he wrote. Rather, the Arabic text at this spot reprints a grandiloquent letter from the pasha of Algiers to the pasha of Tripoli.
Snouck Hurgronje dismisses this letter as "nonsensical." It "gives notice of the treaty of peace concluded with the Americans and recommends its observation. Three fourths of the letter consists of an introduction, drawn up by a stupid secretary who just knew a certain number of bombastic words and expressions occurring in solemn documents, but entirely failed to catch their real meaning."
These many years later, how such a major discrepancy came to be is cloaked in obscurity and it "seemingly must remain so," Hunter Miller wrote in 1931. "Nothing in the diplomatic correspondence of the time throws any light whatever on the point."
But the textual anomaly does have symbolic significance. For 210 long years, the American government has bound itself to a friendly attitude toward Islam, without Muslims having signed on to reciprocate, or without their even being aware of this promise. The seeming agreement by both parties not to let any "pretext arising from religious opinions" to interrupt harmonious relations, it turns out, is a purely unilateral American commitment.
And this one-sided legacy continues to the present. The Bush administration responded to acts of unprovoked Muslim aggression not with hostility toward Islam but with offers of financial aid and attempts to build democracy in the Muslim world.
Iraqis should fight occupiers, not each other-cleric
22 Jan 2007
Source: Reuters
By Odai Sirri
DOHA, Jan 22 (Reuters) - A prominent Sunni Muslim cleric on Monday called on warring Sunnis and Shi'ites in Iraq to stop sectarian violence and fight U.S.-led "foreign occupiers".
"It is a taboo for Muslims to kill each other," said Sheikh Youssef al-Qaradawi, an Egyptian cleric living in Qatar.
The call to unite against "foreign occupiers" came after a three-day religious forum in Qatar grouping more than 200 Sunni and Shi'ite scholars from more than 40 countries.
"We have an obligation to fight foreign occupation of Muslim countries and we should be united against foreign aggression," Qaradawi added.
In a 10-point communique issued after the forum, senior Muslim clerics said killing of Muslims by Muslims was forbidden, and also called on Muslims to "unite against all aggression against the Islamic world".
Sectarian violence has threatened to distract Iraqis from the "real enemy", said the communique, written by senior clerics from various Muslim sects.
Muslim leaders from all sects should foster unity, understanding and respect between different sects and not try to convert followers from each others' sects, it added.
Muslim leaders should also reform their education curriculum to foster support and unity of the different Islamic sects and groups.
Clerics of the austere Wahhabi school of Sunni Islam in Saudi Arabia have long dismissed Shi'ites as virtual heretics.
Al Qaeda, a Sunni Muslim group, has used suicide bombings to wreak carnage among Shi'ites in Iraq, U.S. and Iraqi government officials say. Shi'ites say attacks on Sunnis are revenge for the suicide bombs.
"There should be respect for each others' beliefs and we must avoid confrontation," said Dr Ahmed Mohamed al-Tayeb, president of Egypt's al-Azhar University, one of the oldest and most revered seats of Islamic learning.
Prominent figures, including Ayatollah Mohammad Ali Taskhiri, who heads an Iranian body seeking to unify followers of Islam's various branches, Ekmeleddin Ihsanoglu, the head of the Organisation of the Islamic Conference, Ali Gomaa, the Grand Mufti of Egypt and Egypt's Religious Endowments Minister Mahmoud Hamdi Zakzouk have attended the forum.