MUSLIM HATE IN ENGLAND!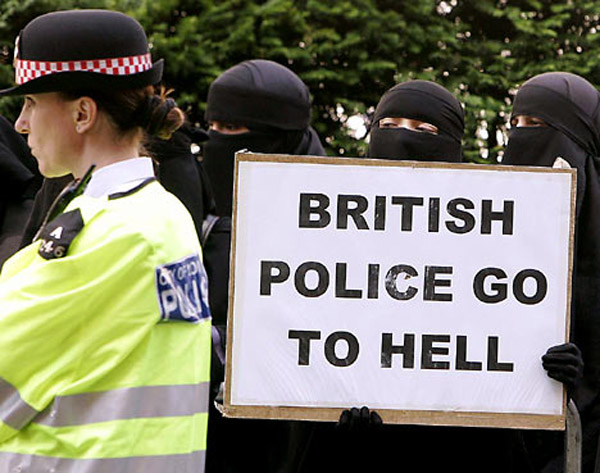 Child marriage survivors say UK law legitimises 'terrible' abuse
by Emma Batha
Thomson Reuters Foundation
Tuesday, 23 October 2018
Nearly 2,000 young people in Britain, the vast majority of them girls, were wed before the age of 18 between 2010 and 2015
By Emma Batha
LONDON, Oct 23 (Thomson Reuters Foundation) - When Zee was 13, she returned from school one day to find an engagement party under way at her home in northern England, but her excitement at the celebrations quickly turned to shock.
"I asked my mum who's getting married. She said, 'It's you'," Zee told the Thomson Reuters Foundation.
Her betrothed was represented by a photo – an older cousin she had never met who lived in Afghanistan, her parents' country of birth.
"One day I'm not even allowed to talk to boys and the next I'm told I'm getting married," Zee said.
"I was dressed up to look like a Christmas tree - very sparkly, very bling. Everyone was happy. The only person who was miserable was me."
Child marriage - defined internationally as marriage under 18 - remains legal in Britain. In England, Wales and Northern Ireland, teenagers can wed at 16 with parental consent. In Scotland, they do not need consent.
Zee, who did not want to give her full name, escaped by running away from home, but she says many girls are still being pushed into marriage.
Campaigners say it is time that Britain - which has been vocal about ending child marriage in developing countries - got its own laws in order.
They were particularly dismayed when Bangladesh changed its law recently to allow marriage at 16 - and cited British law as a justification.
"The UK should practice what it preaches," said Mabel van Oranje, chairwoman of global advocacy group Girls Not Brides.
"Britain's delay in reforming its own marriage laws is increasingly counterproductive."
British parliamentarian Pauline Latham agrees. She has introduced a bill to raise the marriage age to 18 which is set to receive its second reading later this year.
She said it was "crazy" that Britain still allowed child marriage when it was spending about 39 million pounds ($51 million) over five years to support efforts to end it in developing countries.
Changing the law was also crucial for protecting girls at home, she said.
Manchester attack: Who was Salman Abedi?



BBC News
May 24, 2017

Police have named 22-year-old Salman Ramadan Abedi as the person suspected of carrying out the suicide attack at Manchester Arena on Monday evening.

The BBC understands that Abedi was a "mule" carrying out the attack for a larger network of collaborators, which is being investigated by Greater Manchester Police.

But what do we know about the suspected suicide bomber?

Abedi was born in Manchester on New Year's Eve 1994 to Libyan parents, who had fled that country after becoming opponents of Colonel Gaddafi's regime.

Having spent a few years in London, the family moved to Manchester where Abedi's father used to do the call to prayer at a mosque in Didsbury.

Abedi attended Burnage Academy for Boys in Manchester between 2009 and 2011, before going to the Manchester College until 2013 and then Salford University in 2014.

However, he dropped out of university and worked in a bakery.

The BBC understands that the public previously warned authorities about Abedi's extremism.

A community support worker, who did not wish to be named, said several years ago members of the public called an anti-terrorism hotline about Abedi after he publicly said "he was supporting terrorism" and "being a suicide bomber is ok".

Friends remember him as a good footballer, a keen supporter of Manchester United and a user of cannabis. He had a sister and two brothers.

His mother and father are now believed to be back living in Libya. For a while he left the UK too, but he is believed to have returned in the past few days.

Abedi's family lived at more than one address in the city, including a property at Elsmore Road, in the Fallowfield area, that was raided by police on Tuesday.

Officers also searched a property in Whalley Range.

Seven people have been arrested so far in the UK in connection with the attack.

One - confirmed as Abedi's 23-year-old brother Ismail - on Tuesday morning, and a further four on Wednesday: three in south Manchester and one in Wigan.

Abedi's younger brother, 20-year-old Hashem Abedi, was detained in Tripoli on suspicion of links with the so-called Islamic State group on Tuesday evening, a spokesman for a local counter-terrorism force Rada said.

Reuters news agency reported that Abedi's brother Ramadan had also been detained in Libya.

Manchester is home to one of the largest Libyan communities in the UK. Neighbours have talked about the family having a Libyan flag flying in its house at certain times of the year.

BBC home editor Mark Easton said the raided area was known to have been home to a number of Islamist extremists in recent years; some with links to Syria and Libya; some alive and some dead.

A Muslim community worker has told BBC News that members of the public called the police anti-terrorism hotline warning about Abedi's extreme and violent views several years ago.

The community worker - who did not want to be identified - said two people who knew Abedi at college made separate calls to the police.

They had been worried that "he was supporting terrorism" and had expressed the view that "being a suicide bomber was OK".

The calls are thought to have been made five years ago, he added.

The BBC also understands that Abedi was in Manchester earlier this year, when he told people of the value of dying for a cause and made hardline statements about suicide operations and the conflict in Libya.

Greater Manchester Police said they would not comment on the claims.

Hamid El-Sayed, who worked for the UN on tackling radicalisation and who now works at the University of Manchester, said Abedi had a "really bad relationship" with his family and his parents had tried but failed to keep him on the "right path".

"Eventually he was doing very bad at his university, at his education, and he didn't complete, and they tried to take him back to Libya several times. He had difficulties adjusting to European lifestyle," he said.

A former classmate of Abedi has told the BBC that "he was a very jokey lad" but was at the same time was "very short tempered", saying Abedi would lose his temper over "the littlest thing".

The man, who does not want to be identified, said he went to secondary school with Abedi at Burnage Academy for Boys in Manchester, formerly known as Burnage High School.

"What I realised was he had a short temper but apart from that was a very sound lad," the man said.

He said that Abedi was "away at random times throughout the year - but I don't know if that was because he was out the country, or just didn't show up to school, because he did hang around with the wrong crowd and was very, very gullible".

"You could tell him anything and he would pretty much fall for it," he added.

The former classmate said that, before leaving the school in 2011, Abedi became "more and more religious" and that this might explain why he cut ties with former classmates.

'The face of hate'

A trustee of the Manchester Islamic Centre, also known as the Didsbury Mosque, told the Press Association it was likely Abedi had attended there.

Fawaz Haffar said Abedi's father used to perform the call for prayer at the mosque, and one of his brothers had been a volunteer there.

Mr Haffar described the mosque as moderate, modern and liberal, and said he was a member of an organisation liaising with police.

Mohammed Saeed El-Saeiti, the imam at the Didsbury Mosque, remembers Abedi as an dangerous extremist, the Daily Telegraph newspaper reports.

"Salman showed me the face of hate after my speech on Isis [an acronym for the Islamic State group]," said the imam.

"He used to show me the face of hate and I could tell this person does not like me. It's not a surprise to me."

Chief Constable Ian Hopkins confirmed that it was clear that Abedi had been part of a network of collaborators and Home Secretary Amber Rudd said he had been known to security services.

The Islamic State group issued a statement after the attack claiming it had been carried out by one of its members, but that has not been verified.



Attacker kills 3, injures 20 in vehicle and knife assault near British Parliament

The Washington Post
March 22, 2017

LONDON — An assailant fatally stabbed a police officer at the gates to Britain's Parliament compound Wednesday after plowing a vehicle through terrified pedestrians along a landmark bridge. The attacker was shot and killed by police, but not before claiming a total of three lives in what appeared to be Europe's latest high-profile terrorist attack.

Personal details about the suspected attacker were not immediately made public. Police said the man traced a deadly path across the Westminster Bridge, running down people with an SUV, then ramming the vehicle into the fence encircling Parliament. More than 20 people were reported injured.

Finally, the attacker charged with a knife at officers stationed at the iron gates leading to the Parliament grounds, authorities said.

The dead and injured were left scattered on some of London's most famous streets.

Crumpled bodies lay on the Westminster Bridge over the River Thames, including at least two people killed. Outside Parliament, a Foreign Office minister — covered in the blood of the stabbed police officer — tried in vain to save his life.

Parliament chambers and offices were put on full lockdown for more than two hours and officials shut down the famous London Eye Ferris wheel, which overlooked the scene.

"This is a day that we planned for but hoped would never happen. Sadly it has now become a reality," said the assistant Metropolitan Police commissioner, Mark Rowley, outside Scotland Yard's headquarters.

As he spoke, the bells of Big Ben tolled six times to mark the hour.

Later, after chairing a meeting of the government's emergency committee, British Prime Minister Theresa May said: "The location of this attack was no accident. The terrorist chose to strike at the heart of our capital city, where people of all nationalities, religions and cultures come together to celebrate the values of liberty, democracy and freedom of speech."

But "any attempt to defeat those values through violence and terror is doomed to failure," she vowed, adding: "Tomorrow morning, Parliament will meet as normal."

Even before full details emerged, the attack and resulting chaos appeared certain to raise security levels in London and other Western capitals and bring further scrutiny to counterterrorism measures.

"We are treating this as a terrorist incident until we know otherwise," said a Twitter message from London Metropolitan Police.

The attack occurred on Parliament's busiest day of the week, when the prime minister appears for her weekly questions session and the House of Commons is packed with visitors.

The Palace of Westminster, the ancient seat of the British Parliament, is surrounded by heavy security, with high walls, armed officers and metal detectors. But just outside the compound are busy roads packed with cars and pedestrians.

The attack — a low-tech, high-profile assault on the most potent symbol of British democracy — fits the profile of earlier strikes in major European capitals that have raised threat levels across the continent in recent years.

It was apparently carried out by a lone assailant who used easily available weapons to attack and kill victims in a busy, public setting.

British security officials have taken pride in their record of disrupting such attacks even as assailants in continental Europe have slipped through. But they have also acknowledged that their track record would not stay pristine, and that an attack was inevitable.

When it happened, it was shocking nonetheless. Cellphones captured scenes of carnage amid some of London's most renowned landmarks.

The target — Westminster — was heavily guarded. But the weapons of choice — an SUV and a knife — made the attack difficult to prevent, requiring the assailant neither to acquire illegal weapons nor to plot with other conspirators.

Rowley said investigators believe that just one assailant carried out the attack, but he encouraged the public to remain vigilant.

Britain has been on high alert for terrorist attacks for several years. But until Wednesday, the country had been spared the sort of mass-casualty attacks that have afflicted France, Belgium and Germany since 2015.

David Lidington, a member of Parliament, said a police officer was stabbed and the suspected assailant was shot.

"Suddenly police cars drove down the road and locked it down. People threw themselves to the ground and hid behind trash cans, walls and in cafes. But the situation seemed to be under control fairly quickly," said Lee Stevens, 34, who was standing outside Downing Street, about 500 yards from Parliament and near the prime minister's offices.

Among those providing emergency aid was Tobias Ellwood, a senior official at the Foreign Office and a British military veteran. Photos showed Ellwood's face streaked with blood after attempting to revive a police officer who had been stabbed just inside the gates of the parliamentary compound.

French Prime Minister Bernard Cazeneuve said that among those wounded in the vehicle attack were members of a group of French students. News media in France reported that three of the students, on a school trip from a high school in Brittany, were in serious condition and that their parents were being flown to London immediately.

King's College Hospital in south London tweeted Wednesday evening that its emergency department was treating eight victims, two of whom were in critical condition.

In Washington, White House press secretary Sean Spicer said President Trump has been briefed on the London attack and spoke by phone with Prime Minister May.

"We condemn today's attack in Westminster," Spicer told reporters. "We applaud the quick response of the British police and the first responders." He pledged "the full support of the U.S. government in responding to the attack and bringing to justice those who are responsible."

May later chaired a meeting of the government's emergency committee to discuss the assault.

Raffaello Pantucci, director of international security studies at the Royal United Services Institute think tank, said the rapid response suggested that police "were expecting that an attack was highly likely for some time."

Images from the bridge showed a man dressed in a suit lying on his back, his legs splayed to either side, as pedestrians huddled around him administering first aid. The shoe was off his right foot, and blood stained the sidewalk beneath his left.

In another image, a woman with long blond hair and running shoes lay in a pool of blood on the bridge's sidewalk. Blood stained the corner of her mouth as another pedestrian cradled her head.

Other photos showed people sitting on the sidewalk looking dazed amid broken glass and bits of automotive debris, with Big Ben looming beyond.

A spokesman for the Port of London Authority said a woman was pulled alive from the River Thames, and he confirmed reports that she had serious injuries.

As police investigated, much of the activity in the area around Westminster came to a standstill.

A nearby hospital was put on lockdown and the London Eye — the enormous Ferris wheel above the River Thames — was stopped and visitors were slowly let off hours later. Those who were locked inside the Eye's capsules at the time of the attack were kept there, hovering above as emergency responders swarmed the scene below.

In a brief news conference just before 5 p.m. outside the nearby headquarters of Scotland Yard — London's police force — a spokesman said he was "not going to speculate" on whether the incident was over.

Another witness, Kirsten Hurrell, 70, said she first heard the crash of a car hitting the fence outside parliament.

"I thought initially it was some kind of accident," Hurrell told the Guardian newspaper. "Then I heard a couple of sharp noises. It could have been gunshots. I wasn't sure."

"There was a lot of steam from the car," added Hurrell, who runs a newspaper kiosk in Parliament Square. "I thought it might explode."

The U.S. Department of Homeland Security said it was in "close contact with our British counterparts to monitor the tragic events and to support the ongoing investigation." It noted that U.S. security threat levels remained unchanged.

A year ago to the day, attackers carried out three coordinated suicide bombings in Belgium, killing 32 civilians and injuring more than 300 others in two blasts at Brussels Airport and one at a metro station in the Belgian capital. The Islamic State claimed responsibility for the attacks, in which three perpetrators were also killed. Another bomb that failed to explode was found at the airport.

The attacks occurred shortly after Belgian police staged a series of raids targeting suspected terrorists. Those who carried out the bombings belonged to a cell that was involved in a series of gun and bomb attacks that killed 130 people in Paris in November 2015. The Islamic State also claimed responsibility for the Paris attacks.

In the aftermath of the attack in London, the Welsh Assembly and the Scottish Parliament both suspended their sessions. Scottish lawmakers had been due to debate legislation authorizing a new referendum on independence.

In July last year, a Tunisian resident of France perpetrated a new type of terrorist attack in the Riviera city of Nice, using a cargo truck to mow down revelers celebrating Bastille Day on a seaside promenade. Eighty-six people were killed and more than 400 injured before the driver was fatally shot by police. The Islamic State said the attacker was "a soldier" of the group who responded to its calls to use all means, including vehicles, to strike "behind enemy lines."

The Nice attack apparently served as a template for another truck assault in December, when a Tunisian who had sought asylum in Germany plowed into a Christmas market in Berlin, killing 12 people and injuring more than 50 others before fleeing. The attacker, who had pledged allegiance to the Islamic State's leader, was later killed by Italian police in a shootout near Milan.

In October 2014, a Canadian of Libyan heritage went on a shooting spree at the Parliament building in Ottawa, killing a soldier on sentry duty and engaging in a shootout with parliamentary security guards in what police described as a terrorist act. The attacker was fatally shot at the scene.

Specialists said the London attack Wednesday appeared to be in line with an emerging model of strikes involving simple, everyday instruments but carried out in locations sure to draw global attention.

"Terrorists rely on a lot of people watching — it can be even better than having a lot of people dead," said Frank Foley, a scholar of terrorism and counterterrorism at the Department of War Studies at King's College London.

Strict regulation of firearms in Britain — as compared to the United States, where such attacks have often involved gunfire — lowers the scale of possible violence, said Steve Hewitt, who studies surveillance and counterterrorism at the University of Birmingham.

"We live in a country where there are tight gun-control laws, as opposed to in the U.S., where a lone individual acquiring weapon often legally can cause major death and destruction very quickly," Hewitt said.

Within a few hours of the attack, there were signs that normalcy was returning to London. Alongside police officers and journalists near Westminster were large numbers of tourists who had come to visit sites in the now cordoned-off area or just outside it.

At the London Eye near the Westminster Bridge, a large crowd of tourists stood by the ferris wheel. Some were waiting for friends and relatives to get off the ride, which was halted when the attack occurred, while others had turned up unaware of the commotion or had come to watch.

Linda Lim, a 22-year-old student from Chicago, had just arrived at the scene. While she had heard about the attack, she did not realize it happened so close to the London Eye and had not expected the crowds of police officers.

Charles Thompson, a 21-year-old chef from Canada, wondered if there would be more attacks. "Usually its a chain-reaction thing," he said.

His friend, Enrique Cooper, a 32-year-old officer manager originally from Italy, said he would not let the day's violence change his view of London. "I'm here all the time," he said. "You can't let something like this ruin your perspective."
Cops shoot 2 as 'soldier is beheaded' in suspected terrorist attack

By KAREN MORRISON, HARRY HAYDON and JO SAYER
Published: 22nd May 2013
The Sun

CHILLING footage has emerged of a man with bloodied hands armed with knives speaking into a camera phone - just minutes after a soldier was allegedly beheaded.
The tall black man talks brazenly with a London accent to the shocked onlooker who filmed the knifeman making a series of twisted rants after the terrorist attack.
The knifeman and his accomplice are believed to have killed serviceman in the brutal knife attack after ramming the victim - who was wearing a Help For Heroes t-shirt - with a car.
The two suspected terrorists were then shot when cops arrived. They were then taken to hospital, one of them in a serious condition.

Police confirmed one man has died who is believed to be the soldier.

David Cameron vowed Britain would "never buckle" in the face of terrorism and condemned the "absolutely sickening" attack.
In footage, obtained by The Sun, one of the terrorists speaks directly in to the camera bragging about the horrific attack boasting the public and their "children" were targets of extremists.
He says: "We swear by almighty Allah we will never stop fighting you...Your people will never be safe.

"In our land our women have to see the same. You people will never be safe.

"Remove your governments they don't care about you.
"You think David Cameron is going to get caught in the street when we start busting our guns you think politicians are going to die? No it's going to be the average guy, like you, and your children.

"So get rid of them. Tell them to bring our troops back so can all live in peace."

The victim – who was wearing a Help For Heroes t-shirt – was said to have been attacked by men armed with knives, including a meat cleaver.

Eyewitnesses said the two men - suspected Islamist terrorists - were "hacking" at the victim "like a piece of meat".
A number of witnesses have told how a blonde woman got out of her car and ran towards the suspects confronting them to stop attacking.
The attackers were then shot after trying to attack police responding to the barbaric incident.

Senior Whitehall sources said the attackers are thought to have tried to film their attack whilst shouting "Allahu Akbar" - God is Great. The men were said to have been of Muslim appearance.

David Cameron has confirmed Home Secretary Theresa May will chair an emergency COBRA meeting - reserved for times of national crisis.
He said: "Tonight, our thoughts should be with the victim, with their family, with their friends.
"People across Britain, people in every community, I believe, will utterly condemn this attack.

"We have had these sorts of attacks before in our country and we never buckle in the face of them."
Mr Cameron was speaking at a Paris press conference with French president Francois Hollande but confirmed he would cut short the visit to return to the UK tonight.

Cops sealed off parts of Woolwich close to the Royal Artillery Barracks after two men in a blue Vauxhall car rammed into a man on John Wilson Street.

Witnesses said the attackers, both black, then jumped out of the car and started attacking the victim with meat cleavers.
Armed police were called to the scene and shocking claims say cops then fired at suspects alleged to have carried out the attack.

When cops arrived one the suspects tried to attack them and was gunned down by a woman police officer, said an eyewitness.

London Ambulance Service confirmed a man was found dead at the scene, while two other men were taken to hospital, one of them in a serious condition.
A witness told LBC radio that the attackers were "chopping this guy to pieces, literally hacking at something like it was a piece of meat".
Luke Huseyin, 32, who lives in a block of flats close to where the incident happened said: "I was at home and heard a big bang. I looked out of the window and saw a car had crashed.

"Then two black guys got out of the car dragging a white guy across the road towards the wall.

"One of the guys had a knife that looked about a foot long and a machete and the other bloke had a gun.

"They started slashing him up with the knife and hitting him in the stomach with the machete.

"I don't think it took long before he was dead. "There were people passing by who were screaming and running away. I've never seen anything like it.
"When he was dead, they dragged him out into the road and left him there. It was strange, they didn't run off, they just stood there as if they were waiting for the police.
"It must've taken about 20 minutes for the police to arrive, I think it must've been because they were waiting for armed police.

"The police officers got out of the car and the two black men ran towards them with the gun. The police shot them.
"They fell to the ground."
Lou Peluola, 53, arrived on the scene shortly after the incident when he saw one attacker standing over a body before the police arrived 20 minutes later.
He said: "People were afraid asking: 'where are the police?' They took a long time to arrive.

"I panicked, rang the police and ran away."
Peluola saw the victim bent over on the floor with the attacker standing over him holding a 20inch knife.
He described the attacker as a "huge man, black".
Boya Dee, a rapper claiming to have seen the whole incident, tweeted live from the scene. He said: "I just see a man with his head chopped off right in front of my eyes!"

Eyewitness reports said a machete may have been used in the incident.
A London Air Ambulance spokeswoman said: "We were called today at 2.20pm to reports of an incident at John Wilson Street, SE18.
"We sent two responders in cars, three ambulance crews, two duty officers and London Air Ambulance to the scene.
"We still have staff on scene."
John Wilson Street is currently shut in both directions between Artillery Place and New Ferry Approach.



Birmingham men guilty of mass bomb plot

21 February 2013
BBC News

Three would-be suicide bombers who plotted to carry out an attack to rival the 7 July and 9/11 atrocities have been found guilty of terrorism charges.
Irfan Naseer, 31, Irfan Khalid, 27, and Ashik Ali, 27, from Birmingham, were found guilty at Woolwich Crown Court of being "central figures" in the plan.
Jurors were told they planned to set off up to eight bombs in rucksacks, using timers to detonate the charges.
Police described the men as "committed, passionate extremists".
The trio were arrested in 2011 amid fears an attack was imminent.
Detectives believe it is the most significant terror plot to be uncovered since the 2006 conspiracy to blow up transatlantic airliners using bombs disguised as soft drinks.
Khalid even boasted that the attack was "another 9/11" and "revenge for everything".
'Charity workers'
The three men were found guilty of 12 counts of preparing for acts of terrorism between December 2010 and their arrest in September the following year.

The jury heard that Naseer and Khalid had received training from al-Qaeda contacts in Pakistan - and had recorded martyrdom videos there before returning to the UK.
Having recruited others, the group posed as legitimate charity workers on the streets of Birmingham and collected thousands of pounds from unsuspecting members of the public.
Naseer played a key role in sending four other Birmingham men to Pakistan to receive training. All of these have already pleaded guilty to preparing for acts of terrorism: Ishaaq Hussain, 21, Shahid Khan, 21, Naweed Ali, 25, and Khobaib Hussain, 22.
Two other Birmingham men who were part of Naseer and Khalid's plans, Rahin Ahmed, 27, and Mujahid Hussain, 21, have also pleaded guilty to terrorism charges.
The judge told the men they would all face life in prison when they were sentenced in April or May.
Mr Justice Henriques told Naseer he had been convicted on "overwhelming evidence" and that he faced "a very long minimum term".
He said: "You were seeking to recruit a team of somewhere between six and eight suicide bombers to carry out a spectacular bombing campaign, one which would create an anniversary along the lines of 7/7 or 9/11. It's clear that you were planning a terrorist outrage in Birmingham."

Surveillance recordings
BBC home affairs correspondent Dominic Casciani said the convictions represented a major success for counter-terrorism officers in the West Midlands who, along with MI5, ran one of the largest undercover operations in recent years to identity the plotters and stop them.
Nine men in all have been convicted as a result of the investigation.

The jury heard that the security services had the men under such close surveillance that they recorded them laughing and joking about their plans and how they did not need to worry about their car's MOT, because they would be dead by the time it expired.
The men were arrested after recorded conversations revealed Naseer's depth of knowledge about bomb-making and the three discussed time frames for attacking targets.
They had discussed targets while under surveillance but had not settled on a final plan. During his police interview, Ali told detectives that they wanted to wear explosive vests and had considered attacking British soldiers.
The trial heard the men were inspired by sermons of US-born Islamist cleric Anwar al-Awlaki, who was killed in Yemen in September 2011.

'Maim and kill'
Karen Jones, specialist counter-terrorism prosecutor for the Crown Prosecution Service, said: "These men had dangerous aspirations and whilst the precise targets remained unclear, the potential for damage and loss of life from their plot should not be underestimated.
"The evidence we put to the court showed the defendants discussing with awe and admiration the attacks of 9/11 and 7/7. These terrorists wanted to do something bigger, speaking of how 7/7 had 'gone a bit wrong'."

Detective Inspector Adam Gough of West Midlands Police led the investigation into the men.
"There's no doubt whatsoever that they were the real deal," he said. "They are committed, passionate extremists. They had a real stated intention to kill and maim as many people as they possibly can. More than that, they not only had that intention, but they had the capacity and training to make that intention a reality.
"Naseer is a very devious and calculating man. He is someone who had a real hatred of western values, someone who wants to bring his influence to others and a compulsive liar. A very dangerous man."
Irfan Naseer told the trial that the hours of secret recordings of him talking about terrorism and bomb-making were all nonsense.
He said he had pretended to be a terrorist because he wanted to end rumours in his local community that he was a Pakistani spy. Ashik Ali denied wanting to be a terrorist. Irfan Khalid did not give evidence in his defence.


Islamic teacher under fire for calling on Welsh muslims to support fight for sharia law abroad
by James McCarthy
WalesOnline
Apr 22 2012

An Islamic teacher whose group was at the centre of an anti-terror raid on a Cardiff community hall has come under fire for calling on Welsh muslims to "physically" support the fight for sharia law abroad.
Abu Hajar, of Grangetown, Cardiff, is one of the leaders of the Islamic group Supporters of Tawheed, which on its website says its core belief is the "domination of the world by Islam".
The group – which according to its website also rejects democracy and freedom, describing them as "false deities" – hit the headlines in January when one man arrested during a raid on a meeting in the city's Canton Community Hall told an officer "I will chop your head off" before shouting "I'm going to shoot you with a machine gun". Mohammed Abdin, 21, was subsequently jailed for eight months for the threats.
It is understood the raids were prompted by members of the Muslim community, who feared the meeting was providing a place for radical Islamists to network.
Mr Hajar has previously said the group is simply interested in spreading the message of Islam and does not preach violence or extremism.
In a video posted last month on YouTube called "Support the Muslims of Syria", Mr Hajar said muslims should: snub western help abroad; demand an "Islamic solution" to problems in the Middle East; and impose sharia law there.
In the 14-minute video he addresses the people of Syria, saying: "Our money is with you and, if need be and if we are able to, our muslims will come and respond to your call physically as well.
"So we call upon the muslims to be steadfast in this struggle, to call for sharia, to call for an Islamic solution...to continue rising up against [these] regimes, whether that be in Tunisia, in Syria, in Egypt, even in Saudi Arabia, even in Yemen.
"The muslims in Jordan need to rise up and we the muslims will respond to your call."
And he hit out at Western involvement in the region, adding: "We are not here to call upon freedom, to call for democracy, to call for human rights. Remember these words are very establishments, these are the very causes of the oppression that has taken place in these muslim lands."
The UN estimates about 9,000 people have died in Syria since protests against President Bashar Assad began in March 2011, prompting a brutal Government crackdown.
And on Friday Syrian troops shelled a rebel-held area of Homs and sent reinforcements to border areas as the opposition called for fresh protests after the United Nations accused President Assad of failing to honour a peace plan which went into effect a week ago.
The video is posted with the text: "For far too long the Ummah [the global community of Arab nations] has been in crisis, facing oppression, injustice and betrayal by our leaders but we need to ask ourselfs what will it take for us to act? how many Muslims need to be killed before we realise our responsibilities?"
And adds: "We will all be held accountable about what we did to help our brothers and sisters all over the world who? are undergoing distress at the hands of the kufaar [nonbelievers]."
Monmouth MP David Davies said fundamentalism was "unacceptable in our community".
He said: "They [fundamentalists] have a rather warped interpretation of the Koran that seems to have taken hold of a worrying number of people across the world who follow Islam.
"That particular interpretation is incompatible with the principles of equality for men and women and democracy we take for granted.
"For some people a literal interpretation of the Koran is that all laws are handed down by God and that man does not have the right to change and alter laws.
"That is incompatible with a democracy."
He said Britain was "more enlightened" and we should not apologise "for our own culture".
The MP claimed our culture was often wrongly put on an equal footing with those holding fundamentalist values. "Our values are better than other peoples," he said.
"We believe in equal rights for men and women, and do not discriminate against gays, and believe everyone should be free to practise religion – but that the government should be separate.
"These are values that are incompatible with extreme values in Islam."
Saleem Kidwai is chairman of the Muslim Council of Wales. He claimed if Hajar wanted change he would have to be "part of the system."
"You can make as many videos and shout as much as you want but it won't make any difference," he said.
"If you're a citizen of this country then you have to be an active member of the political process."
Several attempts were made to reach Abu Hajar but he was unavailable for comment.
South Wales Police declined to comment on the matter.
Militants Admit Plan to Bomb London Stock Exchange
By JOHN F. BURNS and ALAN COWELL
February 1, 2012
The New York Times
LONDON — Four Islamic militants, all British citizens, admitted involvement on Wednesday in a conspiracy inspired by Al Qaeda to place a bomb in the toilets of the London Stock Exchange, with the hope that the multistory building would catch fire. Five other men involved in the plot pleaded guilty to lesser charges.
Prosecutors said the plot was foiled by the arrests of the nine men, all with family origins in Bangladesh or Pakistan, in December 2010 at their homes in London, Cardiff and the Midlands town of Stoke-on-Trent. They said the men's plans were discovered after undercover counterterrorism officers tailed them as they surveyed London tourist attractions and tracked their conversations through secret electronic monitoring devices planted in their homes, cars and computers.
Big Ben, Westminster Abbey and the United States Embassy were among the targets scouted or considered by the men, the court was told. Others included the homes of the London mayor and the American ambassador, two rabbis and the London Eye, a 440-foot Ferris wheel towering above the River Thames.
The case was part of Britain's long-running battle against homegrown terrorist plots involving militants born or living in Britain since the bombings on July 7, 2005, that killed 52 people on three London subway trains and a bus.
The outcome was taken by British counterterrorism experts as a triumph for the elaborate electronic surveillance techniques deployed by the country's web of intelligence and security agencies. But the case also served as a warning of potential threats as London prepares a security force of nearly 25,000 men and women, including troops, to protect the 2012 summer Olympic Games, which begin in July.
The nine men had been set to plead innocent to terrorism charges but changed their pleas to guilty at the last minute when the judge warned them of the heavy sentences, including up to 13½ years for the man suspected of being the ringleader, if the case went to a prolonged trial. By pleading guilty, legal experts said, the men made themselves eligible for a "discount" of as much as 10 percent in their prison terms when sentenced next week.
For years, Britain's top counterterrorism officials have been warning of what they called a widespread network of Islamic terrorist cells across the country, and saying that the security agencies, despite major increases in financing and staff, lack the resources to track them all. Bob Quick, a former head of counterterrorism at Scotland Yard, said in a BBC radio interview that the plot "serves to remind us that there are still people out in the country contemplating and capable of carrying out terrorist attacks on innocent people."
But other experts said that the arrests and convictions of the men showed the vast improvements in British methods of hunting down would-be terrorists.
Alexander Carlile, a member of the House of Lords and formerly the government's independent reviewer of counterterrorism legislation, said the tracking of the militants in the stock exchange plot had been "an excellent example of the surveillance and interception capabilities of British intelligence, as good as and probably better than any other country in the world."
But he added, "We must not cease for one moment to be vigilant about the dangers of terrorism, particularly in this Olympic year."
Much of Britain's covert electronic listening, code-breaking and surveillance is conducted by an institution called Government Communications Headquarters, known as GCHQ, run in close collaboration with the National Security Agency in the United States. GCHQ is one of three British intelligence agencies, along with the domestic MI5 security agency and the overseas MI6 secret intelligence service. GCHQ's operations are conducted mainly from its headquarters at the entrance to the spa town of Cheltenham in Gloucestershire, where most of the agency's 5,500 staff members work, according to its Web site.
The militants involved in the case that went to court on Wednesday met through their affiliations with Islamic groups, prosecutors said, and communicated via Internet and cellphone. They also met in public places, like parks, where they believed official surveillance would be more difficult, unaware that undercover agents were scrutinizing their movements.
Mohammed Chowdhury, 21, and Shah Rahman, 28, both of Bangladeshi descent and from London, together with two militants from Wales, Gurukanth Desai, 30, and Abdul Miah, 25, admitted planning to plant a bomb at the London Stock Exchange "with the obvious attendant risk but without any intention to cause death or even injury but with the intention to terrorize, damage property and to cause economic damage," said Christopher Blaxland, a lawyer acting for Mr. Chowdhury.
Counterterrorism officials arrested the nine before they had set a date for attacks or built bombs, the prosecution said. The men, though not members of Al Qaeda, were inspired by the anti-Western tirades of Anwar al-Awlaki, the American jihadist killed by an American drone strike in Yemen in September, said Andrew Edis, a prosecution lawyer.
Counterterrorism officials found the men in possession of a Qaeda magazine containing an article titled: "Make A Bomb In The Kitchen Of Your Mom," the prosecution said.
MUSLIM FANATICS FAIL TO SAY SORRY OVER COURT RANT
Friday November 5,2010
Express.co.uk
By Cyril Dixon
TWO Muslim fanatics who chanted "Death to Britain" in an Old Bailey court refused to apologise last night.
Abu Yahya and Abu Saalihah were defiant about the uproar following a fellow-radical's life sentence for stabbing MP Stephen Timms.
Yahya, 27, and Saalihah, 34, shouted "curse the judge" and rounded on a female Muslim juror after Roshonara Choudhry was jailed.
But yesterday, both men warned of further Islamic bloodshed after blaming Britain for inciting violence.
Yahya said: "I believe that Stephen Timms brought this upon himself because he supported the war in Iraq.
"Roshonara Choudhry was an innocent Muslim who felt really bad about the war in Iraq and she was taking the advice of Islamic scholars in how she acted. The reality is Britain is at war with Muslims because of the war in Afghanistan and in Iraq."
Yahya, who had held a placard saying "Islam Will Dominate The World!", added: "I personally believe you can't target those you live amongst, but there are many others who don't believe in that."
Describing himself as an office administrator from east London, Yahya claimed to be influenced by Anwar al-Awlaki, the Al Qaeda cleric behind last week's foiled Yemeni cargo bomb plot.


He said he attended al-Awlaki's lectures when he was in Britain. Fellow protester Saalihah warned of "DIY Jihadis" leaving "blood on the streets", adding: "There is a seething undercurrent of anger amongst the Muslim youth."
Yet despite holding up signs saying "Iraq – Graveyard For The British Troops" and "Stephen Timms – Go To Hell", he insisted he was a "friend of Britain".
A mob ranted as Choudhry, 21, was told she must serve at least 15 years for attempting to murder Mr Timms, Labour MP for East Ham.


Yesterday, Sajjad Karim, Tory MEP for North-west England, said: "The overwhelming majority of Muslims are revolted and disgusted at the criminal act carried out by this young woman and are delighted it has been appropriately dealt with by the British judicial system."
Anglians' homecoming marred by violence
By Ken McErlain
Wednesday, 16 June, 2010
Eadt.co.uk
SOLDIERS from East Anglia were heckled and branded "murderers" by Muslim anti-war protesters amid ugly scenes during a homecoming parade.
A group of protesters gathered in Barking town centre, in east London, as members of the 1st Battalion Royal Anglian Regiment marched through the streets.
Thousands of well-wishers lined the route, waving Union flags and cheering as the troops began to march.
But as the soldiers passed, members of a group called Muslims Against The Crusades (MAC) jeered and shouted "murderers, murderers, murders" and "British troops go to hell."
The chants were drowned out by a large mob on the opposite side of the street who retaliated with jeers of "traitors."
The parade had to be delayed due to growing tensions between the two sides.
Trouble escalated when the mob broke through barricades, charged across the road and exchanged punches with the MAC protesters.
Police quickly separated the two groups. One man was wrestled to the ground, handcuffed and led away while the police made a ring surrounding the Muslim group.
A Metropolitan Police spokesman said two people had been arrested for public order offences.
One witness said: "There were about 25 to 50 Muslim protesters carrying placards with things like 'Muslims Against Crusades' and 'British Soldiers Go To Hell.'
"Then there was a counter-protest of about 100 guys barracking them.''
Undaunted by the abuse, the soldiers continued to march through the town centre with fixed bayonets during an hour-long procession accompanied by the Minden Band, a Colour Party and two guards of 70 officers and non-commisioned officers.
The MAC group had earlier given out leaflets featuring British soldiers along with an image of a bloody puddle in the shape of the skull calling the troops "death squads" and had earlier put posters up on the town's war memorial.
The leaflets called on Muslims to "rise up and condemn this sickening parade."
Extra police officers were drafted in to patrol the procession route and businesses in the area locked up in anticipation of violent clashes.
RELATIVES of soldiers from the region have expressed their disappointment at yesterday's scenes in Barking.
Members of the 1st Battalion The Royal Anglian Regiment, known as 'The Vikings', were heckled by anti-war protestors as they marched through the town on a home-coming parade.
Lorranie McClure, the mother of Ipswich soldier Aaron McClure, who was killed in a friendly fire attack in 2007, attended the parade.
She said: "We saw what was going on and thought it was absolutely disgusting.
"What was written on the protestors' placards was vile. They shouldn't have been allowed to attend the event in the first place.
"However, their chants were drowned out after a while. Their actions didn't spoil what was a lovely occasion – it's always nice to see The Vikings.
"We were able to enjoy the rest of the parade and pay our respects properly."
Alison Burgess, founder of the Viking Family Support Group, said it was sad a minority of people had shouted abuse at the returning troops, which included her two sons, Pte Nicky Burgess, 23, and Pte Daniel Burgess, 21, both of whom had returned from a six-month tour of Afghanistan last month.
She said: "It is incredibly sad that people who live in our country and enjoy the privileges of working here would stand there and shout insults at troops.
"My sons are mourning the loss of their friends and trying to get back to normal life.
"Nobody likes being shouted at in public but they do recognise the majority of the British public are behind them and respect them and are grateful for what they do."
The girlfriend of a Royal Anglian soldier killed in Afghanistan said the protest group who heckled troops should have been banned from the parade.
Lance Corporal Scott Hardy, 26, from Chelmsford, was killed in an explosion near Musa Qala on March 16, just weeks before he was due to return home.
His partner Charlene Byrne, 24, said: "They should never have been allowed to hijack this. If the Government knew that this group was planning to do this they should have put a stop to it before it happened.
"It's terrible that this group has got away with it. Obviously not everyone supports what's happening in Afghanistan, there are people who are very angry about it, but they shouldn't take it out on the soldiers.
"The lads who go out to Afghanistan don't care about the politics, they care for each other and they are doing a very difficult job trying to help the people of their country."
The Royal Anglian Regiment lost five soldiers during its six-month tour of Afghanistan.
L/Cpl Scott Hardy, 26, from Chelmsford, and Pte James Grigg, 21, from Stradbroke, were both killed when a bomb exploded in an area north of the Musa Qala district of Helmand province in March.
Capt Martin Driver, 31, originally from Barnsley in South Yorkshire, was seriously injured by an improvised explosive device while on patrol in Musa Qala in March. He was flown back to the Royal Centre for Defence Medicine at Selly Oak in Birmingham for treatment, but died with his family by his bedside.
Pte Robert Hayes, 19, from Burwell in Cambridgeshire, died in an explosion while on foot patrol in the Nad-e-Ali area of Helmand province in January.
L/Cpl Adam Drane, 23, became the 100th British solider to be killed in the conflict when he was shot dead by Taliban insurgents at a checkpoint near Nad-e Ali, in Helmand, in December last year.
A total of 298 UK troops have been killed in Afghanistan since British forces invaded in 2001.
Nicky Reilly, Muslim convert, jailed for 18 years for Exeter bomb attack

Adam Fresco, Crime Correspondent
London Times
January 31, 2009

A vulnerable Muslim convert who was persuaded by extremists to attempt a suicide bomb attack was jailed for a minimum of 18 years yesterday.

Nicky Reilly, 22, who has Asperger's syndrome and a mental age of 10, was described by his lawyer as the "least cunning" person ever to have been charged with terrorism.

He was directed online to build nail bombs, which he tried to set off at the Giraffe restaurant in Exeter in May.

The devices went off prematurely and he was the only person injured. At his trial in October last year Reilly, from Plymouth, Devon, who appeared in court as Mohamad Abdulaziz Rashid Saeed, pleaded guilty to attempted murder and preparing an act of terrorism.

Sentencing him to life imprisonment at the Old Bailey yesterday, Mr Justice Calvert-Smith said that although the attack was "an unsophisticated attempt", Reilly was a "significant risk" to the public.

After his conviction, counter-terrorism officials said that extremists had taken advantage of his low IQ to groom him.

Reilly, who has an IQ of 83, had first been taken to see a pyschiatrist when he was 9 and tried to take an overdose at 16. Kerim Faud, representing him, said: "He may comfortably be deemed to be the least cunning person ever to have come before this court for this type of offence."

He is thought to have met British-based Muslim radicals in internet cafés near his council home, which he shared with his mother.

Security sources said that radicals encouraged him to visit internet chat rooms and other websites, where he encountered men based in Pakistan who helped to mould a violent hatred of the West. He discussed with the men what his targets should be and they directed him to bomb-making websites.

In a suicide note left in his home he paid tribute to "Sheikh Osama" (bin Laden) and called on the British and US governments to leave Muslim countries. He said that Western states must withdraw their support of Israel, and that violence would continue until "the wrongs have been righted".

On May 22 Reilly put his plan into action. He left his home with six bottles in his rucksack filled with paraffin, caustic soda and nails. When he arrived at the Giraffe restaurant he ordered a drink and sat for ten minutes before heading to the lavatory to make the bombs.

Fortunately for the 24 customers and 11 staff in the restaurant and the 20 more people lunching outside, the bombs exploded in the cubicle.

Mr Justice Calvert-Smith said yesterday: "I am quite satisfied that these offences are so serious that only a life sentence is appropriate. This defendant currently represents a significant risk of serious harm to the public.

"The offence of attempted murder is aggravated by the fact that it was long planned, that it had multiple intended victims and was intended to terrorise the population of this country. It was sheer luck or chance that it did not succeed."

He accepted that the attack was unsophisticated but added: "Those who attempt to commit suicide and in doing so murder other people are almost invariably unsophisticated in many aspects. That lack of sophistication saved many Londoners on July 21, 2005."

Jacqui Smith, the Home Secretary, said: "This case demonstrates that the threat to the UK from violent extremists remains real and serious." Reilly was the 86th person to be convicted in a significant terrorist case since 2007, she added.


London a Longtime Haven for Radical Muslim Figures
By Patrick Goodenough
CNSNews.com International Editor
July 08, 2005

(CNSNews.com) - Terrorism experts have long warned that Islamists espousing violence enjoy a haven in London, an assertion that has come into sharp focus again with Thursday's bombings in the British capital.

For years, Britain tolerated the presence of high-profile and outspoken Islamic clerics whose fiery sermons frequently extolled jihad against the West. Since 9/11, however, anti-terror legislation has been tightened, some groups have been outlawed, terror rings have been broken and some controversial figures have been arrested.

One of them, Egyptian-born Abu Hamza al-Masri, went on trial this week at London's Old Bailey courthouse, where he faces more than a dozen charges include inciting terrorism and racial hatred.

Al-Masri was formerly the imam at a North London mosque linked to confessed al-Qaeda conspirator Zacarias Moussaoui and Richard Reid, who tried to blow up a U.S.-bound flight from Europe with explosives hidden in his shoe.

He also is wanted in the United States and Yemen on terror-related charges.

For years before his May 2004 arrest al-Masri used the Finsbury Park mosque as a base to speak for what he insisted were political causes.

Despite his radical rhetoric and close links to a group that claimed responsibility for attacks including the Oct. 2000 bombing of the USS Cole in Yemen, it was only in 2003 that the authorities acted against him, stripping him of his British citizenship and barring him from preaching at the mosque.

Al-Masri then took to addressing his followers -- mostly young British- and foreign-born Muslims -- on the street outside the building.

Britain also detained another London-based extremist cleric, Abu Qatada, whose sermons were found in the 9/11 hijackers' apartment in Germany.

But other radical leaders remained free, among them Omar Bakri Mohammed, a Syrian-born cleric who has promoted and praised violence against Israel, America and Britain for years.

Yael Shahar of the Israel-based International Policy Institute for Counter-Terrorism (ICT) said that although London had been a center for Islamic extremism for years, the British security services only started taking the threat seriously after 9/11.

Before that, Shahar said, "the firebrand clerics who preached jihad and hatred of the West were dismissed as 'armchair warriors' by British intelligence."

Even since 9/11, however, critics have questioned Britain's apparent tolerance for highly-controversial Muslim figures.

As recently as last year, the government allowed a visit by Yusuf al-Qaradawi, a Egyptian cleric who has publicly voiced support for suicide bombers. London's leftwing Mayor Ken Livingstone, who has called al-Qaradawi a "man of peace," welcomed him as an honored guest.

Exploiting democracy

In 2000, Bakri told Cybercast News Service in an interview: "We will use your democracy to destroy your democracy."

Britain's legal system and its willingness late last century to offer asylum to figures like Bakri, al-Masri and Abu Qatada made it a magnet for exiled radical organizations.

"In the past decade, the United Kingdom's undisputed political, economic, and cultural center has also become a major world center of political Islam and anti-Semitic, anti-Israel, and anti-American activism," writes Hebrew University of Jerusalem academic Robert S. Wistrich, in online excerpts of an article to be published soon.

"Through its Arabic-language newspapers, magazines, and publishing houses, not to mention its flourishing network of bookshops, mosques, and community centers, radical Islam has taken full advantage of what British democracy has to offer for its anti-Western goals, reaping the benefits of London's significance as a hub of global finance, electronic media, and mass communications technology."

Osama bin Laden himself laid the groundwork for a London-based network, according to terrorism researcher Yossef Bodansky.

In his biography on bin Laden, written before 9/11, Bodansky wrote that the al-Qaeda leader based himself in the London suburb of Wembley in 1994. By the time he left, after the Saudis began demanding his expulsion, "he had consolidated a comprehensive system of entities" in the city.

In Nov. 1998, Bakri hosted a conference in London called Western Challenge and Islamic Response, attended by more than a dozen extremist groups. At the gathering, Bakri voiced support for Osama bin Laden's jihad and said recent anti-U.S. attacks such as those in Saudi Arabia and East Africa were "legitimate acts."

Following 9/11, Bakri was one of the first Islamist figures to publicly applaud the attacks.

Since then he has spoken often of his support for violent jihad, even admitting to signing up recruits for Islamist campaigns in places like Kashmir and Israel.

A number of governments -- including those of India, Algeria, Sri Lanka and Egypt -- have long complained about the presence in Britain of groups connected to violent campaign in those countries.

Extremists recruited in Britain for terrorist acts abroad include "shoe bomber" Reid, eight men involved in kidnappings in Yemen, and two men who carried out a deadly suicide bombing in Tel Aviv in 2003.

Bakri insisted that fighters were never recruited to carry out violent acts inside Britain itself, although he did say it was his dream to see the Islamic banner flying over Downing Street.

After the fall of the Taliban and its al-Qaeda allies in Afghanistan in late 2001, a member of Bakri's organization, Hassan Butt, told the BBC from Pakistan that British Muslim volunteers who had been fighting in Afghanistan would return to Britain where they would "strike at the heart of the enemy."

In an interview with a Portuguese magazine in April 2004, Bakri said attacks on London were "inevitable."

One "very well organized" group in London called itself al-Qaeda Europe, he said. "I know that they are ready to launch a big operation."
THE BOMBINGS IN LONDON
Diligent, Tolerant, Targeted
London has a reputation as both a bastion in the war on terrorism and a haven for extremists.
By Greg Miller and Ken Silverstein
Times Staff Writers
July 10, 2005

LONDON — The bombings in London last week may mark the first strike by Osama bin Laden's terrorist network on a city that had already served as a catalyst and crossroads for Al Qaeda operatives involved in plots targeting the United States and other nations.

Radical members of London's large Muslim population have been linked to a series of plots, including the Sept. 11 attacks, the attempted shoe bombing of a transatlantic flight to Miami in December 2001 and last year's deadly train bombings in Madrid.

When Washington raised the U.S. threat level last August, it was after authorities acquired evidence that an Al Qaeda operative captured in Britain had conducted extensive surveillance of targets in the U.S., including Citigroup Center in New York and the World Bank offices in Washington. One of the suspect's aliases was "Al Britani."

And though Britain has passed aggressive anti-terrorism measures in recent years, allies have been frustrated by the country's seeming inability to detain or extradite Islamic firebrands. Spanish officials, for example, have criticized Britain for its refusal to extradite an extremist cleric known as Abu Qatada, described by a Spanish judge as Al Qaeda's spiritual leader in Europe.

As a result, Britain's counter-terrorism approach is described in somewhat contradictory terms. U.S. officials and experts praise the country's cooperation and capabilities, even while describing London as a haven for extremists.

"It's the paradox of the United Kingdom," said Roger Cressey, a former White House counter-terrorism official in the Clinton and Bush administrations. In Britain, Cressey said, "you have some of the most sophisticated law enforcement and intelligence operations. At the same time, London is easily the most important jihadist hub in Western Europe."

The classic trade-off between intelligence work and crime prevention also played a role in thwarting efforts to combat attacks. Britain's powerful spy agencies found North London's Finsbury Park Mosque a valuable surveillance post for watching Al Qaeda's web of contacts despite complaints of investigators in mainland Europe that London was a headquarters for directing attacks elsewhere, experts say.

Authorities have not yet determined who was responsible for Thursday's bombings. A group calling itself the Secret Organization of Al Qaeda in Europe claimed responsibility on a website. And investigators are increasingly focused on a theory that the strikes were the work of a homegrown terrorist cell that, at the least, was inspired by Al Qaeda.

British authorities disclosed Saturday that the three subway bombs went off within seconds of one another, suggesting a level of sophistication and coordination that has become a hallmark of Al Qaeda's attacks.

London's reputation as a haven for Islamic radicals has emerged over more than a decade, fueled by policies that included granting asylum to Muslim dissidents who were likely to be prosecuted in their home countries.

Saad Faqih, the controversial head of the London-based Saudi opposition group Movement for Islamic Reform in Arabia, praised the British government and people for being "very, very tolerant." Faqih is precisely the kind of dissident who has benefited from London's policies; he would be jailed in Saudi Arabia, and Washington considers him a terrorist. But in London, he runs a radio station and lives and works freely.

In an interview, he said the tolerant British were finally attacked to force them to divorce themselves from Washington. "They [the attackers] wanted to send a message, not just to England but to all of Europe, to disassociate itself from America," Faqih said.

Among radicals tolerated and even granted citizenship in Britain is Abu Hamza al Masri, who openly celebrated the destruction of the World Trade Center and preached hatred of the West from Finsbury Park Mosque — all while living on social welfare payments.

The British government incarcerated him last year and is now trying to revoke his citizenship, which could lead to his extradition to the United States, where he is under an 11-count indictment charging him with terrorism-related crimes.

But other foreign radicals deemed dangerous by the government were released from prison after Britain's highest court ruled late last year that foreigners considered a security risk could not be imprisoned indefinitely without trial, a major setback to an emergency anti-terrorism law put in place by Prime Minister Tony Blair's government after Sept. 11.

Lord Leonard Hoffman, one of the judges on the court, said at the time that the law itself might constitute more of a threat to the British way of life than terrorism. "It calls into question the very existence of an ancient liberty of which this country has until now been very proud: freedom from arbitrary arrest and detention," he wrote.

Even those wanted by other nations for alleged involvement in terrorist attacks have sought protection from Britain's legal system. Mohammed Gerbouzi was convicted in absentia in Morocco for his role in planning the May 2003 suicide bombings that killed 45 people in Casablanca. But the British government does not have an extradition treaty with Morocco and has refused to turn over Gerbouzi, who lives in an apartment in north London.

Britain's approximately 2 million Muslims represent nearly 4% of the country's population. The vast majority live in its capital city, earning it the derisive nickname Londonistan. Only a small fraction of the nation's Muslims are considered radical, but even so, British counter-terrorism officials say the number of Al Qaeda sympathizers exceeds 10,000.

While France has been more aggressive in deporting imams who preach violence, Britain has traditionally considered even the most vitriolic rhetoric protected speech. As a result, the city has been a haven to radical imams whose mosques were frequented by followers who went on to play key roles in Al Qaeda plots.

One of those who attended Al Masri's Finsbury Park Mosque was Zacarias Moussaoui, who faces charges in the United States in connection with the Sept. 11 attacks.

Another extremist who frequented the mosque was Richard Reid, convicted in the United States of trying to ignite a bomb in his shoe on a Paris-to-Miami flight in 2001.

The country's ability to identify extremists and potential terrorists within its Muslim population is complicated by extraordinary diversity. Moussaoui is a French citizen of Moroccan descent. Reid is a British citizen of Jamaican background. Other disrupted plots have involved operatives from Pakistan, Algeria and elsewhere.

"You can't even profile the demographic characteristics of the potential bombers, given the diversity of the network in Britain," said Bruce Hoffman, a terrorism expert at Rand Corp. in Washington. "You have this wide array of potential suspects, not just stereotypical Middle Easterners."

Hoffman said one factor that might help explain why the United States has escaped attack since Sept. 11 is that "we don't have this radical infrastructure that has existed in Britain for many years. We don't have a Finsbury Park Mosque."

Before last week, Britain's accommodation of radical Muslims had been seen by some as a source of protection — a belief that radical imams would not encourage violence against a country that allowed them to live in peace.

But any such balance, tacit or otherwise, may now be shattered. Muslim officials and experts had suggested that an attack in London was inevitable, given the building anger among young recruits, especially after the government's support for Washington's war in Iraq.

"We have been warning the government for two years that it put the country in danger" by supporting the Iraq war, said Azzam Tamimi, a senior member of the Muslim Assn. of Britain. "We hoped nothing like this would happen, but unfortunately it has. There will always be crazy people who do things like this."

Others have speculated that the attacks last week were an attempt to shatter any unspoken arrangement between the British government and radical Muslims. An Italian law enforcement official said in a telephone interview Saturday that he believed the bombings might have been carried out by a new generation of homegrown jihadists who do not respect tacit deals struck by their elders.

British security agencies have thwarted at least half a dozen plots on Heathrow Airport and other prominent targets in recent years. And despite Britain's internal threats, experts said the country in some ways has better defenses than the United States and other allied nations.

Britain's intelligence and law enforcement agencies are seen as more integrated than the far-flung federal, state and local agencies of the U.S., leading to better intelligence-sharing, experts said.

Britain also has long-standing experience combating terrorism as a result of its conflict with the Irish Republican Army.

"British intelligence has a phenomenal track record" of preventing terrorist attacks, said Daniel Byman, director of the security studies program at Georgetown University and a former CIA analyst. "But you can't expect perfection."
Miller reported from Washington and Silverstein from London. Also contributing to this report were Times staff writers Tracy Wilkinson and John Daniszewski in London and Sebastian Rotella in New York.
UK Muslim Cleric Blames British People For Bombings July 23, 2005 12:39 p.m. EST
Douglas Maher - All Headline News Staff Reporter
London, England (AHN) - Although he receives government annually and is currently claiming weekly income support, a British Muslim cleric says the citizens of Great Britain got what they deserved with the recent bombings that ravaged the city of London.
Omar Bakri Mohammed, 45, was borin in Syria, but resides in northern London. His assistant cleric, Anjem Choudary, says, "Nobody has yet pointed the finger at Tony Blair for his nasty policies in Iraq. If they continue the same foreign policy, we can expect more of the same."
Mohammed says, "I blame the British government and the British people. The Government has said, 'You are with us or with terrorism'. I don't think that is the way forward. The British people showed Tony Blair full support when they elected him again after he waged the latest Iraq war."
He continues by saying, "We're going to incite people to do jihad (Holy War). We will conquer the White House. It will be no surprise that we will be in charge and Muslims will control the earth. Let your death occur in the battlefield. If you make yourself available to Jihad, He will accept you as Shaheed (a martyr)."
British politicians and citizens are calling for Mohammed's immediate deportation back to Syria.
Labour MP Andrew Dismore tells The Sun, "His presence is not conducive to the public good."
Muslim Murderers: Kill British Queen by J. Grant Swank, Jr.
Nov 14, 2005
The Queen of England is "an enemy of Islam," according to Al-Qaeda. She, like all other infidels, must be slain.
According to "Mohammad Sidique Khan, ringleader of the London bombings that killed 52 commuters from Mohammad Sidique Khan, ringleader of the London bombings that killed 52 commuters," all non-Muslims must be slaughtered. That is reported by Abul Taher in Times On Line.
Khan states: "'It is very clear, brothers and sisters, that the path of jihad and the desire for martyrdom is embedded in the holy prophet and his beloved companions.
"'By preparing ourselves for this kind of work, we are guaranteeing ourselves for paradise and gaining the pleasure of Allah.
"'And by turning our back on this work, we are guaranteeing ourselves humiliation and the anger of Allah. Jihad is an obligation on every single one of us, men and women.'"
There you have it. It is the Islamic call to worldwide rule in the name of the Koran's Allah. In order to rule, Muslims must have no planetary inhabitants but themselves, cowardly Muslims excluded by being executed along with the non-Muslims.
This Khan mandate is stated in the context of cowardly Muslims in England giving allegiance to the Queen rather than bowing down solely to the Islamic deity. That is abhorrent to the likes of Khan; therefore, the Muslims now residing in England must be taught a lesson. They must fall in line with killing off non-Muslims, which would include the Queen, and thus set up Islamic rule in all of England. The Queen must go. Allah must rule from her throne in her place.
Al-Qaeda has gone so far as to state that the Queen is the "severest enemy of Islam." This is broadcast in a video message "justifying the July bombings in London."
Here and there across the globe, insane Muslims are corralling their own cultists into killing off the masses. These crazies then move into such Muslim nations as Jordan to press the point. They move into a Muslim wedding feast to underline their ambition as being supreme.
This is World War III. It is held in various unpredictable locales. It is seen through by warriors dressed in wedding attendees' garb. It is a whole different mode of combat. Nevertheless, it is just as real and deadly.
Finally, with the Jordanian massacre, the Muslims leaders such as the Jordanian King are castigating their own. It is time, long overdue time. Far past real-time in real-life. Nevertheless, peace-peoples are happy that at last somebody belonging to the Islamic clique is speaking out against Islamic killers international. Time will tell if their voices increase in volume and number. Don't count on it being a wild surge for peace. Nevertheless, in these confusing times anything is possible.
Obviously with the Queen of England under attack, every democracy leader of every freedom-based country is under attack. It is merely a matter of time until there is an assassination and then a number of them dominoing the hellish craze of Islamic slaughterers who thrill at blood in the streets.
That is why France is wise to inform the public that Muslim rioters will be deported promptly. The British lawmakers were amiss in not supporting British Prime Minister Tony Blair in his efforts to corral the social destroyers by putting them away for at least a 90-day period while investigations were undergoing.
The United States has been walking the fine line in not wanting to incite Muslim riots and at the same time having the President refer to Islam as "an ideology of hate." Blair has called it an "evil ideology." Yet on the other hand, Mr. Bush placed the Koran in the White House library for the first time at which time he invited Muslims to a dinner in the White House. Laura Bush met in another room with Muslim women to celebrate the occasion.
So it appears that national leaders don't know what to do to stave off the Muslim killers. They placate them. They threaten them. They deport them. They tolerate them. They pat them on the back. They smile at them. They scowl at them.
All the while the Queen sits upon her throne - in danger.
Angry Blair wants Muslim radicals out
August 6, 2005
BY MARA D. BELLABY
LONDON -- Prime Minister Tony Blair proposed strict anti-terror measures Friday that would allow Britain to expel foreigners who preach hatred, close extremist mosques and bar entry to Muslim radicals. ''The rules of the game are changing'' after last month's bomb attacks, he declared.
The proposals, which also target extremist Web sites and bookshops, are aimed at excluding radical Islamic clerics accused of whipping up hatred and violence among disenfranchised Muslim men.
''We are angry. We are angry about extremism and about what they are doing to our country, angry about their abuse of our good nature,'' Blair said. ''We welcome people here who share our values and our way of life. But don't meddle in extremism because if you meddle in it ... you are going back out again.''
Also Friday, police charged three men with failing to disclose information about the whereabouts of a suspect in the failed July 21 London bomb attacks. Police did not name the suspect. The wife and sister-in-law of Hamdi Issac, a suspected July 21 attacker, face similar charges, as does another man.
The July 7 suicide attacks on London's transit system and the failed July 21 attacks raised fresh concern about the freedoms Britain offers to individuals and groups known for extremist activities. Blair said the focus of the proposals was on foreigners because authorities think ''the ideological drive and push is coming from the outside.''
Some members of Britain's 1.8 million-strong Muslim community expressed concern that moderate Muslims would be subjected to new prejudices and restrictions.
Closing the door to militants
Britain has been criticized for lagging its neighbors in responding to terrorism. Since last month's attacks, France has expelled two extremist Muslim prayer leaders and plans to ship home eight others. Italian authorities deported eight Palestinian imams.
Blair said the government was prepared to amend human rights legislation if legal challenges to his proposals proved insurmountable.
Under the proposals, anyone who preaches hatred or violence could be deported, those linked to terrorism would be automatically refused asylum, and steps would be taken to make it easier to strip naturalized citizens of their British citizenship if they preached violence.
The government also will consider a request from police and security services to hold terror suspects for three months without charge. The limit is 14 days. The measures also would extend the use of home arrest for Britons who cannot be deported.
New powers would be created to allow the closure of mosques that foment extremism.
Authorities will draw up lists of radical preachers who will not be allowed to enter Britain, and a list of radical Web sites and bookstores. Any foreigner who ''actively engages'' with those places could face deportation. Membership in extremist Islamic groups would also become a crime.
AP
Islamic extremist rally calling for Islamic Britain is banned
Thursday, 17th November 2005, 14:31
LIFE STYLE EXTRA (UK) - Leaflets showing a Muslim fighter holding a rocket launcher outside 10 Downing Street are being probed by detectives amid claims they are linked to exiled preacher of hate Sheikh Omar Bakri.

The sickening pamphlets shows a black Islamic flag flying over Parliament and invite people to a rally in east London.

But shocked council officials and police discovered that the hall booked for the meeting was made under a false name apparently to celebrate the religious festival of Eid.

And officers revealed that the man behind the meeting is Abdul Muhid, a leading member of the Saviour Sect set up by Omar Bakri after his group Al-Muhajiroun was disbanded.

The group has justified the suicide terror attacks on July 7 in which 52 people were murdered as they were not innocent because they did not follow Islamic law.

The group had booked a community centre in Walthamstow claiming they wanted to celebrate the religious festival of Eid, but the leaflets declared "it is only a short matter of time before the black flag of Islam flies high above 10 Downing Street."

Muhid, 23, has twice been arrested over violence at rallies over the past year and now faces a police probe into the distribution of the flyers.

The leaflet for the banned rally on November 6 which was to have been held at The Asian Centre in Walthamstow had the headline "Islamic State for Britain. There can be no negotiations."

The leaflets go on to claim with 2,000 mosques, countless Madrassahs, Muslim Schools, Halal butchers and restaurants up and down the country, "Britain is already on the verge of becoming an Islamic State."

"The revival of Islamic awareness amongst the Muslims in the UK is at its fastest pace and more and more Muslims and non-Muslims are realising that there can be no negotiations with Islam, no negotiations with the implementation of the Khalafah and the Shari'ah law, it is an absolute inevitable."

Muhid, from Stoke Newington, east London, was last arrested when he was part of a group of 50 men using loud hailers to berate passer-bys in Southall on May 1 this year.

When police arrived to disperse the group, a scuffle broke out with some of the supporters.

He was arrested for violent disorder and assaulting a police officer in Chingford on July 13 and quizzed, but charges were dropped because of lack of evidence.

And he was arrested for inciting racial hatred after a man complained of homophobic and racist comments made when Muhid was in a group of eight manning a religious stall in Walthamstow on September 14 last year.

He appeared at Waltham Forest Magistrates Court and bailed, but again charges were dropped by the CPS.

A police source said: "Muhid is always in possession of the leaflets and he has only ever been seen with a loudhailer or distributing the leaflets at market stalls. We don't know if he is making them but we assume he is because he is always at the centre of things."

A police spokeswoman confirmed the group was now under investigation over the controversial flyers.

She said: "The first we heard about the event was from the council on October 23.The Asian Centre was booked for 2.30pm on Sunday November 6 and the booking was subsequently cancelled.

"An investigation is on-going into the printing and distribution of the leaflets but at this stage there has been no arrests."

A Waltham Forest spokeswoman said: "A booking had been made at the Asian Centre for a private party to celebrate Eid.

"In light of new information, the Council acted responsibly and cancelled the booking. It is clear that the centre was misled over the details of the booking and what is planned is a rally that is open to the public.

"Waltham Forest has a long history of good community relations and the Council takes it duty to promote good relations between people of different racial groups seriously.

"We became very concerned that allowing this event to go ahead could lead to a breakdown in community relations.

"It is a testament to the close partnership working that exists in the borough that this information was identified and was quickly acted on by both the Police and the Council."
Blair's ban fails to silence Muslim preachers of hate

Abul Taher
The Sunday Times November 20, 2005
ISLAMIC extremists are targeting British Muslims with violent Al-Qaeda propaganda, in defiance of Tony Blair's announcement four months ago that he would clamp down on preachers of hate.


London-based foreign extremists are using websites to post video footage of suicide operations and attacks by insurgents against coalition forces in Iraq. There are also postings of the execution of Russian soldiers by mujaheddin rebels in Chechnya.


There is growing exasperation among the Saudi authorities about the government's apparent reluctance to tackle two Saudi citizens who are responsible for some of the most blatant incitement.


Muhammad al-Massari, a London-based Saudi extremist, has been allowing the forum pages of his website — www.tajdeed.net — to be used by terrorist groups. They include Al-Qaeda in Iraq, headed by Abu Musab al-Zarqawi, who was responsible for the murder of Ken Bigley, the British hostage.


A second Saudi, Saad al-Fagih, uses his website and satellite radio broadcasts to incite an uprising against the House of Saud.


Ferej Alowedi, the Saudi chargé d'affaires in London, said: "We have been requesting the British authorities to have them extradited. We can give written assurance that we will not execute or torture them."


Last week The Sunday Times disclosed that al-Massari's website carried an attack on the Queen as one of the "severest enemies of Islam" from Ayman al-Zawahiri, Osama Bin Laden's second in command. This was in defiance of a declaration by Blair that the "rules of the game" were changing. He said after the London bombings: "The new grounds [for deportation] will include fostering hatred, advocating violence to further a person's beliefs, or justifying or validating such existence."


Yet al-Massari's website, which was shut down in May, has returned and has messages that incite Muslims to join the global jihad, and glorify the Al-Qaeda attack in Amman that left at least 60 people dead on November 9.


The Saudi dissident advocates the beheading of homosexuals and describes the September 11 attacks as the "blessed conquest in New York and Washington". Al-Massari was not available for comment.


In his response to the terrorist killing of 52 commuters on July 7, Blair also announced that the radical group Hizb ut-Tahrir and the offshoots of Al-Muhajiroun would be banned.


He said: "Those that. . . incite hatred or engage in violence against our country and its people have no place here." A few days after his announcement, 10 foreign preachers were arrested. They are in police custody awaiting court hearings about their deportations.


But, more than four months later, Hizb ut-Tahrir remains active and is lobbying Muslims to challenge the new anti-terror legislation.


Al-Ghuraaba and the Saviour Sect, two offshoots of Al-Muhajiroun, which had kept a low profile since the summer, announced on Friday that they had merged into a stronger organisation.


The new group — Ahlus Sunnah wal Jamaah (ASWJ) [Followers of the Prophet] — is headed by Anjem Choudary, who was second in command to the cleric Omar Bakri Mohammed before Al-Muhajiroun disbanded early this year.
Bakri is in Lebanon now. Although he was widely thought to be the first cleric to be deported after Blair's announcement, he managed to slip out of Britain in August.


At a press conference this weekend, the leaders of ASWJ mocked Blair's efforts to ban them.


Abu Izzedine, also known as Omar Brooks and a prominent member, said: "Blair decided to ban us almost a year after we disbanded. The British government is one of the worst governments on the planet."


He previously said of the London bombings: "I would never denounce the bombings, even if my own family was to suffer, because we always stand with the Muslims, regardless of the consequences."


Another member of ASWJ, Abu Yahya, denounced the Queen. He said: "The Queen is enemy to Islam and Muslims. We see in reality her actions all around the earth, her forces, army, navy, her air force bombing, destroying Muslims, killing our families, destroying our properties and occupying our land.
The Untouchable: how Abu Hamza was allowed to preach hate as authority looked the other way
Time and time again British officials were given evidence of the radical cleric's involvement in terrorism, but nothing was done to stop him. The following is the final extract from the
The Suicide Factory
The Times
June 01, 2006
NO ONE seemed willing to take responsibility for tackling the Abu Hamza problem.


Government departments pointed the finger of blame at one another; politicians complained that the police and the spymasters did not investigate him properly; Scotland Yard moaned about MI5 and vice-versa. Detectives felt that the Crown Prosecution Service let them down; the CPS moaned that the court system was stacked against them. The judges retorted that they did not make the laws; if anyone was to blame it was the civil servants and politicians at Westminster. The blame game went round and round as Tony Blair banged the table in exasperation.


Every chance there had been to pursue Abu Hamza seemed to have been missed, wasted or blocked.


For more than twenty years there had been a catalogue of bureaucratic foul-ups and a lack of resolve by the British authorities to tackle him, even when presented with a clear opportunity to do so.


The first occasion was in 1980, when Abu Hamza was arrested as an illegal immigrant and brought before the courts for overstaying his visa. Had his case been subjected to a proper investigation, potential offences under the Marriage Act, the Births and Deaths Registration Act and the Forgery and Counterfeiting Act could have been discovered. But the validity of his marriage to Valerie Traverso and the truth about his claim to be the father of her baby daughter were not examined.


He came to the attention of the police again in the mid-1980s, when his bullying behaviour began to alarm the imams and trustees of a number of mosques. Members of the Muslim community in Brighton approached Sussex police, and at Regent's Park mosque in London trustees took court action to keep him away from the building.


When he returned from Afghanistan and Bosnia in the mid-1990s there was further trouble in Luton. But he was left to carry on with his activities and to seize control at Finsbury Park.


Abdulkadir Barkatullah, one of the management committee ousted by Abu Hamza, said he and community representatives went to the police seven times to complain about assaults and extremist activities inside the mosque. No action was taken.


The Prime Minister had urged the Muslim community to do more about the scourge of extremism within its own ranks but, Barkatullah said, "When we did do precisely that with Abu Hamza, we were ignored."


If those who raised the alarm at home were overlooked, then foreign intelligence agencies were discounted. Those of France, Spain, Germany, Italy, Belgium and the Netherlands all accused Abu Hamza of being the ringmaster of a terrorist operation. The French and the Algerians had spies inside the mosque, and were horrified at what they uncovered. Egypt wanted to swap a British prisoner for Abu Hamza. All shared their findings with Whitehall, but nothing happened.


Senior sources now admit that the British response was coloured by a belief that the French were wildly over-reacting to the Islamist threat. These same sources agree that Britain underestimated the real menace of Abu Hamza, and did not devote enough resources to investigating his network until 9/11 jolted every Western power.


It seems a lame excuse that British security authorities needed to see skyscrapers collapsing in New York to realise the danger of Islamic fundamentalists, when they had damning proof of Abu Hamza's direct involvement with terrorists in Yemen in 1998, when he had bought a satellite phone and supplied £500 of airtime for the kidnappers of 16 Western holidaymakers.


Irrefutable evidence of his calls to and from the kidnappers' leader was gathered by GCHQ, the British Government's intelligence listening post. But in Britain telephone intercept evidence cannot be produced as evidence in the criminal courts.


A leading counter-terrorism investigator says today that he has no doubt that were such evidence admissible, Abu Hamza would have been prosecuted for his role in the Yemen abductions and deaths.


Scotland Yard did send a file to the CPS in March 1999, but it was rejected, marked "insufficient evidence".


The FBI thought differently. To Whitehall's embarrassment, American investigators have announced that they will use the evidence harvested by GCHQ and other British agencies should they get the chance to prosecute Abu Hamza in the US.


The tragic events in Yemen did lead to Abu Hamza's brief arrest for four days in March 1999. His home was thoroughly searched, and a large number of audio and video recordings of his sermons were confiscated. They included three videotapes of sermons that would be held in court seven years later as amounting to the offence of "soliciting to murder". But at the time, the police took no action.


In one recording, Abu Hamza told his followers that they had to fight, kill and die, because "no drop of liquid is loved by Allah more than the liquid of blood".


Detectives, who say they were focusing on the Yemen investigation, decided that no offence had been committed. The content of the sermons formed no part of their report to the CPS, and the tapes were returned to Abu Hamza — who in turn insists that he took this as a clear signal that nothing he was saying could be deemed to be illegal.


Also taken from him in that search in 1999 were the eleven volumes of the Encyclopaedia of Afghani Jihad. Seven years later these would be described to an Old Bailey jury as a terrorist manual. They, too, were returned.


The police signalled their concern about his activities by permanently confiscating two passports found in his home during the raid. One, in his own name, had expired; the second, in the name Adam Ramsey Eaman, had been used by Abu Hamza to travel to Bosnia, where he met Arab mujahidin fighters in 1995. No prosecution ensued from his possession of this document, because he obtained it legally after changing his name by deed poll.


If Abu Hamza used sleight of hand to change his identity, others at the mosque engaged in naked fraud to purloin identities and money, and to falsify benefit claims. Surely someone should have thought it strange that so many young men, of similar ages, were turning up with near-identical claims for welfare and housing, and using the same address? Islamist militants were jailed for massive credit card frauds which could be traced back to Finsbury Park, but Abu Hamza was not even questioned. The British authorities were clearly aware that he was involved in fundraising for terrorism — not least because he confessed it to his contacts in the intelligence services.


Some of his emissaries were stopped leaving Britain carrying large amounts of money. James Ujaama, who has struck a deal to testify against Abu Hamza in the US, was questioned at Heathrow airport with a suitcase full of cash days before the 9/11 attacks. He told officials that he was flying to Pakistan and then crossing into Afghanistan to deliver the funds for the establishment of a Taliban school.


US investigators claim to have obtained further evidence that Abu Hamza was directly bankrolling al-Qaeda's Darunta camp, which specialised in explosives and poisons training and where the shoe bomber, Richard Reid, and others from Finsbury Park were sent. But he was never charged with financing terrorism.


Abu Hamza was not simply a fundraiser for terrorist camps. He provided a production line of recruits for al-Qaeda and others to train as jihadi fighters and suicide bombers. In the camps, his name was well-known; he was someone who could refer candidates to the highest echelons of al-Qaeda's leadership. When Ujaama fell ill on a visit to Afghanistan he was treated by Dr Ayman al-Zawahiri, Osama bin Laden's personal physician and second-in-command of al-Qaeda.


British law enforcement agencies say they knew about Abu Hamza's activities, but were powerless to stop him. It was not until late 2001, when the controversial Anti-Terrorism Crime and Security Act was passed into law, that sending someone abroad to undergo terrorist training and instruction became a criminal offence. Yet even after the new laws were introduced, Abu Hamza's followers continued to disappear off to camps run by outlawed groups, and still nobody in authority laid a finger on him.


David Blunkett, out of government since November 2005 and with time to reflect on his stewardship of the fight against terrorism, believes that the sinister nature of Abu Hamza was not appreciated. "There was still an assumption when I took office as Home Secretary (in 2001) that he was a bigmouth and was worth tracking but wasn't at the centre of events," he says.


Blunkett is angry to have learnt since that the intelligence services never showed him "the detailed trail" of networks, the personal history and the high-level contacts that would have indicated that Abu Hamza was "a real threat and a danger".


He freely admits that the British authorities at all levels were nervous about taking action against Abu Hamza. They saw the preacher not as a terrorist suspect but as an outspoken religious leader of a minority faith, and feared that any action against him would be labelled as Islamophobic and an abuse of human rights.


"It is clear that for all sorts of reasons there was a reluctance in our society to believe that it was possible for a faith to be misused in that way,' says Blunkett, adding: "It is also clear now that there were opportunities for having taken action. By putting the jigsaw together, it is possible for us to realise that this man was a danger."


Before 2001, no one considered that Islamist terror was a threat to Britain, and up until that year the anti-terrorist effort in the UK was still directed at fighting dissident elements of Irish republicanism.


It is easily forgotten now, but the Real IRA waged a destructive bombing campaign in London during 2000 and 2001. Just five weeks before 9/11 a Real IRA car bomb exploded on Ealing Broadway, west London, injuring several people.


American investigators were aghast at how Abu Hamza was treated. They were sick of handing information to British agencies only to see him being allowed to continue preaching hatred in front of the cameras. One senior official in the US Department of Justice said: "We just did not understand what was going on in London. We wondered to ourselves whether he was an MI5 informer, or was there some secret the British were not trusting us with? He seemed untouchable."


Exasperated US security agencies decided that if Britain were not going to act, then they would. Hence the warrant handed over by FBI agents stationed at the US embassy in Grosvenor Square in May 2004.


Some in the British Government continued to dither.


Lord Goldsmith, the Attorney-General, thought it would look bad for Britain to surrender a British citizen to the Americans without making any effort to try him in Britain. This argument won the day. Britain would not hand Abu Hamza over if it could be proven that he had committed serious crimes here.


The police were instructed to build a case, and to do it swiftly. The obvious place to look again for evidence was in the thousands of recordings of his sermons recovered in the search of his home in 1999.


In August 2004, Abu Hamza was formally arrested inside Belmarsh jail and taken across London to be interviewed at Paddington Green police station. Two months later he was charged with using his sermons to incite murder and stir up racial hatred. His lawyers pointed out that police had examined some of this evidence before and handed it back to him. He himself said: "If I was not already in prison, I would have laughed."


America wanted to put Abu Hamza on trial for recruiting, financing and directing terrorism, charges that could see him jailed for up to a hundred years.


But British prosecutors chose to intervene and to accuse him of lesser offences, mostly under a century-and-a-half-old statute.


The central charge was that he had crossed the boundaries of freedom of expression — the criminal equivalent of ignoring a "Keep off the grass" sign. Somehow Britain managed to make it look as if Abu Hamza was getting off lightly.
Riots over mosque on the Queen's doorstep
06/10/06
By David Pilditch
THE QUEEN's home town was gripped by fear last night as war erupted between rival gangs of race-hate thugs.
Extra officers were called in and riot police placed on stand-by as mobs of Muslim and white youths prepared for a fourth consecutive night of violence in the royal town of Windsor in Berkshire.
The Queen usually spends weekends at Windsor Castle and no decision has yet been made over whether she will change her plans. In unprecedented scenes of mayhem and disorder in the historic town, armed gangs of more than 100 youths have fought running battles in the streets.
A Muslim-run dairy which wants to build a mosque has been petrol-bombed and vehicles have been vandalised.
The outbreak of disorder began after a mother and her daughter were set upon by a gang of 20 Asian youths armed with baseball bats, iron bars and pitchforks.
The shaven-headed thugs – all dressed in white robes – launched the attack after pouring out of a former office building which is being used as an unofficial mosque.
They attacked Karen Hayes, 46, and her 18-year-old daughter Emily before turning their weapons on the teenager's car. The pair had gone to help after Karen's 15-year-old son Sean and a friend were beaten up by the gang. Police have said it is unlikely the mob will be brought to justice.
As dusk fell last night, gangs of hooded white youths began to gather outside the dairy entrance.
With scarves wrapped around their mouths to hide their identity, the teenage boys insisted they were the victims of the unrest.
One 17-year-old youth said: "The Asians have got no respect for us. What they normally do is start on the kids." Meanwhile, scores of Asian youths marched through the streets chanting "We are getting our mosque".
Three police riot vans swooped on the 40-strong mob of white youths. As a stand-off developed between the teenagers and Muslim workers at the gates of the Medina dairy, around 30 officers moved in.
Police stopped and searched gang members, making them remove the scarves covering their faces and asked them to disperse, which the majority of them did.
Dairy manager Sikander Khan said it felt a little like being under siege. "We have all these lorries to load up and we feel intimidated with them here."
Locals said tensions had been growing between residents and staff at the dairy for months. Three arrests have been made since this week's violence began.
Problems started after Sardar Hussain, who bought the dairy in 2002, applied for planning permission to turn a nearby office building into a mosque and Islamic education centre.
Official permission has not been given but workers have been using the building for prayers. And locals insist it is already attracting a hard-core element of fundamentalists.
People opposing the conversion claim there are not enough Muslims in Windsor to warrant a mosque. There are said to be around 500 Muslims in a town with a population of more than 30,000.
Staff at the dairy say they have faced verbal abuse, their cars have been damaged and stones, bricks and bottles have been thrown at the buildings. Mr Hussain, who came to Britain from Pakistan in 1973, insisted the attacks which provoked the disorder were not connected to his plan for a mosque.
He said: "I am disappointed this is happening. This is the Queen's town. I like to see this town in peace and quiet. I like to see everybody get on with their lives.
"We are providing a service to the community. I feel safe because I am in the hands of God but I feel sad this has happened in the Queen's town."
Chief Superintendent Brian Langston, of Thames Valley Police, said: "The type of behaviour shown over the past few evenings will not be tolerated by police.
"We will not allow any section of the community to be intimidated by mindless violence. All reported incidents are being investigated as serious criminal activity.
"Three arrests have already been made and we will continue to use robust policing tactics to deal with anyone threatening public safety."
Last week it was revealed that the Queen had allowed a Muslim prayer room to be set up at Windsor Castle. Nagina Chaudhry, a student who works part-time in the castle's gift shop, won approval from Her Majesty to pray during Ramadan within the castle walls.
Last night Nagina, 19, begged rival gangs to stop the violence. She said: "I believe that if the Queen is willing to accept other cultures and religions, then surely Windsor as a town should be equally gracious.
"I hope the problem is resolved quickly and peacefully but I believe the mosque should be built as there is no proper place for Muslims in the town to pray." Local councillor Cynthia Endacott said: "I do not think the police have taken a pro-active response to the complaints from residents over the years.
"They have been warned that something might happen. I would urge everyone in the community to stay calm."
Council leader Mary-Rose Gliksten said: "We have got a long and proud history of our community relations in Windsor and we regret incidents that have happened this week. We will be doing everything to calm the situation." The Rev Louise Brown, who chaired a chaotic public meeting over the dairy's planned mosque in 2004, said there were deep-rooted problems which led to the violence.
"This is a matter that has been bubbling up. There are issues with the dairy that have never been resolved."
Ms Brown, who is vicar of nearby All Saints Church, added: "There is a lot of history and sadly where there is a lot of history, there are problems." Since the Medina dairy moved to the site – formerly owned by Express Dairies – it has developed into a 24 hours a day, seven days a week operation.
Bitter neighbours say they have had to suffer sleepless nights caused by articulated lorries delivering around the clock.
Asian youths are travelling to Windsor from neighbouring towns and there are rumours that people as far away as Birmingham are planning riots. A petrol bomb made out of a beer bottle was found at the roadside in one of the flashpoint streets. One mother, who wished to be known only as Carol, said: "I have a 17-year-old boy and an eight-year-old girl and I'm putting a curfew on them because I'm petrified of what might happen.
"I have not slept for two nights. The whole community is frightened and these two groups continue to wind each other up. I fear it has gone too far to bring back. Somebody is going to get killed."
There have been reports from across Britain of attacks on Muslims during the holy month of Ramadan.
On the Isle of Wight an investigation was under way last night after a Muslim prisoner at Parkhurst claimed a warder had defaced his copy of the Koran.
Massoud Shadjareh, of the Islamic Human Rights Commission said: "Rude words were written across the page."
And last week a pig's head was thrown at a mosque during night prayers in Newsport, Gwent.
Al Qaeda was behind 'plot' to behead soldier
Evening Standard
02.02.07
A foiled plot to kidnap, torture and behead a British Muslim soldier was orchestrated by Al Qaeda, police sources have said.
Officers suspect the mastermind behind the appalling attempt to bring the horrors of Baghdad to the streets of Britain is a senior Al Qaeda terrorist with close links to Osama Bin Laden.
The alleged plan was to abduct a Muslim soldier, mirroring the murders of British hostages Ken Bigley and Margaret Hassan.
The victim would have been made to plead for his life to Tony Blair, denounce the war and ultimately be executed - all on film.
In a move which would have caused unprecedented terror and revulsion, images of his death would have been posted on the Internet, security sources said.
The alleged plot follows an appeal by extreme Muslim cleric Omar Bakri Mohammed last summer for fanatics to kidnap a British soldier in Iraq or Afghanistan - branding all Muslims who serve with the coalition troops as "non-believers".
A senior security source said: "The plot involved a ruthless gang who regard British Muslim soldiers who serve in Iraq or Afghanistan as traitors for killing fellow Muslims.
If they had not found a suitable Muslim soldier to kill, it is quite possible they would have plucked an innocent member of the public off the streets and beheaded him.
"They wanted to scare British Muslims into leaving the military and also send a message of revenge to Downing Street for sending troops to Iraq and Afghanistan."
Other targets could have been civil servants or anyone seen to be collaborating with the Government.
It has emerged that the Ministry of Defence has identified one individual soldier as the most likely potential victim.
The man, understood to be a regular soldier rather than a reservist, was said to be in a safe location.
Security sources said that at least one other British Muslim - on a hit-list of 25 potential targets - had also been identified as being in "imminent danger". He, too, was being kept safe.
It is understood that a tip-off from a trusted informant last summer sparked the dramatic events in Birmingham when nine men suspected of being members of the terror cell were arrested in a series of raids across the city.
During a six-month, £10million surveillance operation involving 250 police officers and MI5, cameras, telephone taps and surveillance teams had been used to monitor the group's movements.
Officers had hoped to keep the men under surveillance for a further two months to gather further intelligence but sources said the operation was brought forward following "clear indications" that the gang were making final preparations to enact their murderous plan.
One said: "Police had no choice but to carry out the arrests."
Eight men were arrested in raids at 4am while a ninth was held on a motorway in the afternoon.
Those arrested included businessmen, a teacher and a father-of-four on benefits. All are British of Pakistani descent.
The nine men were arrested on suspicion of the 'commission, preparation or instigation of acts of terrorism' under the Terrorism Act.
The scale of the operation, which involved hundreds of officers, prompted a protest from some local Muslims, who accused police of over-the-top tactics.
West Midlands Police said 12 addresses had been sealed off in the Sparkhill, Washwood Heath, Kingstanding and Edgbaston areas of Birmingham.
They included an Islamic bookshop which was co-founded almost a decade ago by Moazzam Begg, who was captured and imprisoned in the Guatanamo Bay camp in Cuba before his controversial return in 2005.
Police also searched a grocery store run by a respected Asian businessman.
One arrested man was named locally as 29-year-old Amjad Mahmood.
His brother Zair said: "The police won't let me know where he is. His wife and kids are very distressed. My mother and father are very distressed."
Local councillor Ansar Ali Khan said he had spoken to the father of the arrested man who, he said, was "in shock to know that his son had been arrested".
He described him as "a very hard-working businessman", adding: "He has served the community for 30 years and he is proud to be British. He cannot imagine his son having any link to this sort of activity."
The brother of Lance Corporal Jabron Hashmi, 24, the first British Muslim soldier to be killed on active duty in Afghanistan, spoke of his fears that his hero brother may have unwittingly inspired the plot.
Corporal Hashmi was labelled a "traitor to Islam and professional terrorist" in a vicious internet hate campaign following his death.
His brother Zeeshan Hashmi, 27, himself a former soldier who is now studying Arabic at Cambridge University, said: "It would have been a horrendous crime had it taken place. My brother would have felt exactly the same."
The plot to kidnap and behead a British Muslim soldier is further evidence that fanatics in Pakistan are actively planning atrocities in Britain, sources said.
The London bombings on July 7 2005 and last summer's alleged airline terror plot were both masterminded in Pakistan, investigators believe.
It is believed anti-terrorist officers are liaising with their counterparts in Pakistan in the hunt for the mastermind of the Birmingham plot.
There have been claims that the raids had been exploited by the Government following days of damaging stories about fundraiser Lord Levy, casinos and turmoil in the Home Office.
A source at West Midlands Police said: "There is widespread fury that Whitehall officials have been briefing sensitive details of this operation.
"This terror raid has come at a very convenient time for the Government as it has taken a number of embarrassing stories off the news agenda.
"But it must be stressed that the timing of the operation was an independent police decision."
"How dreadful are the curses which Mohammedanism lays on its votaries! Besides the fanatical frenzy, which is as dangerous in a man as hydrophobia in a dog, there is this fearful fatalistic apathy. The effects are apparent in many countries. Improvident habits, slovenly systems of agriculture, sluggish methods of commerce, and insecurity of property exist wherever the followers of the Prophet rule or live. A degraded sensualism deprives this life of its grace and refinement; the next of its dignity and sanctity. The fact that in Mohammedan law every woman must belong to some man as his absolute property must delay the final extinction of slavery until the faith of Islam has ceased to be a great power among men. Individual Moslems may show splendid qualities. Thousands become the brave and loyal soldiers of the Queen; all know how to die; but the influence of the religion paralyses the social development of those who follow it. No stronger retrograde force exists in the world. Far from being moribund, Mohammedanism is a militant and proselytizing faith. It has already spread throughout Central Africa, raising fearless warriors at every step; and were it not that Christianity is sheltered in the strong arms of science the civilisation of modern Europe might fall, as fell the civilisation of ancient Rome."
SIR WINSTON CHURCHILL