MUSLIM LOVE OF ADOLF HITLER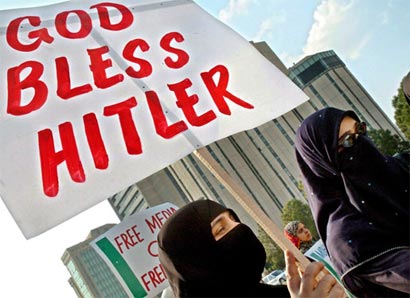 God Bless Hitler from Muslims
Arabs Fly Nazi Flag Near Road
The flag was hung high above the highway between Halhoul and the Etzion Bloc.

By Arutz Sheva
First Publish: 10/19/2013

For at least the second time in five months, Arab residents of Beit Umar in the Palestinian Authority (PA) have placed a Nazi flag over a major thoroughfare where Jews pass in their vehicles.
Beit Umar is located a half hour south of Jerusalem, between Halhoul and the Etzion Bloc, not far from Hevron.
Soldiers from the Haruv battalion in Kfir Regiment tried to take down the flag Saturday, but encountered difficulty because it was placed very high up.
A similar event took place at Beit Umar in May, when hundreds of residents of Gush Etzion who drove down Highway 60 were astounded to see an oversized Nazi flag flying next to a mosque in the Arab town.
In a recent key speech, Prime Minister Binyamin Netanyahu quoted numerous historical sources showing that the leader of the Palestinian Arabs in the first half of the 20th century, Mufti Hajj Amin Al-Husseini, was "one of the initiators of the Holocaust of the Jews of Europe," and that he was constantly encouraging the Nazi leadership to annihilate the Jews, throughout the war. He cited evidence that the Mufti even visited the gas chambers at Auschwitz with Adolf Eichmann.
"The Mufti is still a greatly admired figure in the Palestinian national movement," said Netanyahu. "These are the weeds that need to be uprooted," he said. "The root of the conflict is the deep resistance among a hard core of Palestinians to the right of the Jewish people to its own state in Israel."



Hitler Honored in Upscale Instanbul Mall
Turkey is now not only openly hostile to the Jewish State, but also to the Jewish people.

By: Lori Lowenthal Marcus
Published: January 15th, 2013
Jewish Press

People who have been paying attention know that relations between Israel and Turkey have been eroding, but not many realize that Turkey is now not only openly hostile to the Jewish State, but also to the Jewish people.

On Friday, January 11, a Turkish citizen took a picture to show exactly how belligerent Turkey has become. The picture is of a huge poster with the words, "Who Would You Like to Meet if You Could?" and the last name, and only photograph, is of Adolf Hitler. The other choices include Suleiman I, Mustafa Kemal Ataturk, Napolean Bonaparte, the Beatles, Elvis Presley, Vladimir Lenin, Boris Yeltsin, Leonardo Da Vinci, Arnold Schwarzenegger and Michael Jackson. But only Hitler warranted a picture, a huge one at that.

According to Ege Berk Korkut, an active Turkish writer and blogger, the sign was placed in the Sapphire Mall by the owners, a group of Turkish businessmen who are devoted to Erdogan. Korkut explained to The Jewish Press that the Sapphire is an ultra-upscale mall in Levent, the wealthiest neighborhood in Istanbul. The Sapphire building is one of the tallest buildings in Europe.

Korkut said that while a few people have complained about the banner – and the management has refused to remove it – most shoppers just glance at it and continue shopping. Ho-hum, nothing startling or even mildly interesting about a huge photograph of Adolf Hitler hanging in the Turkish equivalent of Via Bellagio in Las Vegas or The Shops at Columbus Circle in New York City.

And it is not only Israel and the Jews towards which Turkey has turned its back.

The Iranian Ambassador to Turkey, Bahman Hussein Pour, discussed the close and ever-increasing Iranian-Turkish relations in an article in the January 14 MehrNews.com, an Iranian news agency.

Hussein Pour pointed out that while Western countries, "especially the U.S.," have been pressuring Turkey to reduce economic relations with Iran, "Iran-Turkey trade volume exceeds $21b this year for the first time." The Iranian Ambassador concluded that Turkish-Iranian relations are irreversible.

In addition to the trade relations between the two countries which has more than quadrupled since 2008, Hussein Pour also explained that "more than 15 Turkish provinces have become sister provinces with Iranian ones."

The timing of the statements is important, as many had predicted that relations between the neighboring nations would deteriorate over the violence in Syria, which also shares a border with Turkey. Turkey's President Recep Erdogan has repeatedly called on Syrian President Bashar al-Assad to step down, while Iran is the principle backer of the Assad regime. Nevertheless, Iran has benefited greatly from Turkey's import of Iranian oil, and Turkey has prospered from millions of Iranian tourists. In a move that benefits both countries, hundreds of Turkish movies have been filmed in northern Iran.

This cozy relationship has developed despite the very public love letters President Barack Obama sent to Turkey's President Recep Erdogan. Middle East analyst Barry Rubin wrote a telling piece in the spring about the one-sided relationship between Obama and Erdogan. In addition to recounting Obama's amorous actions towards the leader of Turkey who has turned that giant ship away from the West and into the harbor of the Islamist world, Rubin pointed out that in 2010 Erdogan made a "deal with Iran that sabotaged the delicate U.S. drive to toughen anti-Iran sanctions." And despite that blow to U.S. policy and insult to Obama, the U.S. president gave Turkey a waiver on implementing the Iranian sanctions. Rubin called it "remarkable," others might call it alarming.

With a huge flattering photograph of Hitler hanging in the fanciest mall in Istanbul, and Erdogan inching towards BFF status with Ahmadinejad, perhaps it is time for this administration to rethink putting daylight between the U.S. and Israel, and instead start putting it between the U.S. and Turkey.


The New Nazis
22 MARCH 2012 04:40
DANIEL GREENFIELD

There was a time when Jewish children were hunted down and killed in France. Their killers believed themselves to be members of a superior group that was destined to rule the world and enslave or exterminate members of inferior groups. The cowardice and appeasement of the French authorities allowed them to operate freely, to kill Jews and launch attacks on other countries.

What was then is now again. The occupying army doesn't wear uniforms, it wears keffiyahs. It doesn't speak German, it speaks Arabic. It doesn't believe that it is superior for reasons of race as much as for reasons of religion. It does not view all others as Untermenschen, but as infidels. It looks forward not to a thousand year Reich, but to a thousand year Caliphate.
Mohammed Merah did not chase down a French-Jewish seven year old girl, put a gun to her head and pull the trigger because he came from an economically depressed area or any of the other media spin. He was only doing what Muslims had been doing to non-Muslims for over a thousand years. He didn't do what he did because he was "radicalized", he did it because he became a fully committed Muslim.
It won't end with taking down one man and it won't end with Jewish children. When your ideology believes that it is in a zero-sum struggle with the rest of the world and that membership means that you are a superior breed of human being because you worship the Fuhrer or Allah, then it won't stop. It won't ever stop. Not until the figurehead is toppled, the creed is humiliated and the supermen are shown to be cowards, neurotics, pedophiles, insecure men dressing up their weaknesses in power fantasies.
Between all the non-stop coverage, the expressions of grief, the political pandering, no one is stating the obvious. France has been occupied all over again. Once again the occupation has been carried out with the consent of the authorities who have decided that cowardice is the only way. Vichy France has become Vichy Europe, Vichy America, Vichy Australia, where the blatant appeasement is disguised as honor, treason is portrayed as responsible leadership and collaboration in the mass murder of your own people is never acknowledged as such.
It's not Neo-Nazis that are the threat to Jews today. It's the new Nazis and the old Nazis who were rounding up Jews into ghettos and murdering their children long before a thousand years before Hitler. The Neos are pathetically longing for the return of a genocidal state that isn't coming back, while the Muslims are actually working to bring back their genocidal state. They are doing it in Egypt, in Libya, in Pakistan and in England, France and Spain.

Muslims have hated Jews before the telephone, the telegraph, the steam engine, gunpowder, movable type and paper currency. And now surrounded by smartphones, credit cards and jet planes, they still hate them. That simple undeniable fact is denied by government, in every university and in every center of culture. And every one of those deniers has blood on his hands.
Not only the blood of the Jewish children murdered by Mohammed Merah. Not only the blood of Jews murdered by Muslims in France. But the blood of all those who have been killed by Muslim immigrants, no matter of what generation, in the name of Islam.
The names of Chamberlain, Petain and Quisling have become eternally infamous because they stand for appeasement and collaboration. But then what do we make of the names Blair, Sarkozy and Stoltenberg? What have the latter done differently from their predecessors? The left likes to pretend that its collaboration with Islam is moral, while the collaboration with Nazism was immoral. It's a distinction without a difference.

Does it really matter whether the men murdering children in the name of their Fuhrer call him Adolf or Mohammed? Does it matter whether they call themselves Hans or Mohammed? Does it matter whether their fantasies of superiority are based on bad science or bad religion? What matters is the end result. A foreign enemy controls your cities, murders at will and takes your future for his own.
The Tolouse Massacre did not come out of the blue, it follows decades of Muslim violence in France-- a Kristalnacht that has been going on year after year. It will not stop here. Not while there are five million Muslim in France, some of whom are bound to pick up the Koran and take it seriously. The "radical" clerics that Mohammed Merah listened to did not innovate a new religion, there has never been any basis to the teachings of the so-called radicals other than the Koran. The only book more popular in the Muslim world than Mein Kampf.
"O Muslims, O Servant of Allah, there is a Jew behind me, come and kill him." That is what Muslims look forward to in their end times. Rocks and trees that tell them where the Jews are so that the fat faithful servants of Allah don't have to spend too much time and energy searching for their victims. Mohammed Merah did not have any trees or rocks to tell him where to find Jews to kill. But he had a compliant French state which tolerated a known Jihadist to the detriment of his victims.

The question, as always, after every act of Muslim terror is how many more must die? How many? Because the killing will continue. It has gone on for over a thousand years. It is not about to stop now. Muslim leaders who condemn these acts do it for tactical reasons, not moral ones. They don't believe it's wrong to kill rebellious non-Muslims... unless the act rebounds against non-Muslims.
The difference between the "radicals" and the "moderates" is that the radicals want to engage in genocide even while they are a minority, while the moderates want to wait until they are a majority. The radicals are satisfied with killing a few Hindus, Christians, Jews, here and there. The moderates want to wait and kill millions. Neither are our allies. Both are our murderers.
There is no peaceful way forward here. Carving up Czechoslovakia, Cyprus or Israel will not sate the blood lust of people whose egos are fed by hate, who treat every concession as proof of their own superiority, who love nothing so much as for others to fear them. There is no peace to be had with a creed that defines peace exclusively in terms of its own dominance over others.
Islam, like Nazism, is a disease of the soul, a twin sense of superiority and victimhood possessed by the angry corner dwellers of the world, who are certain that they would rule if only it wasn't for all the others holding them back. To understand a Nazi or a Muslim, you don't need to learn their creeds, just stare into the eyes of a wife beater, a pedophile or any bully and you will see that same smirk which easily transforms into outrage, the arrogant tone that turns unctuous when it is set back on its heels, the flickering eyes that are always looking at what they can't have.
You don't need to read the Koran to understand Mohammed Merah, you can just as easily understand the Koran by reading about what Mohammed Merah did. Nothing much has changed in all the centuries, except that Mohammed Merah didn't get to rape the girl he murdered, because the French state was still functional enough to keep him on the run. The day will however come when it won't be and then the peoples of the free world will learn what true Muslim terror really is, as the peoples of Africa and Asia, as the many other religions of the Middle East, including the Jews learned, in the day of the original Mohammed.
There is nothing extraordinary about what Mohammed Merah did. You may think that there is, but that is because you are a citizen of the free world and you have become used to that rare thing known as civilized behavior. But when your nations opened their borders to people who consider your infidel lands, the Dar Al-Harb, the House of the Sword, then civilization gets its throat cut, it gets chased down at a school, has a gun put to its head and the trigger gets pulled.
Killing children is not a shocking act in the Middle East, except when CNN points its cameras the right way. Parents routinely kill their own children for minor offenses that would hardly get an American child grounded. When they move to America or Canada, they kill their children there too and we considerately look away. If they do that to their children, why do you think they will have any more mercy on yours?
There is no point in holding Mohammed Merah accountable for what he did, just as there was no point in bringing Nazi leaders to trial for crimes against humanity. Mohammed recognizes no form of law other than the law of Islam, just as the Nazis recognized no other form of humanity than their own. There is no common moral or legal system that we share with Islam. Equality before the law, the cornerstone of our system, is so much noise in the windy corridors of the mosque. How can the Subhuman be equal to the Aryan, how can the Infidel be equal to the Muslim?
Mohammed Merah is a mad dog and should be treated as what he is. Accountability is for those who share our moral system. It is for our own leaders who continue perpetuating the macabre myth of a religion of peace, even while attending the funerals of tis victims. Accountability is for the Petains, the Chamberlains and the Quislings who have led us into this hole and keep waving in more Mohammeds to come and join the party.
The old Nazis marched in at the head of an army. The new Nazis bought a plane ticket. The old Nazis had to get by the French Armed Forces and the Royal Air Force. The new Nazis are welcomed in and anyone who says a word otherwise faces trials and jail sentences. The old Nazis deported Jews to camps. The new Nazis kill them right in the cities. And the killing will not stop until the Muslim occupation of Europe comes to an end.

The 'Oldest Hatred'
It didn't get that way without an ability to adapt.

By Mark Steyn
In Toronto, anti-Israel demonstrators yell "You are the brothers of pigs!", and a protester complains to his interviewer that "Hitler didn't do a good job."
In Fort Lauderdale, Palestinian supporters sneer at Jews, "You need a big oven, that's what you need!"
In Amsterdam, the crowd shouts, "Hamas, Hamas! Jews to the gas!"
In Paris, the state-owned TV network France-2 broadcasts film of dozens of dead Palestinians killed in an Israeli air raid on New Year's Day. The channel subsequently admits that, in fact, the footage is not from January 1st 2009 but from 2005, and, while the corpses are certainly Palestinian, they were killed when a truck loaded with Hamas explosives detonated prematurely while leaving the Jabaliya refugee camp in another of those unfortunate work-related accidents to which Gaza is sadly prone. Conceding that the Palestinians supposedly killed by Israel were, alas, killed by Hamas, France-2 says the footage was broadcast "accidentally."
In Toulouse, a synagogue is firebombed; in Bordeaux, two kosher butchers are attacked; at the Auber RER train station, a Jewish man is savagely assaulted by 20 youths taunting, "Palestine will kill the Jews;" in Villiers-le-Bel, a Jewish schoolgirl is brutally beaten by a gang jeering, "Jews must die."
In Helsingborg, the congregation at a Swedish synagogue takes shelter as a window is broken and burning cloths thrown in; in Odense, principal Olav Nielsen announces that he will no longer admit Jewish children to the local school after a Dane of Lebanese extraction goes to the shopping mall and shoots two men working at the Dead Sea Products store; in Brussels, a Molotov cocktail is hurled at a Belgian synagogue; in Antwerp, lit rags are pushed through the mail flap of a Jewish home; and, across the Channel, "youths" attempt to burn the Brondesbury Park Synagogue.
In London, the police advise British Jews to review their security procedures because of potential revenge attacks. The Sun reports "fears" that "Islamic extremists" are drawing up a "hit list" of prominent Jews, including the Foreign Secretary, Amy Winehouse's record producer, and the late Princess of Wales's divorce lawyer. Meanwhile, The Guardian reports that Islamic non-extremists from the British Muslim Forum, the Islamic Foundation and other impeccably respectable "moderate" groups have warned the government that the Israelis' "disproportionate force" in Gaza risks inflaming British Muslims, "reviving extremist groups," and provoking "UK terrorist attacks" — not against Amy Winehouse's record producer and other sinister members of the International Jewish Conspiracy but against targets of, ah, more general interest.
Forget, for the moment, Gaza. Forget that the Palestinian people are the most comprehensively wrecked people on the face of the earth. For the past sixty years they have been entrusted to the care of the United Nations, the Arab League, the PLO, Hamas and the "global community" — and the results are pretty much what you'd expect. You would have to be very hardhearted not to weep at the sight of dead Palestinian children, but you would also have to accord a measure of blame to the Hamas officials who choose to use grade schools as launch pads for Israeli-bound rockets, and to the UN refugee agency that turns a blind eye to it. And, even if you don't deplore Fatah and Hamas for marinating their infants in a sick death cult in which martyrdom in the course of Jew-killing is the greatest goal to which a citizen can aspire, any fair-minded visitor to the West Bank or Gaza in the decade and a half in which the "Palestinian Authority" has exercised sovereign powers roughly equivalent to those of the nascent Irish Free State in 1922 would have to concede that the Palestinian "nationalist movement" has a profound shortage of nationalists interested in running a nation, or indeed capable of doing so. There is fault on both sides, of course, and Israel has few good long-term options. But, if this was a conventional ethno-nationalist dispute, it would have been over long ago.
So, as I said, forget Gaza. And instead ponder the reaction to Gaza in Scandinavia, France, the United Kingdom, Canada, and golly, even Florida. As the delegitimization of Israel has metastasized, we are assured that criticism of the Jewish state is not the same as anti-Semitism. We are further assured that anti-Zionism is not the same as anti-Semitism, which is a wee bit more of a stretch. Only Israel attracts an intellectually respectable movement querying its very existence. For the purposes of comparison, let's take a state that came into existence at the exact same time as the Zionist Entity, and involved far bloodier population displacements. I happen to think the creation of Pakistan was the greatest failure of post-war British imperial policy. But the fact is that Pakistan exists, and if I were to launch a movement of anti-Pakism it would get pretty short shrift.
But, even allowing for that, what has a schoolgirl in Villiers-le-Bel to do with Israeli government policy? Just last month terrorists attacked Bombay, seized hostages, tortured them, killed them, and mutilated their bodies. The police intercepts of the phone conversations between the terrorists and their controllers make for lively reading:
"Pakistan caller 1: 'Kill all hostages, except the two Muslims. Keep your phone switched on so that we can hear the gunfire.'
"Mumbai terrorist 2: 'We have three foreigners, including women. From Singapore and China.'
"Pakistan caller 1: 'Kill them.'
"(Voices of gunmen can be heard directing hostages to stand in a line, and telling two Muslims to stand aside. Sound of gunfire. Sound of cheering voices.)"
"Kill all hostages, except the two Muslims." Tough for those Singaporean women. Yet no mosques in Singapore have been attacked. The large Hindu populations in London, Toronto, and Fort Lauderdale have not shouted "Muslims must die!" or firebombed Halal butchers or attacked hijab-clad schoolgirls. CAIR and other Muslim lobby groups' eternal bleating about "Islamophobia" is in inverse proportion to any examples of it. Meanwhile, "moderate Muslims" in London warn the government: "I'm a peaceful fellow myself, but I can't speak for my excitable friends. Nice little G7 advanced western democracy you got here. Shame if anything were to happen to it."
But why worry about European Muslims? The European political and media class essentially shares the same view of the situation — to the point where state TV stations are broadcasting fake Israeli "war crimes." As I always say, the "oldest hatred" didn't get that way without an ability to adapt: Once upon a time on the Continent, Jews were hated as rootless cosmopolitan figures who owed no national allegiance. So they became a conventional nation state, and now they're hated for that. And, if Hamas get their way and destroy the Jewish state, the few who survive will be hated for something else. So it goes.
But Jew-hating has consequences for the Jew-hater, too. A few years ago the poet Nizar Qabbani wrote an ode to the intifada:
O mad people of Gaza,
a thousand greetings to the mad
The age of political reason
has long departed
so teach us madness
You can just about understand why living in Gaza would teach you madness. The enthusiastic adoption of the same pathologies by mainstream Europe is even more deranged — and in the end will prove just as self-destructive.
Europe Reimports Jew Hatred
The mythical Arab Street now reaches deep into Paris, London, Berlin and Madrid.
JANUARY 13, 2009
The Wall Street Journal
By DANIEL SCHWAMMENTHAL
Give Giancarlo Desiderati credit for his unintellectual honesty. While most left-wing detractors of Israel claim their animosity toward the Jewish state has nothing to do with anti-Semitism, the head of a small Italian union, Flaica-Uniti-Cub, wasted no time with such sophism. Having long called for a boycott of Israeli goods, Mr. Desiderati last week made the logical next step. "Do not buy anything from businesses run by the Jewish community," his group's Web site urged Italians.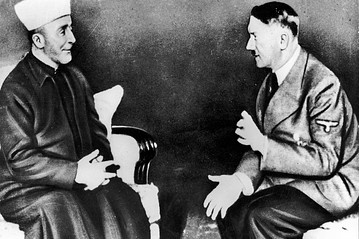 Adolf Hitler talking to the Palestinian leader, the Grand Mufti Hajj Amin al Husseini.
Jews around Europe are increasingly under attack since Israel decided two weeks ago to defend itself after years of rocket fire at its civilian population. There have been arson attempts on synagogues in Britain, Belgium and Germany. Police last week arrested Muslim protesters who wanted to enter the Jewish quarter in Antwerp. Several Danish schools with large Muslim student bodies say they won't enroll Jewish kids because they can't guarantee the children's safety. In France, a group of teenagers attacked a 14-year-old girl last week, calling her "dirty Jew" while kicking her.
At rallies in Germany and the Netherlands over the past two weeks, protesters shouted, "Hamas, Hamas, Jews to the Gas." In Amsterdam, Socialist lawmaker Harry van Bommel and Greta Duisenberg, widow of the first European Central Bank president, marched at the front of one such "peace" demonstration. They didn't join in the background chorus calling for another Holocaust. Instead, they chanted, "Intifada, Intifada, Free Palestine." Mr. Van Bommel later insisted this wasn't a call for Jewish blood but for "civil disobedience" -- a laughable defense given that terrorists during the last intifada murdered more than 1,000 Israelis.
Most of the anti-Jewish violence and protests in Europe come from immigrants. In what may have been a Freudian recognition of the changing face of Europe, CNN two weeks ago used footage of anti-Israeli protesters in London in a report about the growing anger in the "Arab and Muslim world." The mythical Arab Street now reaches deep into Paris, London, Berlin and Madrid.
After a burning car was rammed into a gate outside a synagogue in Toulouse last week, President Nicolas Sarkozy issued a statement that was as morally confused as his judgment of Israel's Gaza offensive. Mr. Sarkozy, who condemned both Hamas terror and Israel's attempt to stop it, also blurred the distinction between the victims and perpetrators of anti-Semitism in France.
His country "will not tolerate international tensions mutating into intercommunity violence," he warned, suggesting that the violence in France comes not only from French Muslims but Jews as well. Mr. Sarkozy's comments also suggest that the fighting in Gaza is the cause for attacks on Jews in France -- that is, that the Mideast conflict is fueling anti-Semitism in Europe. It is exactly the other way around.
The rage against the Jews that is exploding in Europe has been carefully nurtured; it is not spontaneous sympathy for fellow Muslims in Gaza. How else to explain the silence when Muslims in other conflicts, from Darfur to Chechnya, are being killed?
The depth of anti-Semitic propaganda in Palestinian and other Muslim societies is one of the most underreported facts about the Middle East. It is this anti-Semitism that predisposes Muslims in Europe to attack Jews and fuels the Mideast conflict. The hatred predates Israel's creation. To illustrate this point: The Palestinian leader during World War II, Hajj Amin al Husseini, the Grand Mufti of Jerusalem, conspired with Hitler to bring the Holocaust to Palestine. Luckily, the British stopped the German troops in Africa. The Mufti spent the war years in Berlin and was later indicted for war crimes but with the help of the Muslim Brotherhood escaped to Egypt. Hamas is the Palestinian branch of the Muslim Brotherhood.
Hamas and other Islamists continue what the Mufti had helped to start: a blend of European anti-Semitism and Islam-inspired Jew hatred. The rejection of Israel's right to exist is what drives their attacks. The media, though, largely ignores Hamas's ideology and its crimes of hiding its leaders and weapons among its own civilian population, and demonizes Israel's attempt to protect its citizens.
Hamas and other Islamists are not even trying to hide their ideology. Just read the Hamas charter or check out Hamas TV, including children's programs, for a nauseating dose of murderous anti-Semitism. Last week, the French broadcasting authorities banned Hamas TV for inciting violence and hatred. Unfortunately, just like Hezbollah TV, which is also banned in Europe for its anti-Semitic and jihadi content, audiences here can still receive these programs due to Saudi Arabia's Arabsat and Egyptian satellite provider Nilesat.
The Islamist variation of Jew hatred is now being reimported to Europe. Muslims in Europe, watching Hamas and Hezbollah TV with their satellite dishes, are being fed the same diet of anti-Semitism and jihadi ideology that Palestinians and much of the Middle East consume.
This brings a unique challenge to the difficult integration of Muslims in Europe. When it comes to issues like Shariah law and terrorism, one can expect a true "clash of civilizations." There is no Western tradition that would justify "honor killings." Anti-Semitism, on the other hand, is not alien to Europe's culture -- to the contrary, the Continent once excelled at it and many still share the feeling.
A Pew study from September shows 25% of Germans and 20% of French are still affected by this virus. In Spain, 46% have unfavorable views of Jews. Is there really no connection between this statistic and the fact that the Spanish media and government are among Europe's most hostile toward the Jewish state? Is it just a coincidence that Europe's largest anti-Israel demonstration took place Sunday in Spain, with more than 100,000 protesters?
A 2006 study in the Journal of Conflict Resolution based on the survey in 10 European countries suggests otherwise. Yale University's Edward H. Kaplan and Charles A. Small found "that anti-Israel sentiment consistently predicts the probability that an individual is anti-Semitic, with the likelihood of measured anti-Semitism increasing with the extent of anti-Israel sentiment observed."
With little hope that the media coverage will become more balanced and the incitement of the growing Muslim community will abate, the Jews in Europe are facing uncertain times.
Court hears cleric's anti-Jewish sermon

Items compiled from Tribune news services
Published January 15, 2006
LONDON, BRITAIN -- A Muslim cleric accused in Britain of incitement to murder praised Adolf Hitler and called for Jews to be destroyed in a videotaped sermon shown at his trial Friday.

Egyptian-born Abu Hamza al-Masri faces life in prison if convicted of inciting murder and stirring racial hatred in speeches recorded for supporters.

Al-Masri, 47, has pleaded not guilty to the charges.

The grainy, black-and-white footage was recorded in October 2000 at the Finsbury Park mosque, where the cleric was formerly head preacher, prosecutor David Perry said.

Al-Masri said Muslims should ensure that Israel and the Palestinian territories become "the biggest Jewish graveyard in the world."
The First Terrorist People
By David Horowitz
FrontPageMagazine.com
January 26, 2006
The Palestinian Nazi Party has won the elections. This is a party, Hamas, that calls for the obliteration of the Jewish state (in so many words) and the killing of Jews because they are Jews (in so many words), and cites the Koranic damnation of Jews and incitement to murder Jews in justification. Hamas is a party of Islamic fanatics who are part of the global jihad against the United States and the West, whose hero is Osama bin Laden. Hamas was the biggest foreign supporter of Saddam Hussein. With this vote in record numbers, the Palestinian people have joined en masse the Axis of Evil. They are the self-declared enemies of Jews, of America and of civilized values, and should be treated as such. The Palestinians have declared with this vote they want no peace. They should be given none.
The defeated Fatah Party -- the "moderate" party -- is of course the creation of the terrorist Yassir Arafat. Its official charter calls for the destruction of Israel and its leadership has been dedicated to terror since the the PLO was created by the dictator Nasser and the KGB in 1964. Its leader Mahmoud Abbas is a Holocaust denier and the financier of the kidnapping and execution of the Israeli Olympic team in Munich in 1972, and Arafat's ally in terror for the duration since.
But then the father of Palestinian nationalism himself is the Grand Mufti of Jerusalem al-Husseini a fanatical devotee of Adolf Hitler who served the Nazi cause in Berlin during the Second World War and infused Palestinian nationalism with the Jew-hatred that has dominated it ever since.
The Palestinians are the first people in the history of humanity to embrace terror and genocide as a way of life. Palestinian schools train kindergarteners and first graders to aspire to murder innocent Jews by blowing themselves up alongside them, and then tell the children that if they're lucky enough to have male genitalia they will go to heaven and be rewarded with 72 virgins to attend their every whim. Palestinian parents murder their own children by telling them to kill Jewish children so that Allah can receive them. This is the sickest culture on the face of the earth, and the fact that it is supported by secular leftists in Europe and America reveals the terminal sickness, as well, of those who crusade in the name of "social justice."
At the core of this sickness is a hatred for the West and Israel for the crimes of being successful, democratic and tolerant. And at the core of that sickness is self-hatred. Self-hatred for the 1,000 year failure of Arab Muslim culture to compete with the West and for the absolute bankruptcy of the Palestinian cause -- despite billions and billions of dollars poured into the West Bank and Gaza by Europe, Israel and the United States whose sole purpose was to help this people consumed in their own emotional poisons. The money of course was stolen in transit by their corrupt and homicidal leaders who buried their loot in Swiss bank accounts or used it to buy weapons of mass murder, and to spread destruction, which is the only contribution that the Arabs of the Palestinian mandate have made to the world since their national aspirations were first announced half a century ago.
David Horowitz is the author of numerous books including an autobiography, Radical Son, which has been described as "the first great autobiography of his generation," and which chronicles his odyssey from radical activism to the current positions he holds. Among his other books are The Politics of Bad Faith and The Art of Political War. The Art of Political War was described by White House political strategist Karl Rove as "the perfect guide to winning on the political battlefield." Horowitz's latest book, Uncivil Wars, was published in January this year, and chronicles his crusade against intolerance and racial McCarthyism on college campuses last spring.
SWASTICKAS NOW APPEARING AT UC IRVINE
By Daryl Temkin, Ph.D.
The Israel Institute
The University of California at Irvine (UCI) has become a center stage campus for anti-Israel and anti-Semitic speakers and demonstrations. The Irvine campus is not unique; they are just a leading campus which condones anti-Israel/anti-Semitic programming. Generally initiated by the campus Muslim student organizations or by the faculty members of the liberal arts departments, this kind of campus programming has been going on for a number of years. This situation has created an understandable amount of anguish and concern among Jewish students and it has even led to students choosing not to attend UCI.
The anti-Semitic speakers have used the "free speech" clause to justify their statements and it is simple for them to assert that what they are saying is "true." In their view, "Israel and the Jews are the cause of the world's problems. The Muslims are just responding to the problems that the Jews and Israel have caused." This "logic" concludes that, "Muslims would not be forced to behave as they do if Israel and the Jews would stop provoking them." This sounds similar to the logic which claims that the rapist would not have to rape if women would behave and dress differently. (On that note, this week, the Islamic world announced that if a woman is not wearing the "burka" or full Islamic covering, it would be considered her fault if she was raped or accosted.)
Recently, several swastikas were found inscribed on the University of California's Irvine campus. Unfortunately, there are swastikas found on many American university campuses as well as high schools. The Jewish community is so used to this type of offensive occurrence that a newly drawn swastika incident usually doesn't get much attention unless the consequence reaches a significant level of outrage. This occurred several weeks ago -- on the first day of Ramadan. On that day, two Los Angeles area freeway overpasses were adorned with large swastikas and anti-Semitic slogans. That event got some coverage but was rapidly squelched and little attention was given to the fact that the incident just happened to coincide with the first day of Ramadan.
Interestingly and ironically, the local Muslim community leaders interpreted the appearance of these degrading emblems as symbolic of Muslim unity with the Jewish community. Muslim spokespeople presented the idea that, the swastikas appearing on the first day of Ramadan was a symbol against both Jews and Muslims. We are certainly living in very strange times.
In regards to the UCI event -- the newly appearing swastikas at the University could have also gone unnoticed. However, the UCI campus has been a hotbed for claims that anti-Zionism has nothing to do with being anti-Semitic. Anti-Zionism is acceptable on the campus because Muslims claim that it is not against all Jews, it's only against Zionist Jews. However, the swastika symbol doesn't differentiate one Jew from another.
The anti-Israel Muslim speakers have learned to emphasize that Muslims are only against Zionist Jews and that non-Zionist Jews are acceptable. However, many of the Muslim speakers, while delivering their passionate presentations often forget to state the cover up words that they are supposed to say and end up hatefully lumping all Jews together. In regards to the UCI situation, the swastika incident has been attributed to the activities of the Muslim students.
Even in light of the above information, the UCI swastika incident could have gone unnoticed. However, something very odd occurred which took this event not only a step but perhaps a leap forward. The following provides a brief background:
The Vice Chancellor of UCI, Manuel Gomez, has been asked for the past years to take a more active role concerning the anti-Semitic hate speech that has been fulminating on his campus. After student and community organizations confronted the UCI administration with this issue, Gomez's response was that "free speech" protects the speech rights of these campus programs. "Free speech" protects "hate speech" – unless the hate speech leads to violence; otherwise it has to be allowed and tolerated.
The dream of concerned student and community organizations was for the university administration to acknowledge that hate speech is being promoted on its campus and even though freedom of speech is a foundation of the American Constitution, the university faculty and administration condemn or at least do not support the hate speech programs. Complaints from UCI students continued and Jewish students reported their discomfort and personal fears in the face of the frequent hate speech events. The position of the administration was neutrality, which is better described as silence, which ends up being a tacit support for the continued hate speech and anti- Semitic programs on this campus.
The "leap" that occurred with the appearance of the UCI swaztikas was an interview with the Vice Chancellor. Mr. Gomez when questioned about the swaztikas on his campus reverted to his discussion of free speech and hate speech. Except this time, Mr. Gomez went a step further: He is quoted as stating that "one person's hate speech is another person's education."
His statement inferred that hate speech is subject to interpretation. If a person agrees with the hate speech, then that person is learning from the hate speech position, and that can be regarded as "education." Just like, "one man's terrorist is another man's freedom fighter."
At what point do we throw our hands up and scream, "The University has lost its mind!"? Moral relativism which has become a pillar of much of higher education has once again crossed the line. Well recognized hate speech, swastikas on campus, and all the anti-Western preaching are just to be regarded as "education". It's simply one opinion versus another opinion.
When Vice Chancellor Gomez was asked for his opinion, did he simply not know what to say or did he say what he meant to say? Was it a "foot in mouth" moment or was it just the outcome of the current university educational environment?
The UCI swastika incident was another opportunity for Vice Chancellor Gomez to make a difference. He should have articulated an educational standard for the University, its faculty, and its student body. Instead, a very different educational standard than what might have been expected was established.
For the sake of memory, once there was a time that universities served to raise the standards of a society.
Dr. Temkin frequently lectures on topics of Israel, Judaism and Jewish values, contempary issues and their threats to Western civilization, as well as issues of concern to Christians and Jews.